The Tow Boat Cometh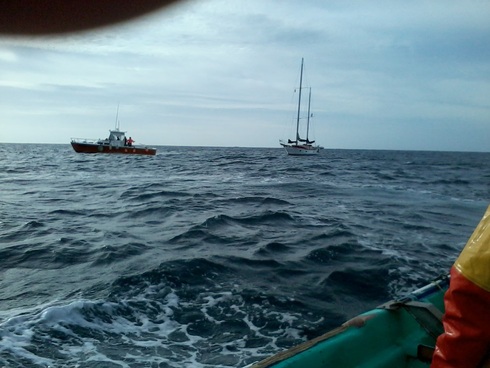 Hi everyone and thank you for all of your messages and emails. Everyone is asking a million questions. I'm getting so many that I can't possibly answer each one individually. Keep reading my blog and your questions will be answered.

As you may have figured out by now, I'm posting this blog several days after the events transpire. What I don't know or don't tell you today, I'll probably have figured out by the time it's written.

I have to take a minute to plug my book, Blue Water & Me, Tall Tales of Adventures With My Father. If you haven't read it yet, shame on you. No, just kidding. But you can get your copy at Amazon.com.

Blue Water & Me is the story of a summer I spent fishing with my father in these same waters in the summer of 1962 when I was eleven years old.

Please tell your friends about this blog and my book. Better yet, send them links.

Now, on with the story:

Tuesday, December 18th 2012 – Abreojos

Today we had to get the boat cleaned up enough for the tow boat to take her to Ensenada. Bernardo was due in the morning.

Dawn made her first trip back out to the boat with me. We worked all day, she below decks saving what could be saved and throwing away what couldn't. I spent most of my day on deck, getting the sails, rigging, lines and other deck paraphernalia ready for sea.

Dawn's Observations:

Penn told me that the boat was a total wreck. I couldn't go out and face it. He and Blackie went out the next day and spent the whole day cleaning up.

Penn said that he and Blackie hauled ten huge Hefty bags of garbage off the boat. (Actually, it was twenty.) What could they be hauling off? The only thing left out there was heavy stuff. Tools, wet blankets, etc.

I expected that after spending a whole day cleaning up the boat, Penn would come back and say "it's all right. She's all cleaned up."

Instead he said. "I don't know if we'll be able to save her. I don't know if we'll ever be able to put her back together."

After two days working on the boat, it was still that bad?

The next day, I went out and saw it for myself.

My first impression was how much water the wood soaked up. Everything was damp. The floor boards, the cupboards and drawers were all like damp trees in a forest. Everything was soaked. Everything had a layer of slime on it from the small amount of diesel in the bilge.

I was happy that the cushions were high up and dry. Structurally, she looked better than I imagined. The chart table was still dry and looked orderly. Penn's chart was still sitting out, on the same page we were on when we crashed. Normally Penn is so meticulous about taking care of his charts. I was surprised that he left it out after four days of working on a wet damp boat.

I felt relieved that I didn't have to see the boat the first day after the sinking. I was grateful that Blackie took care of that for me. I wasn't trying to avoid the situation, but I felt that as long as Penn had other people out there helping him, I needed to save my strength.

Eventually, we would become old news and the townspeople would go back to their routines. Then it would just be Penn and me taking care of things.

I spent a day in the small hotel room drying and rearranging wet clothes. I felt like I was rearranging the deck chairs on the Titanic. The reality is that I was still afraid that the Victory was sinking.

---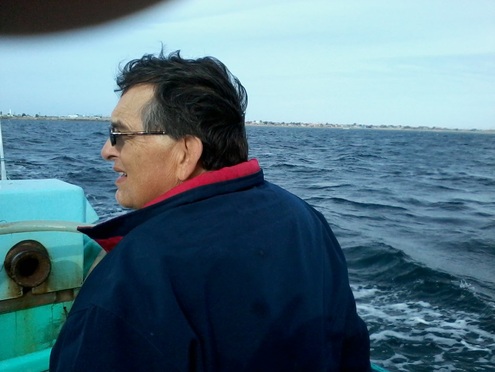 Back to Penn:

We slept a little later today. The early morning emergencies had pasted. At about 8 am, we loaded up three duffel bags with clean clothes that we were taking back to the Victory and headed down to Juanita's for breakfast. By 9 am, we were on the beach.

The only problem was that the pangueros launch their boats in the early morning and are gone all day. We didn't have any way to get out to the boat.

We hung around on the beach for an hour or so, chatting with the various men (there are no women on this beach) who were there. Finally, a panga came in with a load of lobsters.

It was Ramon's boat. He offered to take us out to the Victory, but we only had a few hours. He would pick us up on his way back from his next run to check lobster pots.

Dawn and I attacked the boat with a vengeance. We had to get her ready for sea. Dawn worked feverishly in the cabin, I cleaned up the deck.

The deck was a mess. In my haste to save the boat and get her to a safe haven, then to keep her afloat, things were dropped where they were used. Sails littered the deck. Piles of lines were all over. The sails on the booms were not put away neatly. Fenders were scattered around the deck.

I began to work my way through the wreckage on the foredeck. Slowly, I got things cleaned, stowed and organized. Dawn called me below to help her move things several times.

At our yacht club, some of the female members, when gossiping with others, out of the ear shot of their victims, call other women "deck princesses." A deck princess is a woman who goes sailing with her man to look good. She doesn't help handle the boat and is more concerned with her makeup than she is with the speed or course.

Dawn is definitely NOT a deck princess. She worked like a slave. There was no hope of cleaning anything, but everything in the cabin had been strewn about. She emptied drawers of water, filled bags with garbage and savable items. She managed to get the things that would remain on the boat stowed so that the Victory could be towed through six hundred miles of open ocean to the boat yard.

Too soon, Ramon was back. We had to go in. I was nowhere near done. It would have to do. Bernardo and the tow boat would be here in the morning.


---