Blue Water & Me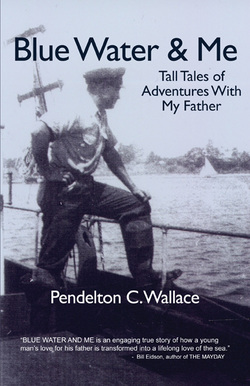 Blue Water & Me is the true high-adventure story of author Penn Wallace's magical first summer fishing with his father, Blue Water Charlie, at age eleven.

The pair begin their adventure by ramming a thirty-thousand ton Japanese freighter. Licking their wounds, they fish off the coast of Mexico. Charlie regales Penn with old-time fish stories. Penn learns how Charlie became a fisherman, with a little help from Bogey and the Duke. Penn hears about the death of the albacore industry and the political maneuvering and murder that followed in its wake.

Penn swims with dolphins and explores desert islands. As the summer passes, Penn's undying belief in Charlie's ability to handle any situation slowly erodes as he sees his father's feet of clay for the first time.

Finally, they get caught in a hurricane. They fight for their lives in hundred mile an hour winds and thirty-foot waves.

Blue Water & Me is a story of father-son bonding that every father and son, and anyone who knows a father or son, should read.

---
What They're Saying About Blue Water & Me

Five Star Review
Fathers, sons, and sailingBy
SW
on June 17, 2012

This is a collection of true sailing and fishing adventures of an eight-year-old boy and his father, a master seaman called "Blue Water" Charlie.

My first reaction to these stories was to be startled at the real danger the young author faced at sea. There were several points where I couldn't help but consider: if this little boy had indeed drowned, been crushed, or died in some other way... these stories would never have been written.

The writing is lean and honest. The prose doesn't get in the way, and reminded me of Hemingway (it's hard not to think of The Old Man and the Sea once or twice). Since surviving these sailing adventures as a boy, Wallace has obviously become an expert sailor himself, and his adult expertise adds vivid detail and authority to the text.

In the end, these are outstanding stories about fathers, sons, and sailing, and that should tell you if this is right for you.