Still in San Diego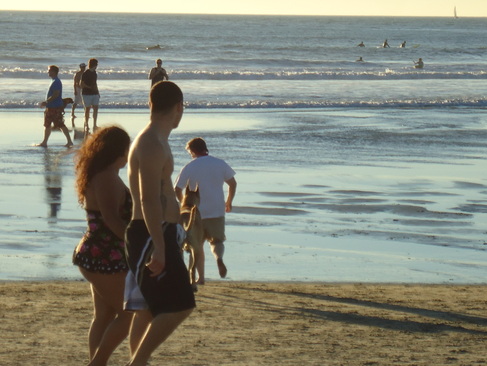 Saturday, October 27, 2012 – San Diego

Summer continues. We had a couple of cloudy rainy days, then the temperatures returned to the 80's with clear blue skies. Right now we're getting mild Santa Ana winds from the Sonora Dessert in Mexico. They are warm, but without much force.

The San Diegoans are all watching the forecast though because Santa Anas can be quite strong and destructive. There aren't any strong winds forecast for the next ten days, but they're nervous.

We've taken some time off to visit family while we're here. We had lunch with my cousin Tony and his wife Estella on Wednesday. Tony was funny as ever and Estella just as sweet. Age may ravage our bodies, but it doesn't have to change our spirits.

Yesterday we attended Dawn's brother Duane's kids cross country meet. I got to meet Duane's wife, Andrea, and his children, Ashley and Collin. After the meet, Duane took us to a waterfront restaurant for dinner, then we went to his house and looked at pictures and watched home videos.

We visited Minney's, a world famous marine surplus store, earlier in the week. I got a new stern anchor, a paddle to replace one we lost from the kayaks in rough seas, and some charts at quite a discount. It's the kind of place I could spend a week in, just looking at all the cool junk that they have.

Last Sunday we moved the boat to the Coronado Cays Yacht Club. We needed to get out of Chula Vista because our three free days were up and Coronado Cays offered us three free days. It was a whole different world. This is how the other half (1%?) live. They have a gorgeous club house, a pool and hot tub and the best shower facilities I've ever seen in our various voyages.

The people there were wonderful. We were docked right in front of the club house and everyone wanted to know about the boat and our trip. We had an Argentine dinner on Sunday night with the yacht club members. On Monday, we participated in a trivia contest. We were one question from coming from second to last place to winning on the last round. Who knew that Mickey Mantle hit more World Series home runs than Yogi Berra?

On Thursday we moved back to the Chula Vista Yacht Club for three more days of free moorage.

We had dinner with the crews of six other northwest boats going to Baja this winter on Wednesday. They are all moored up near Shelter Island where all of the Ha Ha activities are going on. It would be neat to be part of all the hub bub, but they're paying close to a thousand dollars for moorage there. I decided to go cheap and take advantage of free moorage, even though it means we're not in party central.

Some of the Seattle boats are going on the Baja Ha Ha and some are taking our course and going on their own. I want to stop at lots of interesting places I saw when I fished with Papa all those years ago. If you haven't read Blue Water & Me yet, go to www.pennwallace.com to order a copy. It will tell you all about the places we're about to visit.

We still have a few projects to work on before we go. I'm fixing the dinghy and patching a leak in the deck. Dawn is reorganizing (heaven help us all) the stowage on the boat. She feels that she has enough experience at sea now to know what she is going to use and what can be put away in deep-storage. When she gets finished I'm sure it will be a much more efficient boat, but God knows I'll never be able to find anything.

Our crew for the next leg, Ron Snell and Bob and Lilly Ewen will be joining us on Tuesday afternoon. We'll spend Wednesday getting and stowing provisions and getting our crew settled in, then we'll leave Thursday afternoon.

Our first stop will be Ensenada, Baja California del Norte, Mexico to clear customs and get cell phones. Fuel is so much cheaper in Mexico that I'm not going to top our tanks before we leave. Diesel is over $5 per gallon in San Diego. It's $2.81 in Baja.

Water is another story. We'll fill our tanks here. In Mexico you have to buy drinking water in five-gallon jugs.

The next time you hear from me, we'll be somewhere down the coast of Mexico. I'll say "adios" to Los Estados Unidos del Norte America and "benvienidos" ala Mejico.


---