The Final Chapter of our Charter Story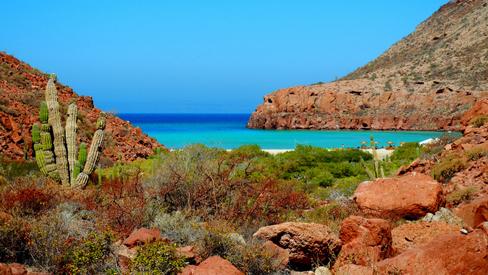 Thursday, May 23rd 2013 – La Paz

Our Espiritu Santo charter is coming to an end. Today we head home.

After breakfast we took down the canopy and weighed anchor. We were crossing the Sea of Cortez and the San Lorenzo Channel. I expected enough wind to sail.

Our guests wanted to explore an abandoned pearl plant in Bahia San Gabriel. We couldn't anchor there the previous night because of the Coromel winds, but I told them we'd motor down in the morning and take a look.

When we got there, we had a stiff southwesterly breeze again. I didn't want to anchor on a lee shore so I made the decision to not stop. I apologized to our guests, who understood that safety came first. Reluctantly, I headed back out to sea.

We cleared the bay and set sail in a southwesterly wind. It was blowing right in our faces. We tacked a couple of times, but I quickly realized that we would get back to La Paz very late if we had to tack all the way there. I made the executive decision to fire up the engine.

With the iron wind running, we motor sailed down the island. When we crossed the San Lorenzo Channel, the wind picked up and we could sail without the engine, but on the other side of the channel the mountains on the mainland blanketed the wind and we took in the sails.

After several hours of motor sailing and motoring, we entered the La Paz channel.

La Paz Bay is very shallow. There is a narrow twisting channel that you must follow to keep in deep water. It was ebb tide and were had no room for error.

I trained my crew to watch for the navigation buoys that marked the channel and we made our way into the bay.

We got back to our marina and tied up by about 3:30 in the afternoon. Very satisfying. I was shooting for getting home by 4.

Our guests were all packed up so I loaded them into the Queen Mary and took them back to their hotel. We bid them a fond good bye and got down to the business of being by ourselves again.

---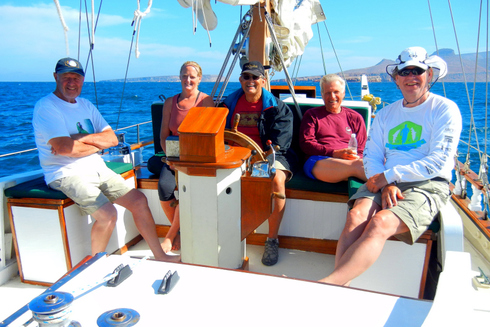 As soon as I got back, Dawn jumped in the car and headed out to Centenario to get Odin. I spent the next couple of hours putting the boat away, working as gently as I could on my right shoulder. With the heat and sun, it was imperative that I put the canopy back up. It was a trial and I was soaked with sweat and hurting when I was done, but we had shade on the boat. Without the canopy, it would be unbearable.

When Dawn returned, we were both wiped out. I was going to take her to the El Buffalito Grill to celebrate a successful charter, but neither of us had the energy to get back in the car and drive into town. Instead we ate at one of the restaurants here at the marina, then returned to the Victory and fell into bed.

I know our guests had a great time. The boat performed well and we had no mechanical problems. We took our crew to some fun places and they got to kayak, snorkel, swim with sea lions and explore dessert islands. They went home happy. They got their money's worth.

Dawn and I worked our tails off and it took a couple of days of doing nothing to recover. I wouldn't want to do this week after week. We don't need the money that badly, but if we did six or eight charters a year, I'd be happy. We could mix that in with some dinner cruises or sunset sails and we'd be set.

We still have to get all of the legal paperwork done to be able to run a charter business in Mexico. This was for a charity auction in the States, we received no money for this trip, so we're legal. As soon as we can get the paper work done though, we can go into business for real.

In the meantime, I need to let my shoulder heal. I saw a doctor and he says I have "frozen shoulder." My shoulder joint is frozen up and won't work. I can't raise my arm above my head and it's very painful all of the time. He gave me pain killers, anti-inflammatory drugs and physical therapy exercises to do. I have to see him in three weeks to see how I'm progressing.

He says it could take several weeks to heal. In the meantime, I can't handle the boat. We took her over to the fuel dock to pump out the holding tanks and when we came back, I had to throw a line to someone on the dock. It almost killed me.

We are stuck at the dock until I heal. Hopefully it will be before the summer heat and hurricane season set in so that we can do some exploring in the Sea of Cortez. In the meantime, I'm going to spend my time writing and setting up my summer book tour in the States.


---