On the Road to Cabo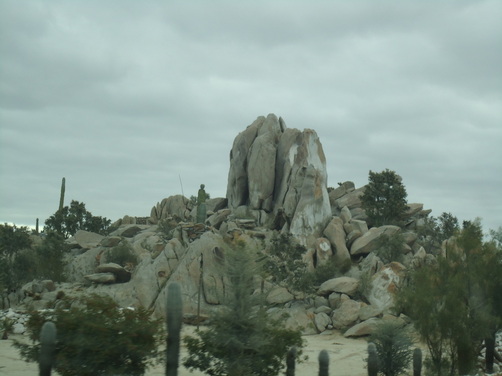 I'm still suffering from the cold, but that won't stop me from relaying the story of our drive south.

Sunday January 13th 2013– La Paz

Ok, I told you we were driving down to Cabo. I have two reasons for the trip. First of all because I need to meet with our immigration lawyer and charter boat company owner in La Paz. Secondly, to see Dawn's long-time friend Heidi.

Heidi is a tall, beautiful, blue eyed German blonde with a body like Kim Kardashian. She currently lives in Dubai with her former Air Force pilot husband. She flew half-way around the world to spend a couple of weeks sailing with us and we aren't there. I thought it was only fair for us to drive down so she and Dawn could have a reunion. Purely altruistic intentions on my part.

We were up until 11 pm getting ready for the trip. Then the alarm went off at 2 am. God that was a short night.

Everyone told us that is was a 15 hour drive from San Diego to La Paz. Cabo is about two hours past La Paz, but Ensenada is two hours past San Diego so I was confident that we could make it in 15 hours. If we left at 4 am, we could be there by 7 pm. Little did I know . . .

I took the first trick at the wheel. Finding our way out of Ensenada on Highway 1 was easy. We headed south into the early morning hours. Dawn is not a good car sleeper. I kept encouraging her to climb in the back seat and catch a nap so she would be fresh for driving. Uh Uh.

It was so dark that we didn't see much of the night time scenery leaving Ensenada. I drove on through the wee morning hours and we began to climb. By sunrise we were on a twisty, turnie, up and down two-lane mountain road. We were averaging about 45 miles an hour.

The hills were rocky and covered with sage brush and mesquite trees. The occasional Jack rabbit crossed our path. (Hmmm. . . I wonder? Are they called Juanito rabbits in Mexico?)

The sky to the east took on a pinkish glow as we came out onto a large flat plateau. This is not what I expected in Baja California. It was rich, productive farm land. Crops went on forever. I couldn't tell what they were growing (we were dashing past at 85 miles an hour) but it was lush and green.

Then we came to the wine country. As the road started back up into the hills, vineyards dotted the countryside. Every few kilometers, signs announced this winery or some other.

As we got into late morning, we climbed up into the mountains. These were real mountains, not hills anymore. The road was full of switchback and hairpin turns. Often we were doing 35 miles an hour. There were very few other vehicles on the roads until we got into the mountains. Then there was a steady stream of 18-wheelers. I think maybe one or two out of every ten vehicles was a passenger car. All the rest were trucks.

---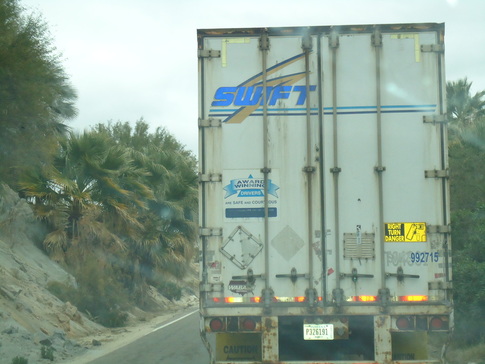 We dodged the trucks coming around the curves at us. They always seemed to want to take more than their share of the road. But worse than that was getting stuck behind one of them. On the straight of ways, they got rolling, but when we came to a curve, the dropped down to about 20 miles an hour.

There is a sort of strange (to us Americans) custom here. When the vehicle in front of you starts blinking his left turn signal, it doesn't mean he is turning. It means that it is clear for you to pass him. You don't signal left turns here. More than one gringo tourist has gotten into an accident because they signal a left turn before they turn and the car behind them thinks they are signaling for the trailing car to pass. The car speeds up and moves into the left lane just as the gringo turns and bam! You have an accident.

We climbed the mountains into a weird alien landscape. The whole peninsula is volcanic. The area at the top of the mountains was comprised almost entirely of boulders. They had obviously been shot out of the surrounding volcanoes. They were smooth with rounded edges. They kind of reminded me of giant loaves of bread. They ranged in size from a few feet across, to the size of a super market.

The weirdest thing was the saguaro forest. These giant, tree-like cactus literally sprouted from the boulders and towered twenty to thirty feet above the surface. How they got a foot hold in that rock, I don't know. But obviously, they had been there for many years.

The saguaros were just about the only vegetation in this strange landscape. I wondered what kind of hardships the road crew went through cutting the highway through miles and miles of these boulders.

Then we started to see piles of smaller rocks. These were about six inches to a foot across. There were piles like a giant had walked the landscape and picked up all the small rocks and deposited them in heaps. At first the piles weren't too large, but as we drove, they got larger and larger. Finally, we passed a pile about the size of a supermarket parking lot. It must have been acres across and a hundred feet high.

After we passed out of the boulder fields, we wound down the torturous mountain road to a very flat area. I can't call it dessert because it was full of various kinds of vegetation. For a Western Washingtonian, it was dry, but there must be water from somewhere to keep everything green.

The vegetation was some of the strangest I've seen. I know that Dr. Seuss was from San Diego and some of his wild plants and trees were inspired by the dessert vegetation there, but this stuff was pure Dr. Seuss. Long steamed plants topped with a tiny clump of leaves and flowers. There is a cactus that looks a lot like a maguey that sends a trunk up about ten to twenty feet. At the top of the truck are hair-like leaves that make it look like it has a bad haircut. Then there are some kinds of yellow and purple flowers in the middle of the hair.

Then there's some sort of tree that rises twenty or so feet from the soil without so much as a leaf. At the top of the smooth trunk is a small ring of what look like tiny palm fronds.

Once again, this was not what I expected from Baja California. I was expecting a thousand miles of sand and scorpions and coyotes. We drove nearly six hundred miles before we hit what I would describe as dessert. I greatly wronged Baja.

---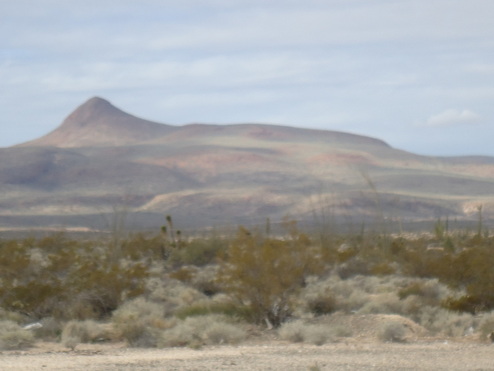 We saw a sign on the road that indicated that the next gasoline was 312 kilometers away (193 miles). We had just filled up so I wasn't worried, but that's a long distance between gas stations.

As we entered the next little town, there were trucks with 55-gallon drums of gasoline on them along both sides of the road. Anyone with a low fuel tank would have to fuel up there. Since these weren't official PEMEX stations, I can only imagine what they paid.

The government has a monopoly on gasoline in Mexico. Mexico is a socialist state so the government owns several major industries (like oil, coffee and electricity) and competes with private enterprise (like banks) in others. One of the reasons taxes are so low in Mexico is that the government gets most of its income from these industries.

At any rate, the cost of gasoline is controlled by the government and doesn't fluctuate from station to station. However, these enterprising individuals that bought the gas to sell along the road probably paid street price for it. It most certainly was marked up.

Highway 1 goes down the Pacific Coast for several hundred miles, then cuts east to the Sea of Cortez side at Santa Rosalia and down to La Paz. At La Paz, it cuts across the peninsula again to the Pacific and winds down the coast to Cabo San Lucas.

We turned east and headed across Baja. We traveled across the peninsula in the shadow of a giant mountain. The mountain rises straight out of the plateau floor. There are no foot hills. It greatly resembles Mount Rainier, except there's no snow.

I suspect it isn't as tall as Rainer, but it appears to be because it rises from the valley floor. It is obviously a volcanic cone. Still, it has to be at least ten thousand feet tall.

A ridge of red hills blocked our path and once again we were in mountains. The road climbed and curved and our speed dropped. The sun set. It was getting late.

We were tired and behind schedule. We were supposed to be in Cabo no later than 8 pm. It was late afternoon and we were still three or four hundred miles north.

The road twisted and turned through the mountains. A steady stream of trucks came and went. The traffic wasn't heavy, but it was there. Then, in the waning light, we saw the Sea of Cortez far below us.

The road dropped at a precipitous angle and switched back and forth. Trucks coming up the hill were going about ten miles an hour. Those going down were riding their brakes. There was no place to pass.

This must be a geologist's paradise. The rock formations were so diverse that even I had to wonder at them. I thought about Susie's brother-in-law. I bet he'd give five years of his life to be able to see this.

But the road was a killer. We could see the Sea far below us and far away, but we had to negotiate one of the toughest mountain roads I've ever been on to get there.

---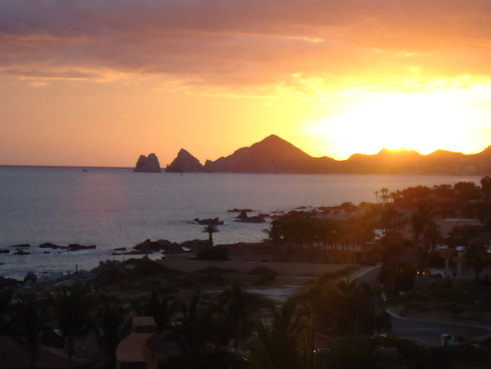 Finally we came out to tropical beaches and azure water. The waves broke gently on the white sand. Lush palm trees filled the landscape. Had we accidently driven to Hawaii?

"This reminds me of the Caribbean," Dawn said.

Then we came to Santa Rosalia. It was a beautiful little town crowded around the beach. "This is just like Saint Thomas," She told me.

Further down the coast we came to Muelege. Once more, it was a gorgeous tropical beach town. But the tourist facilities were severely wanting. I don't think they get much tourist business from the US. If you want to schedule a tropical vacation in an unknown tourist area, book here. You'll have to rent a car at the airport in La Paz and drive a few hours, but you will be away from the world.

As much as I would have liked to stop and explore, we had to get to Cabo before eight. We weren't going to make it. Finally, I called our friends Milton and Susu who run the Casa Buena B&B in La Paz and arranged for a room to spend the night there. We would get a few hours sleep, then drive on to Cabo in the morning.

Our progress was slowed as much by the check points as it was by the windie roads or slow traffic. Every hundred kilometers or so, there is a military checkpoint. The Federales, armed with machine guns, stop every vehicle traveling the road and search for guns and drugs. At some check points they have drug sniffing dogs, at others just an eighteen-year old kid with an M-16.

The federales are always polite and we treat them with respect, so we all get along. We usually chat with the guard with the gun while the flunky searches the car. They were to a man, nice people. With the problems Mexico has with the drug wars, I understand the need for these check points.

I just wonder, why bother. If I was a drug lord, the last way I would send drugs north would be on the highways. There is too much chance that the shipment will be interdicted at the check points. It reminds me of airport security. It's more to make the average citizen feel safe than it is to catch drug runners.

Dawn asked me what would happen if we just blew through the check point without stopping.

"In Mexico, there is a law called Ley Fuga (the fugitive law)," I answered. "Basically, what it says is that if you flee the police, you must have committed some crime, therefore they have the right to use whatever force is necessary (including deadly force) to stop you. If we blew through a road block, they would open fire on us."

At any rate, we could be stopped at a check point from ten minutes to half an hour. With all the stops we made, we must have burned up two hours at check points.

We stopped for dinner before heading to the motel. We got to La Paz around 8 pm, sixteen hours from Ensenada. We stopped three times for gasoline, otherwise we drove all the way through. That is one hellacious drive.

We had dinner at Buffalito's Grill. We'd been there last year and Dawn had the best fillet mignon she had ever had in her life. We were anxious to see if it was still as good.

It has been cold down here. Buffalito's is an outdoor restaurant. We froze our tushes off, but the food lived up to the promise. She had a magnificent fillet and I had an amazing rib eye. Yum-may!

After dinner we climbed back into the Yukon and made our way to Casa Buena. Milton was waiting up for us (it was around 10 pm) and led us to our room. We crashed.

---