We Fight Back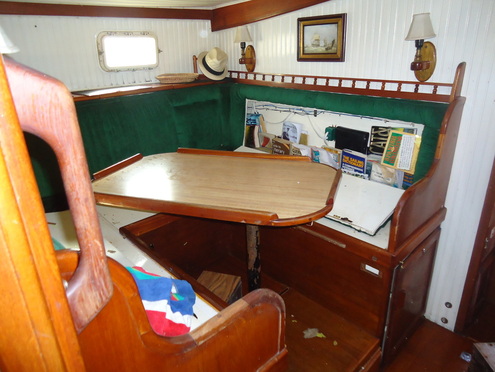 Monday, December 17th 2012 – Abreojos

Now came the money emergency. I had enough money to cover the cost of the tow, but it was in a money market account in the States. I could call my financial adviser and tell him to pull out what I need. But it was Saturday and I couldn't reach him until Monday. Then there was the Christmas holiday. It would take until Friday to get the money in my account. Bernardo, the tow boat operator, wouldn't leave Ensenada until I had wired him half the cash.

Internet access and cell phone coverage in Abreojos is iffy. Sometimes you have it and sometimes you don't. I could make a call, lose the connection and not be able to call back until the next day. Heaven knows how many people tried to call me and couldn't get through.

The Internet was even worse. I bought a Mexican cell phone in Ensenada that acts as a Wi-Fi hub. Sometimes, when we got cell coverage I could log onto the Internet and sometimes not. Oh well, ees Mejico.

Trying to log onto my account and move money around, then wire it to Bernardo was a trial. After three hours of trying, I finally got the wire sent.

The next morning I got an email from my bank saying they canceled the wire transfer for security reasons.

I was furious. I spent six hours the next day trying to find money to wire to Bernardo. I called both of my credit card companies only to be turned down. These weren't easy, quick "no's." They were long, slooow, painful, turn the knife and press one for this department and two for that department "no's."

I called my bank and talked to everyone but the janitor. Still no. The only way I could transfer money was through the Internet or at a branch.

"But you don't understand," I said. "If I had Internet access, I wouldn't be calling you. I'm six hundred miles away from the nearest branch, washed ashore with no transportation. The only means of communication I have with the outside world is cell phone. Sometimes." About then I would get cut off and have to start the whole process again. It was hopeless.

Six hours. On a cell phone. I shudder to think what all of this cost me.

Finally, while I was on hold for the umpteenth time I had a little window of opportunity on the Internet. It stayed up long enough for me to transfer what funds I had readily available.

Then I heard from Bernardo. It wasn't enough. He needed more money for fuel and supplies. I had sent him enough to get here, but not enough to get back to Ensenada. He had to make a fuel stop at Tortuga Bay.

I couldn't get my hands on the extra $4K before Friday.

So what do you do when you're in trouble? Call Mama.

Sure enough, Mama wired the money to his account and sent me some cash via Western Union (the only way to move money in Abreojos. Everyone pays their bills via Western Union here.)

Bless her heart.

My brother Jim called. They were in a blizzard in Portland. Had I really called Mama and asked her to wire money? He was afraid that some Nigerian Prince was holding me hostage and trying to con Mama out of her life savings.

When he was assured that this was on the up and up, he fought his way through the snow to take Mama to the bank to bail my sorry hind end out of trouble.

In the meantime, the boat was a mess. She had been under water. Everything in her cabin was ruined. Blackie and I took about twenty big black garbage bags of ruined stuff out of her. I lost two cases of Blue Water & Me. My heart broke. Tears welled up in my eyes.

So this was it? This was how my grand adventure ended. Virtually every book I owned, tons of food, almost all of my tools, including my power tools, clothes and everything else we had of value went into the garbage bags and then onto a panga to be taken to the beach.

It was a long, hard day. In the afternoon both Blackie and I had enough. We took his panga back to the beach and called it a day.

I was beat. I returned to the hotel room and took a long nap. When I awoke I was famished. We walked back to the beach to Juanita's only to find it closed.

We found a little taqueria in someone's front yard and had a couple of tacos before calling it a night.

I was exhausted, but not beaten. I was still ready to get up in the morning and fight for the boat some more.

It would be remiss of me not to mention that the local fisherman still watched over us like guardian angels. While we slept, Ramon checked on the Victory throughout the night

The Honda generator kept the electric pumps working. Every three or four hours, he left his patrol boat, climbed on board the Victory and checked to make sure that everything was still OK. If there had been any problems, I would have been notified in moments.

I had taken all of our clothes off the boat the day before. There was still doubt if we could save her and I wanted to at least have clean clothes to wear as we made our way back to the USA with our tails between our legs.

Of course, everything was wet. Dawn spent the day at Blackie's house with his wife Bede doing the laundry. They were very modern and had a washing machine, but there's no need for a dryer in Abreojos. You just hang the clothes on the line.


---
Dawn's Obervations:

I walked down to the beach, not knowing exactly what house I was going to or knowing Blackie's wife's name. I couldn't remember.

I walked down to a nice white house with a pink house next to it. There was a girl, in her twenties, sitting on the porch with an older lady.

As I walked by, I said "hola." They instantly knew who I was, but they didn't speak English and I didn't speak Spanish.

Blackie and Bede (I later learned her name was) live next to his parents in a small pink house. His parents house is a larger (but by no means large by American standards) white house with white columns in front holding up the roof of an open-air porch. Inside the house was beautiful.

Red tile floors and stucco walls were offset by potted plants and wrought iron. Hand carved wooden furniture filled the house as did framed photographs. The rooms were small, but gave a feeling of sumptuousness.

I remembered that Penn told me that lava is wash. Somehow, we managed to communicate. Bede said it was OK to do the laundry there and she would drive me to the hotel to get it.

We actually did the laundry at Blackie's parents' house. There was a washing machine under the carport filled with fresh water, but the lid was left open. Next to it was a big bucket filled with fresh water. There was a utility sink that had a washboard surface on the bottom. I knew from movies that this was used for washing clothes by hand.

I was confused because there was a washing machine and the washboard.

Bede showed me to put my clothes in the washer. I added the soap. She didn't close the lid, but turned the wash cycle on.

When the first cycle was done, before the spin cycle, she had me put the clean, soaking wet clothes into the fresh water bucket and dumped in some fabric softener.

While the clean clothes soaked, I put the remaining dirty clothes into the used water in the washing machine and added more soap then ran it through a wash cycle.

While the second load was washing, I transferred the clean clothes onto the washboard to drain. After all the clothes had been run through the wash cycle and rinsed in the bucket, I put the clothes, load by load, back into the empty washing machine and ran them through the spin cycle.

After they were spun, I took them to the clothes line and hung them to dry. The whole washing process was methodically planned out.

That evening, Bede took the dried laundry down for us and brought it back to the hotel.

This was the normal way of doing laundry for the whole town. Fresh water is too precious to waste on one load of laundry. I don't want to give the impression that they were poor people. No one in town has an electric dryer.


---