I Get Cleaned Out in San Diego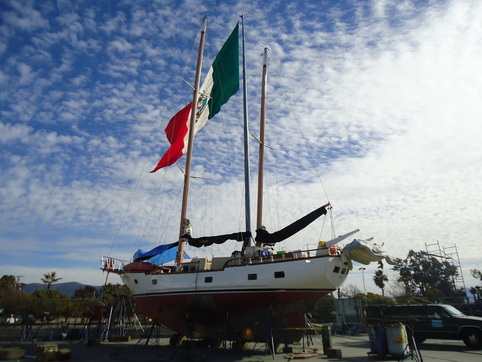 It's nice to see so many people are following my blog. Thank you all. I haven't received any comments lately. For a while I was getting lots of comments. If you feel like it, drop me a line. It's nice to know you're out there.

And, if you like my blog, you should read my book. You can learn all about it at www.pennwallace.com.

We're getting close to re-launching the Victory. I am now in the process of recruiting crew for the trip down to La Paz. If you know any sailors that might be interested, have them get in touch with me right away. I want to nail down the crew list by Monday or Tuesday.

My plan was to leave Ensenada by March 9th or 10th, but it looks like that may have been a bit optimistic. But surely, it won't be too much later than than.

Friday, February 22nd and Saturday, February 23rd 2013 – San Diego

We got up early on Friday morning and drove to Tijuana. The wait to cross the border was only an hour and a half today. We were in San Diego by 9 am.

Our first stop was the Mexican Consulate. Our Mexican lawyer friend, Vanessa, told us that we needed to start the visa process at our local consulate. We got there, put our names on the list and were called before we had a chance to find a place to sit and wait.

The young man helping us was a bit confused. We had a little communication problem, but I eventually managed to get our point across and understand what he was saying. He just couldn't grasp the concept that we wanted to open a business in Mexico. In his experience, all the Americans who apply for residency in Mexico are retirees.

He had to call the Mexican immigration service to get instructions. They told him that we needed to report to the Migration office in Tijuana to work on this visa.

I think that we will to wait until we're in La Paz. Then we'll hire a Mexican attorney to help us through the process. It is beginning to look long and serpentine.

After the consul, we drove north to Dawn's brother's house to pick up our mail, then on to Newport Beach. We have a friend who owns a brew pub in Newport Beach and we told him we would stop there for lunch and mystery shop it.

***Unabashed commercial plug***

If you're ever in Newport Beach, eat at the Newport Brewery on Newport Boulevard. The food was good, the people nice and the atmosphere welcoming. I'll certainly give Mike a good report on our visit.

***End of plug ***
---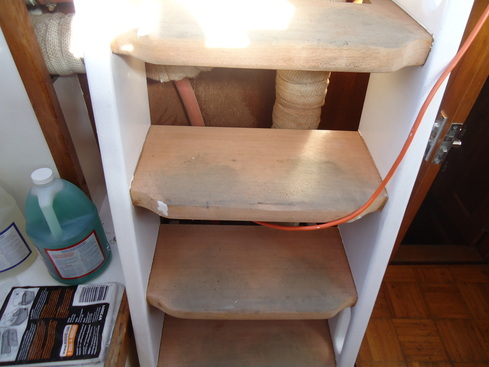 After lunch, we drove the few blocks to Minnie's Marine Surplus. This is a huge store with all sorts of used and new boat stuff. I went wild.

This was to be our last trip to the States before we head south and I had a long list of things that I needed to buy to replace the stuff we lost in the wreck.

At Minnie's we found an anchor, teak wood to repair some cabin damage, two winches, shackles and other assorted hardware. Dawn also found some "unofficial" charts of Baja.

Oh, that I had them before we went south the first time. These charts are much more detailed than the Mexican charts and, upon studying them, I would never have plotted the course we took. The rocks we hit, which don't show on the Mexican charts are plainly visible on these charts.

I got a set that would take us down to the end of Baja and up the Sea of Cortez.

They didn't have enough chain in stock and offered to order it for me. However, their second hand store price was much higher than I paid for chain in Seattle. After we visited West Marine the next day, I discovered that Minnie's chain was a bargain. West Marine wanted $2 a foot more, so I called Minnie's back and ordered chain. We'll pick it up next week.

It was getting late and we were tired, so we found a hotel on Shelter Island close to the stores we needed to hit the next day. We visited the bar for happy hour and met some nice people, then headed up to the room.

We were both too tired to go down to dinner so, after a nap, we split a hamburger from room service.

We spent the evening lounging in the gigantic king size bed. We've been sleeping in berths and the little double in our apartment for so long that the king size bed was a total luxury.

The next day, we were back on the hunt again.

We needed to stop at a Sears store to replace ruined tools. I always like the Craftsman brand, because if the tool ever breaks, they will replace it for free.

Since we needed to find a Sears, I looked for one in a mall with a Nordstrom. I have been slipperless since the accident and the cold, hard terracotta tiles in our apartment are hell on my feet. I found a pair of slippers at Nordy's that I could live with. They aren't exactly the same thing I've been wearing for the last century or so, but they're close and they're better than bare feet.

After I got home, I noticed the brand: Ugs. Who would ever have thought that I'd be wearing Ugs. I thought only Brittany Spears wore Ugs.

At Sears I went wild. I bought a new drill, a multi-tool, wrenches, a year's supply of sand paper (remember: the stuff we can get in Mexico is crap and we can't get all the types we need.) and a new pink tool bag for Dawn.

My credit card was getting soft from all the charging.

On the way back to Shelter Island, we stopped at some friends' house to pick up stuff Dawn had left in their garage. They dog sat for Odin and, in addition to her automobile tool kit, she had a bunch of dog stuff there.

Then down to the Dinghy Doctor. They did a fine repair job on our dinghy. It looks good as new. However, they missed replacing one broken handle. I really want the dinghy to be ready to go, so we left it with them for more repairs. We have to come up next week again anyway for the compressor, so it isn't an extra trip.

Then the big stop. We went to West Marine and really cleaned out my bank account. Our cook stove was ruined from being submerged in salt water, so I ordered a replacement. We picked it up and my credit card suffered a major meltdown.

Of course, there was lots of other stuff on my list too. We had quite a pile and ran up quite a bill before we were done.

By the time we got out of West Marine, it was after 5 pm and the Marine Exchange was closed. I need to go there to get replacement parts for the hot water heater. We'll have to go there next week too.

We got on the freeway and headed south. We made the requisite stops at Home Depot, Costco and Vons in Chula Vista before heading for the border.

We hadn't had lunch and were both dying. It was late and we didn't want to stop at a restaurant for dinner, so we went through the drive-through at Carl's Junior.

Bad mistake. I forgot that the last time we were in San Diego I got a hamburger from Carl's Junior. It was so fatty that it made me sick. (After gastric bypass surgery, too much fat makes me throw up.) Well, I did it again. About the time we were crossing the border, I was miserable. I think I've learned my lesson. Never again.

We got home around 10 pm, unloaded and fell into bed exhausted. Fortunately tomorrow is Sunday and we can take a day off.

---