Dawn Returns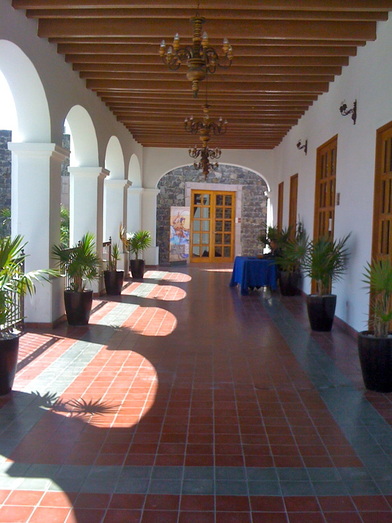 It's hot here in La Paz. I knew it would be hot this summer, but I hadn't expected it to be so hot so early in the year. Every day is in the 90's. We do stuff in the morning, then retreat to the air conditioning during the afternoon. Around 6 pm we're like the hedgehog. We cautiously peek our heads out of the companionway hatch and look around for signs of wind and shade.

I just confirmed that the book distributor Ingram's is finally carrying my book, Blue Water & Me. Please ask your favorite bookstore to order it. If you like, you can order it from Amazon.com or order the Kindle version.

Alright, we now return you to your regularly scheduled programming:

Tuesday, April 23rd through Saturday, April 27th 2013 – La Paz

First thing Tuesday morning I headed into town. With my phone not working, I have no contact with the outside world. I had to get it recharged.

I took the dinghy into the Marina La Paz dinghy dock to exchange movies and chat with the folk at Club Cruceros. Once again, the motor gave me trouble. Again it only ran at about 50% power.

I looked up the address for the Telcel office on the boat. After morning coffee, I grabbed a cab at the marina and rode to the office. It was closed.

What the heck's going on? I got out of the cab and released the cab driver. Maybe the staff had just gone to lunch.

One of the problems with being a non-native speaker of Spanish is that it sometimes takes me more time to understand the written word. There was a big sign in the window that I read and had to interpret into English. They had moved their office to Plaza Punta La Paz.

I turned and looked for my cab. It was gone. What to do?

Three men were standing talking outside a nearby business. I interrupted their conversation and asked if they knew where Plaza Punta La Paz is.

"Si, you go up this street three blocks," one of them told me in Spanish, "Then go right for a few blocks. It will be on your left. There is a big Soriana in the plaza."

That didn't seem too bad. I'd walk.

What a walk. No, I should say a death march. I followed his directions, but found no Telcel, no Soriana. After about two miles, I saw a Soriana sign. I kept walking. I was in a very commercial part of town. There were no taxis waiting around for touristas. If there were, I would have grabbed one. About a mile later I met a very attractive woman coming my way.

I asked here where the Soriana was.

"Es muy lejos de aqui," she said. (It's very far from here.)

I had passed the turn I needed to make to get to the Soriana/Telcel. I thought my directions giver said it was on my left. What he meant was that I needed to turn left. Then it was another five miles on Collisio Street to the plaza.

I walked along with the woman for a while, since she was now going my way, chatting companionably, then I saw a taxi. Across the street a cabbie stopped for lunch at a taco stand. I dashed across the major thoroughfare dodging traffic and caught him just as he was leaving. My long march was over.

After the death march, I had to stand in line forever to get help with my phone. Caramba!

I took a cab back to the Marina La Paz and jumped in the dinghy. Of course, the outboard gave me trouble, but eventually we were cruising back up the bay towards home.

Then the engine died. I can't believe it. Out of gas. I'm sitting dead in the water with a gentle breeze blowing in my face.

Our dinghy doesn't have oar locks, so you can't row it like many dinghies. Instead, it has paddles. Paddles are not made for covering any distance. I supposed if you had two paddlers in the boat, you could make decent headway, but for one person, it was a trial.

I was still about five miles from our marina. There was nothing to do but paddle. We made slow headway. I couldn't stop for a rest, because if I did, the wind blew me backwards faster than I was paddling. I couldn't afford to lose a single foot of ground.

---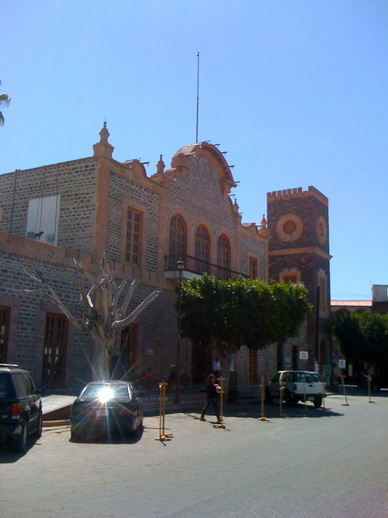 After about a half hour of paddling, another dinghy came along and gave me a tow. You can understand my embarrassment when I had to tell them that I was out of gas.

It was getting late in the day and I was hot, tired and frustrated. I made a quick "junk food" dinner and called it a day.

Wednesday and still no Terry. He was supposed to be out on Monday and didn't answer any of my calls on Tuesday. I called him early Wednesday morning and he answered.

He had to see the doctor in the morning, he'd be out in the afternoon.

No so much. He didn't show and I didn't hear from him.

I spend the day Wednesday washing the boat. She was still caked in salt from our trip down the coast and badly needed cleaning. Boat washing is a pleasant activity for hot days.

With deck brush and soap in hand, I scrubbed every inch of the Victory from stem to stern. I found a few battle scars, but she made the trip down the coast with remarkably little damage.

Dawn called me about 10:30 in the morning to let me know she was leaving Ensenada. I convinced her not to try to make the trip in one leg. She promised to stop in Guerrero Negro and get a hotel room for the night.

Thursday came and I called Terry again. Bingo! He picked up. He agreed to come out this afternoon to look at my problem.

When he finally showed up, I met a crusty old mechanic who had worked on and sailed just about every conceivable kind of boat. In that time he had formed an opinion or two and didn't mind sharing them at all.

He looked at my problem and concurred with my worst fear. The cable was broken. That means we would have to take all sorts of trim apart in the cabin to run a replacement cable. I really didn't want to tear the cabin apart, but there was nothing to do.

He took the old cable so that he could make sure to bring the right size back and left me for the day.

I continued to dink around the boat doing a little of this and a little of that. I even managed to sit down and write for a few hours.

---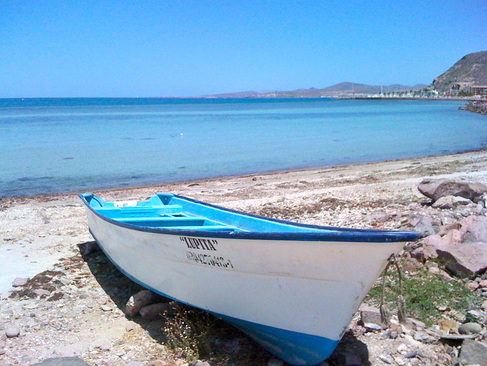 Dawn called during the day to let me know she was making progress. Then around 8 pm she called asking for help. She saw a sign saying Santa Rita ahead and she was sure that was past La Paz. She had gone too far, but where was she. Then she saw a sign that said "Cancun." But that was on the other side of the country. She couldn't have driven that far, could she?

I pulled up a map of Baja and went looking for her. But I couldn't call her back. My phone would take calls, but not allow me to call out.

I texted her and asked her to call. She eventually called back. She had stopped for gas and asked directions. She was still two hours north of La Paz.

She finally rolled in around 11 pm. Boy, was she a sight for sore eyes. Poor Odin had stood in the car for two days. He refused to sit or lay down. He was exhausted.

We unloaded the car full of goodies Dawn brought. She too was exhausted, so we went to bed.

Friday I took the car into town while Dawn slept. I ran a couple of errands and called Terry again. He did not answer. I left him a message. Actually I left him several messages. He did not call back.

I really need to get the gear shift fixed. The holding tanks are filling up and I need to take the boat to the fuel dock to pump them out.

I installed the new light that Dawn brought for the aft cabin. Now we don't have to live in darkness. I still need to replace the lights in the galley, but it's nice to have light in the aft cabin.

Then the big news. Dawn brought us an air conditioner. The unit is much larger than I expected, but I put it together and it blows COLD air. The aft cabin is comfortable and the galley is downright frigid.

This thing is much too big to sit around loose in a boat's cabin. But it makes such nice cold air. What to do? For the time being, it's sitting on one of the settees in the aft cabin. We'll try different locations and see if we can find a place where it fits.

Then there's the hot air exhaust. This AC was build for houses, not boats. (A boat AC unit costs in the thousands of dollars, this one was two hundred bucks.) The hot air exhaust is designed to go in your window, then the window closes on it and seals the room.

It doesn't work that way on a boat. First of all, we don't have windows. We have port lights. They are different shaped and the only port lights that open are in the aft cabin. Then the exhaust hose is too short to reach from the cabin sole (floor) to the windows. I have to lift the AC unit about a foot and a hlf off of the deck for the hose to reach.

But we'll figure it out. The cool air is a blessing.

Saturday came and I finally got Terry back down to the boat with his new gear shift cables. Being the crotchety old cuss that he is, he decided that the way the cables were originally installed is all wrong. What can I say, the old cable broke so something wasn't right.

He didn't have the parts to install the cables the way he wanted so he put in a temporary fix so that we could get to the fuel dock and will come back on Monday with the proper parts.

After he left we took the boat over and emptied the holding tanks. It always feels so good to have empty holding tanks.

I spent the afternoon writing and Dawn cleaned and organized. She was tired and spent from her trip, but she couldn't sit down with her perceived chaos around her. Of course the more she worked the more hot and tired she became. I couldn't get her to stop and rest, so I retreated to my corner.

She was not a happy girl by the end of the day.

This morning I got up and made coffee and looked around the boat. You can actually see counter tops. The berths are not piled high with stuff. I can hardly believe it's the same boat.

And Dawn is sleeping in. That's the best of all things. She needs to get her feet back underneath her after her long adventure to San Diego.


---