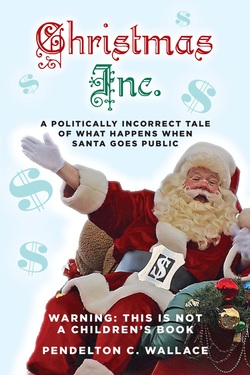 FOR IMMEDIATE RELEASE:
CONTACT: Pendelton C. Wallace
penn@pennwallace.com
www.pennwallace.com

Christmas Inc. Release La Paz, Mexico – 8/12/2013 – What would happen if Santa decided to go public and sell shares of Christmas on the NASDAQ? It would be the biggest IPO since Facebook.

Author Pendelton C. Wallace announces his new novel, Christmas Inc. A Politically Incorrect Tale of What Happens When Santa Goes Public.

With the influx of capital comes a host of problems. Now Christmas Inc. comes under public scrutiny. Santa must report to stockholders and the stockholders want to see a profit.

When the economy collapses, Christmas Inc. is deemed "too big to fail." Santa must accept a government bailout. With the bailout comes increased regulation.

So how does Santa solve his problems? He does like every other major CEO. First, he hires illegal burros from Mexico to pull his sleigh. Then he outsources his toy making to China and his It services to India.

This throws thousands of elves out of work. Most leave the North Pole to find work elsewhere. Henry moves his family to New York to pursue the American Dream. Duncan starts his own toy company to compete with Christmas Inc. Always the rebel, Alstair starts the Occupy North Pole movement.

Add a Chinese super-villain who wants nothing less than total world domination (of Christmas) into the mix for a politically incorrect satire on the state of our society.

Can Santa save Christmas and return us to our cherished values?

Find out this Christmas season.

Christmas Inc. will be available as a eBook or hard copy from www.Amazon.com

Coming November first.

A Northwest native, Penn lives on his sailboat, Victory, currently in La Paz, Mexico. But, by the time you read this, he could be anywhere.

For more information, contact Penn at penn@pennwallace.com or go to www.pennwallace.com.

---