Our Catalina Island Adventure

Friday, November 16, 2012 – Catalina Island

Things just go from bad to worse.

On the day we were going to put the boat in the water, the inverter failed. I bought this new in Seattle seven months ago. Fortunately it is still under warranty.

The inverter is the electronic device that converts 12 volt electricity from the batteries into 110 volt electricity. In case you don't know, most of your house hold appliances and battery chargers run off 110 volt.

The reason the inverter is so important is that one of our refrigerators runs off 110. If the inverter isn't working, the refrigerator is not working.

What is it with products these days? In addition to the inverter, we've had two brand new pumps fail, we had two hose nozzles not work, we bought a new BBQ and it broke on the first use, and one soup bowl lost its non-skid base. In every case, we bought new stuff and it failed as soon as we tried to use it.

Anyway, now that I'm finished with my tirade, there is not another Xantrex inverter in San Diego. I took it back to West Marine and they didn't have another one in their entire 600 store system. I've called or visited every marine store in San Diego and nobody has one.

I finally decided that we would have to wait for it to be delivered. I don't want to head down to Mexico with a broken boat. The new inverter should be here Monday.

That being said, I'm losing crew. Ron had to fly home on Tuesday. Bob and Lily need to leave this Tuesday. They don't have enough vacation time left for us to make it to La Paz in time for their return flight.

It is totally unfair that they should have spent their vacation living in a boat yard working on my boat. To at least give Bob and Lily some sailing time, I decided to sail to Catalina Island over the weekend.

It's a twelve hour trip from San Diego to Avalon, so we left in the afternoon. Naturally we had no wind. We motored through the night an arrived at Avalon around 2 am.

One of the reasons I chose to go to Avalon is that they have a 24-hour harbor patrol. When you enter the harbor, the patrol boat meets you and leads you to your mooring buoy. I couldn't believe that they charged us $61 a night to swing on their buoy, but everything on Catalina is expensive.

We got tied up, then settled down for bed. Bob and Lily finally made their first off-shore passage.

---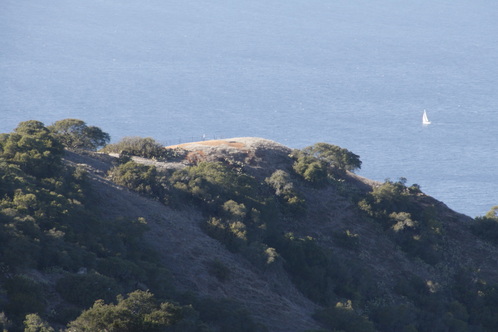 Saturday, November 17th 2012 – Avalon Harbor

I awoke to squeals of joy. "It looks a lot like St. John's" or "Look at the town, going up the hill side." It is pretty and did make me think of pictures of Mediterranean towns that I've seen.

There is a small half-moon shaped harbor, about a mile across. Along the shoreline are the typical restaurants, bars and T-shirt shops. There are no chain stores and everything has the feel of 1940's elegance. It is tied it all together with a pretty beach-front promenade where you can rent boats or beach chairs.

The flat land along the coast is relatively narrow. There is only room for about three city blocks going inland. Then the hill inclines steeply. Stucco covered homes and condos with red tile roofs climb the hill. There are few streets going up, but there are broad, white staircases. One section of town is comprised of Cape Cod style cottages climbing the hill.

The streets are crowded with golf carts. There are few cars, the only motorized vehicles you see are pickup trucks and delivery trucks from local businesses.

It is mid-November and tourist season is past. The town was quiet, even though several ferry boats run to and from the mainland daily.

We lowered the dinghy into the water and winched the outboard aboard. The faithful little motor started right up and we went ashore.

We found a little sidewalk café for lunch. Lilly was so hungry for Asian food that she separated from us and had lunch in a Chinese restaurant.

It was Saturday and my number one priority was to find a bar playing the Oregon-Stanford game. I won't talk about the game. I still sit here in mourning.

After the game I headed back to the boat for a nap. I'm so exhausted I run out of gas in the early afternoon, so I find myself needing a nap. When we get back to San Diego I plan to do nothing for a couple of days just to rest up.

Bob and Lily remained on shore. When I awoke I cooked a pork roast with mashed potatoes and gravy while Dawn took the dinghy ashore to pick up the Ewens. I forgot to get applesauce for the meal, but otherwise it was perfect. With a hot meal in our tummies, we crawled off to bed.

Sunday, November 18th 2012 – Avalon Harbor

Our plan for the day is to go ashore, rent a golf cart and see all of the town. Then Bob and Lilly want to go to the conservancy center and take a hike inland. We would stay another night and I'd get up at 4 am and head back to San Diego.

The best laid plans . . . We had breakfast on the boat and climbed in the dinghy for the trip ashore. Once in town, Bob wanted to check at the conservancy office to see what time they should go for their hike.

As it turned out, there was a shuttle bus leaving for the airport in five minutes. From there they could begin their hike. We decided that they should go.

Dawn and I moseyed around town while they were gone. We did a little shopping, I watched part of a football game.

Everything is expensive on Catalina Island. In the T-shirt shops you pay about 20 to 30% more than on the mainland. The restaurants are outrageous. A New York steak dinner that would cost $25 or so on the mainland is $38. Even lunch is high. I guess it's because everything needs to be brought out from the mainland by boat.

When Bob and Lily returned, they wanted to walk out to the end of the harbor and see the casino. I didn't have any walking left in me, so I returned to the boat to start dinner.

It was good to have the prep time. I prepared pollo boracho (drunken chicken) for dinner and that takes time to marinade. Afterwards we were all so tired that we just faded off to bed.

---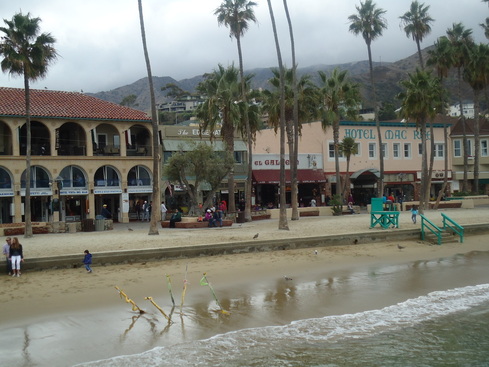 Monday, November 19th 2012 – Avalon Harbor

It's a twelve hour cruise from Catalina Island to San Diego. I got up at 4 am to get going. I wanted to be back in San Diego before dark.

I made a pot of coffee and headed on deck to get started. I went over my pre-sailing checklist, checked the oil and water levels in the engine, checked the fuel filters, made sure we were drawing from the correct fuel tank and turned on our electronics. By the time I fired up the engine, Dawn appeared on deck. Lily showed up shortly afterwards to help us cast off.

Casting off from a mooring buoy is no big deal. You just drop the mooring lines and let the boat drift free before putting it in gear. We motored out of Avalon Harbor in the dark and Dawn and Lily went back to bed.

At 6 am, Bob came on deck to relieve me. We chatted for a while and I went below for my watch in the sack.

With the sunrise came the dolphins. They were feeding and the crew on deck saw dozens of them. Later in the afternoon, when I was on deck, we saw hundreds of the creatures moving from our starboard quarter across our bow and off to our port bow.

They were following a school of fish. The dolphins circle around the fish to herd them, then take turns dashing through the school for a bite to eat. We had many dolphin close enough to the boat to reach over and touch and several stayed and played with us for a while.

Bob and Lily were like kids in a candy shop. I always love seeing dolphin, but I think that this was there first time.

It is seventy-four miles from Catalina Island to San Diego. During much of the trip you are out of sight of land. (That is, if there is a cloud bank along the mainland shore. If not, you can see the outlines of some mountains in the distance.) I love the feeling of being on the open ocean all by yourselves. At first, it kind of frightened me, having no reference to land, but I quickly learned to trust our navigation instruments. Being off shore gives me the feeling of being one with the world.

The sea is a deep blue color and the sunlight dances on the wavelets like millions of tiny diamonds. There was (once again) no wind and the swell was very slight. I hate the noise of the engine and burning all of the fuel, but I wanted to get back to San Diego before dark.

The business of the boat goes on 24-hours a day, whether you participate or not. After my watch in the early morning, I returned to my bunk. I listened to the growl of the engine and the sluice of the water inches from my ears. I heard the voices of my crew talking about this, that and everything. It all blended into a music that I couldn't resist. Soon my eyes were closed.

It's amazing how fast the Victory is when you take a nap for a couple of hours. When I returned on deck, Point Loma and the Coronado Islands were in sight. The sun was low on the horizon and the temperature was beginning to drop.

Earlier in the day, there was a squall line over the mainland near San Diego. I could see numerous thunderheads and really didn't want to have to sail under that. Fortunately, as the day drew to a close, the squall like began to dissipate and the once ominous clouds were now just fluffy shapes.

The sun took its final dive as we entered the channel to San Diego Harbor. In the twilight, we navigated the channel and the lights on the buoys started to come on as we entered the harbor.

We are now familiar with Shelter Island and the Police Dock, but it was still a little nerve wracking to find the right channel in the dark. When you enter San Diego Bay, there is a single channel that splits into two. If you take the right hand channel, you will go down the bay to Harbor Island, the waterfront and South Bay. If you take the left channel, you will go behind Shelter Island to the Police Dock and multiple marinas.

The problem is, the lights are very confusing where the channels diverge. It's easy to cut across shallow water trying to go from one channel to the next. And we all know what happens when a deep, heavy boat like the Victory cuts across shallow water.

This time, however, everything worked as planned. With my whole crew on deck looking for buoys and channel markers we made the correct turns and slid easily into our berth at the Police Dock.

Once again, we were exhausted from the day's travels. We had a quick dinner and called it a night.


---