The End of our San Francisco Stay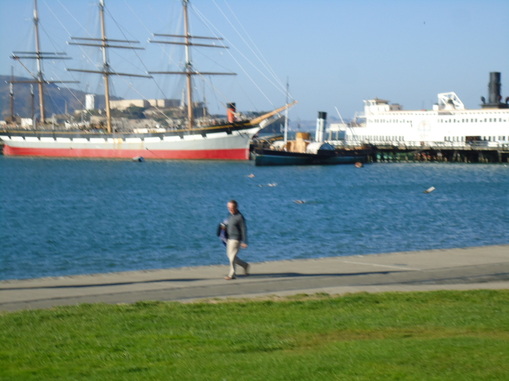 Thursday September 27th 2012 – Alameda Yacht Club

Today was a hard day for everyone, but especially Dawn.

Dawn flew back to Seattle and picked up her truck. Somehow she got here and discovered that two Great Danes had stowed aboard. For the next few days, the dogs lived out of the truck.

Sizzle, her female, had a tumor in her nasal passages that has been giving her trouble for a year or so. As the tumor got worse, Sizzle got grumpier and grumpier. She has been cited twice by King County for being an aggressive dog. I don't know if it's two or three strikes and you're out, but there is a law that requires aggressive dogs to be put down.

Today Dawn decided to put Sizzle down. Her mother, Joyce, and I took her into the vet. It was very peaceful and a great relief to have her out of pain, but it was still hard. Dawn has been a wreck for days coming to the decision. After the deed was done, she started to come back to herself.

I'm sure all of you pet lovers can relate.

Because of the emotionally charged atmosphere, I decided not to go to wine country. There would be no joy in it for Dawn and there was still plenty of stuff to do around the boat to get ready to sail.

Our friends Steve and Judy on the Code Blue arrived from Seattle today. They originally planned to leave a week ahead of us, but got hung up by mechanical problems on their boat. They stopped for a few hours sleep in Port Angeles, then made the run down the coast non-stop. They arrived late Wednesday night.

I convinced them to come to the Fortman Marina for the cheap moorage and good camaraderie of the Alameda Yacht Club.

Judi wanted to get away from the boat for dinner. "I don't care if we go to McDonald's, as long as I don't have to cook," she said.

We took them to a nice Italian restaurant (Linguini's) on Alameda Island. The food was great and we were able to talk and relive our trips down the coast.

We came back to the Victory for a night cap. Steve and Judy had given us a special bottle of red wine before we left and Dawn promised to save it to drink with them in San Francisco. So we did.

Steve was so tired that he fell asleep at the mess table and Judy had to wake him to go home.

After they left, Dawn and I went into panic mode to get ready for my book signing at Berkley tomorrow. We dug out our shore clothes and Dawn ironed them. I got my computer, projector, boxes of books etc ready to go in the morning.

Sometime around 1 am we fell into bed and died.

---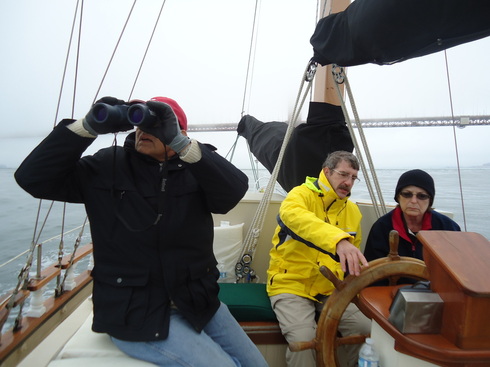 Friday, September 28th 2012 – Berkley California

Today's the day. The reason we've stayed in San Francisco so long is that I have an appearance at the Berkley City-Commons Club luncheon today.

First of all, we had to drop Odin, Dawn's male Great Dane, at a boarding house. Then we had to drive to the Oakland Airport to pick up Thom, our fifth crew member. Then we headed to Berkley.

The City Club, which houses the City-Commons Club, is a gorgeous old building. It was designed by the woman who designed Hearst's Castle. It is an impressive pile of rock. The outside has a substantial feel to it. Once through the wrought iron protected glass doors, we stepped into what I can only describe as Classic California. The floors were covered with terra cotta tiles. A massive stair case was opposite the doors and the check in desk to the right.

On the first and second floors are rooms without glass in the windows to let the California sunshine in.

These appear to be meeting rooms with huge pots of philodendrons on the perimeter. From the pots, the plants grow up the columns and across the rafters to give the rooms living green ceilings. Christmas lights are woven in among the philodendrons overhead.

These rooms have wooden floors and reek of casual elegance.

The Club also serves as a hotel for traveling aristocrats. My presentation was in the ball room on the second floor. The huge room had a buffet line set up in the back and large round tables near the stage and speaker's podium.

They already had a projector and screen set up for me. We got there early to set up and it only took moments. The rest of my crew wandered around taking in the building.

The lunch buffet was filet of sole Florentine with rice pilaf and sautéed snap peas. The Caesar Salad was good but not spectacular. The soup was egg plant soup. I thought the server said "egg flower soup" and took a bowl. God save me from egg plant. The sole was tasteless and the rice dried out, but the peas were excellent.

There were about thirty people in the audience. Their average age must have been around seventy-five. As I read from my book, I looked at my audience. At any given time two or three of them were asleep. I hope it was the food and not boredom.

The reading was fun and there were lots of good questions afterwards, but only sold two books. Very disappointing.

We returned to the boat and got ready to leave. Dawn and her mother took the car and did laundry and went shopping. The Toms and I took the boat to the fuel dock and filled up.

Oh my god. She took one hundred and five gallons of diesel. At $5.76 per gallon. Then there's tax on top of that. I paid nearly $600 to fill up.

I also vowed never to run the engine faster than 2500 RPM. At 3000 RPM we get about another knot of speed, but at the cost of a 30% increase in fuel consumption.

We got back to the dock and joined our friends at the Alameda Yacht Club for a left over dinner of nachos, potato salad, lobster bisque and fajitas. A most eclectic meal.

Back to the boat and hurry around with last minute chores. I finally got to sleep around 11:30. We had a 5 am wake up call to make the tides out of the Bay.

---