Great Dane on Board Episode 5

I can't believe that I let Dawn and Odin talk me into this again. We got such positive response to Odin's side of the story that Odin wanted to write another post. He's beginning to think he's a big-time author.

Anyway, for better or worse, here is Odin's next posting. This is an emotional one, so grab a box of Kleenex.

The Journey South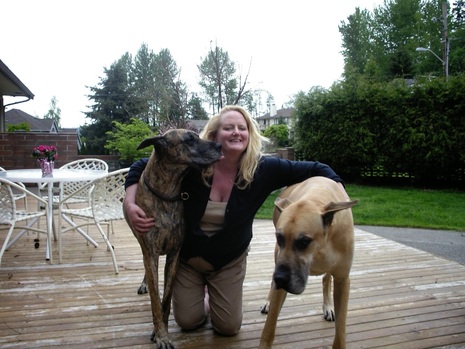 The summer of 2012 in Seattle went on and Mom spent most of her time with her new friend. Sizzle and I saw so much of him that we learned that his name was "Penn." That's a funny name. We've known people with names like "Bill" and "Heidi," but no one with a name like "Penn." What does it mean anyway?

Sizzle and I spent a lot of time on the floating white thing that Mom called a "boat." It was OK, we got to be outside, to watch all the comings and goings at the marina (the place with the wobbly wooden paths over the water), and we got to meet lots of people. Everyone who walked by our boat stopped to pet and talk with us. Not bad really. It was certainly better than sitting around the apartment all day waiting for Mom to come home.

Weird, scary things started happening at the apartment. Strangers kept coming over taking away our furniture. This couldn't be good news.

I've never been so devastated. Mom got out a big black bag and put all of her stuff in it. The bag smelled like boat. I could tell that she was going somewhere. She was our person, yet here she packed up her things and left.

A nice young couple came to live with us. They were good people, but where was Mom?

She was gone for a while on a thing she called a "charter." I think it had something to do with the boat. Then she came back for a day or two. She was gone again. She came back. It was really confusing. Was she here or was she gone?

"I'll be right back," she said, then disappeared. We really didn't understand what she meant. She was just gone. Day after day, Sizzle and I sat on the couch and looked out the window. Where was she? When was she coming back? Was she ever coming back?

I stole a T-shirt of Mom's from the black bag when she was packing and hid it under the couch. Day after day I pulled it out and sniffed it. I slept with it every night, just to help me remember Mom.

Sizzle seemed tired. She slept all day long. Each day, the young couple took us for walks or played with us, but it just wasn't right. We needed Mom. I kept up the vigil, day after day.

I was sitting staring out the window as usual when I heard it. The Queen Mary, Mom's big old green SUV. She was back. I just knew it.
"Woof," I told Sizzle "Mom's back" and we charged for the door.

---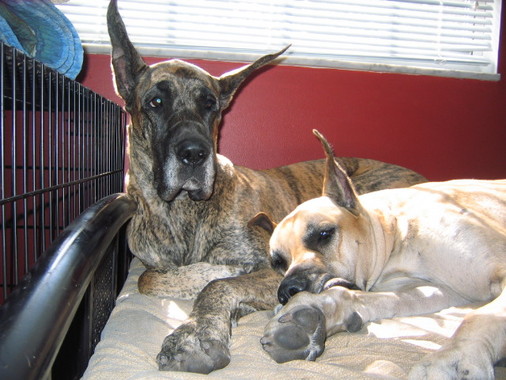 "Bark, bark, bark," I said, jumping at the door with excitement, "Mom, you're here." The door opened. There was Mom. I wanted so badly to jump up on her, but she never allowed that.

She dropped her bags and got down on the floor with us. She hugged us both and we licked her until we thought our tongues would fall out.

She wasn't at the apartment long. She loaded some stuff into the car, then asked Sizzle and me to get in. She didn't have to ask twice. We were off on a road trip with Mom.

Sizzle settled down and took a nap. I was too excited. I just stood and watched the country pass by.

We were in the car forever. Mom occasionally stopped to let us get out and stretch our legs. Then back in the car for hours.

Very late that night we stopped at a one of those places with little rooms. We got to sleep with Mom again. She smelled sweet and felt so warm next to my fur. What joy.

After a very short sleep, we were up again and on the road.

More hours of driving. Late in the evening we arrived in a place Mom called "San Francisco." She drove through a big city and down to the water.

You can't fool me. I knew that we were at another "marina." This time the paths over the water were even more rickety. Once again at the end of the path we saw the big white thing that Mom called the "Victory."

Penn and a couple of other people met us at the boat. In a couple of days Grandma arrived to be with us. It should have been a happy time, but something was wrong.

Sizzle smelled funny. She had had the smell for a long time, but it grew stronger. She got crankier and crankier. Something was wrong with her.

She didn't want to let Mom know that she was sick, but I could tell Mom knew. Sizzle got weaker. Mom was in tears most of the time. Finally Penn and Grandma took Sizzle away. Would she come back? Was it like when Mom went away? I never saw her again.

It was lonely, being the only dog on the boat. Sizzle was my sister and companion. She had been with me every day for years, then she was just gone.

I missed her. I lay around on the boat for days, not wanting to really do anything. Mom was the same. We cuddled up on the deck and lay together and were quiet.

It happened again. Mom and Penn took me to visit this pleasant lady. She had lots of dogs at her house. We had a great time playing, then when I looked up, Mom was gone. She left me again.

The lady had a nice house, there was a big pack of dogs there and a big yard. I got lots of attention. It was much better than being left in the apartment in Seattle, but I still missed Mom. Was she coming back this time?

She was gone for a long time, then I heard it again. The Queen Mary. Mom was back.
We jumped in the car and headed out, just Mom and me. It was a shorter trip this time. We were only in the car for a day, then we came to a place Mom called "San Diego."

---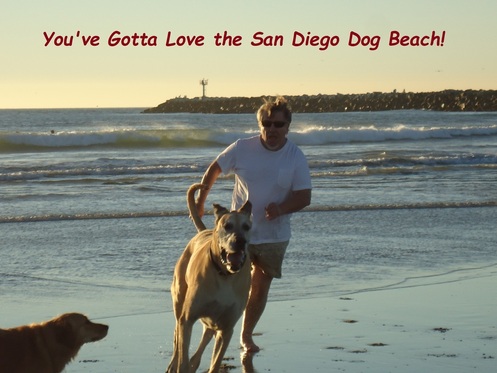 As before, Mom took me to a marina and there was Penn, waiting on the boat for me. I think he was almost glad to see me. He scratched my head and patted me. This was the most attention he had ever given me.
Life in San Diego was fun. It was sunny and warm every day. There were lots of birds to chase. Mom and I went for long walks with her friends and their dogs. They had a great dog park. It was the biggest beach I've ever seen and there were hundreds of dogs all running around without leashes.

And there were lots of people to love me. Everywhere we went, people stopped to say "hi," pet me or scratch my ears.

Mom and Penn made friends with a couple named Ron and Tina. They were really neat. They couldn't get enough of me. Sometimes I would go over to their house with Mom, several times I even got to stay there for the day and play with Thai, a black standard poodle.

We got to go to this huge park they called "Balboa." It was really cool. There were people and dogs everywhere. We walked and looked at stuff. I've never smelled so many interesting scents in my life.

All good things come to an end. Just when I was getting comfortable in San Diego, Mom took me to Ron and Tina's and disappeared again. This was getting to be disturbing. I never knew when she was going to leave and how long she'd be gone. Why did she have to keep going away?

Ron and Tina's house was fun. In addition to Thai, Grady came over to play every day. Grady was a little pug from next door. But still Mom was gone for a long time.

---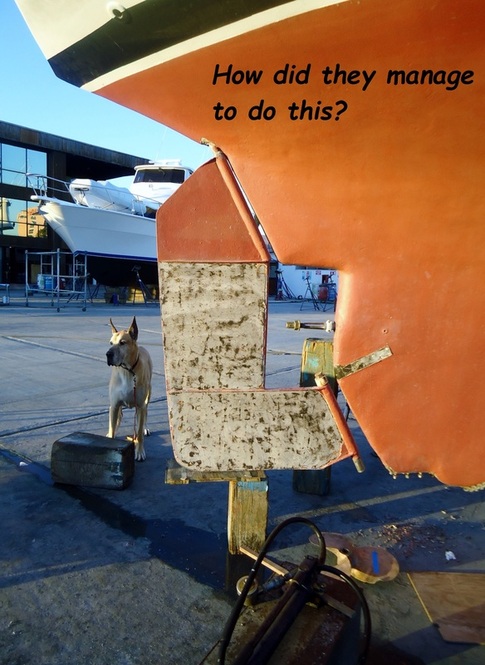 When she came back, something was different. She seemed very tired. Penn had no life in him at all. He just walked around like a zombie all day. At least Mom had hope. She tried to buoy up Penn's sprits. I took pity on him and laid my head in his lap to express my sympathy.

We spent Christmas in a nice apartment right across the street from the beach. Mom took me out to play in the ocean several times a day. But it didn't last long. Before I knew it, they packed me into the Queen Mary and we were off again.

This time they took me to a place called "Ensenada." We were in Mexico.

We stayed in a tiny room. It was very crowded and I didn't have room to move around. But I did have my own bed and a TV. I couldn't understand what they were saying because they spoke a different language, but what the heck. I miss most of what they're saying on American TV anyway.

Mom took me to a place called a "boatyard." I think that's where they grow boats.

We drove through the gate and up to the Victory. I was surprised at how big it was out of the water. It was horrible. Penn and I walked around the boat looking at the damage. I couldn't believe it. It looked like it was on the losing end of a fight with three other dogs. How had they done this?
No wonder Penn was so sad. I picked up on his emotions and tried to comfort him. When I nuzzled against his legs, he petted me. Can you believe it? He was nice to me. He got down on one knee and talked to me, he took my head in both of his hands. He treated me like one of the family.

After a short while, we moved into an apartment. It was really nice. It had a garden with high walls around it, lots of flowers and plenty of cats to play with. At night, Penn was exhausted. He let me cuddle up on the couch with him and talked to me about the work they were doing on the boat.

Would we ever be able to live on the big white thing again?

---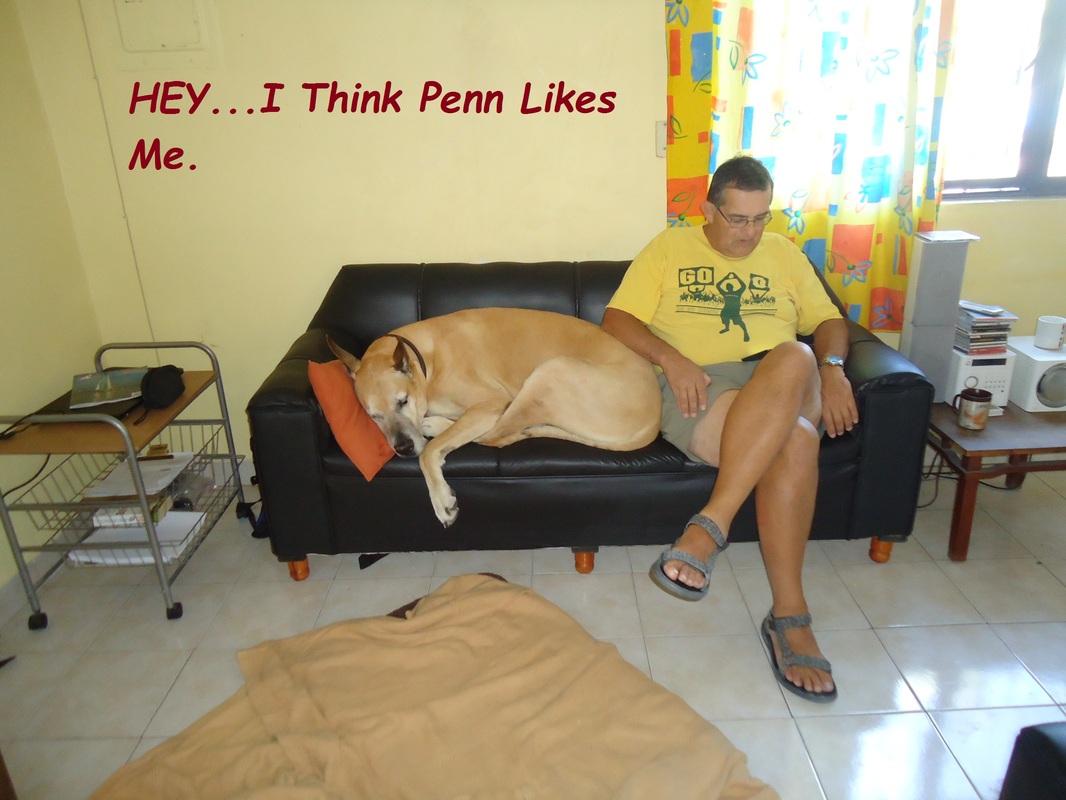 Episode 6