Progress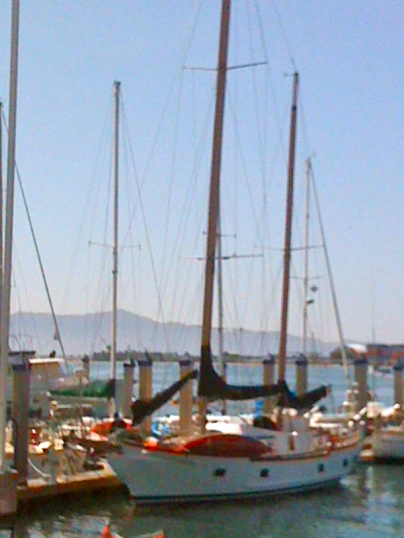 This blog is being posted two weeks after the fact. We have been out of contact because we've been at sea. Yes, we really made it. I have several days worth of posts to make, so keep reading. You'll eventually catch up with our adventures.

Monday April 1st 2013 through Wednesday April 3rd 2013 – Ensenada (Cruiseport Village Marina)

Another month has gone by. After three and a half months (and mucho bucks) in a boat yard, we're floating again.

I'm very confident of the repairs to the hull. You couldn't find the patch if you tried. We still have a bunch of little things to get done, but we're moving ahead.

The most important things on my list are to get the forward bilge pump working, replace the anchor light at the top of the mast and fix the forward head. I don't want to sail without these things working.

On Monday I continued to struggle with the stove. I documented the whole story in my last post because it made sense to tell you the story at one time, however it was spread out over Sunday and Monday.

The stove and the many trips to the gas store for the new solenoid took my whole day. By day's end we had a working stove.

On Tuesday we continued to work on projects. I had Bill concentrate on deck chores getting the Victory ready for sea.

The winds were high and the boatyard said we could stay at their dock another day. They didn't want us trying to get out of the little hole where we're moored and running into their lift slip. That would damage the boat and put them out of business while they got us straightened out.

Dawn made a big batch of lasagna. She brought some to the boat for Ben and Bill and kept some at home for us. I'm anxious to get moved back aboard the boat. It doesn't feel right to me to have two people living on my boat when I'm not there.

Wednesday was the big day. We had to move off of the marina's dock early before the wind picked up. Dawn and I talked it over and thought that Wednesday would be a good day to take the boat out of the harbor for a test sail (also known as sea trials).

With help from the marina staff, we managed to get our big boat out of the little hole. We motored gently and cautiously out of the harbor and headed for Todos Santos Bay.

When we cleared the harbor channel, I turned the wheel over to Dawn and began lesson one for raising sails on the Victory.

Of course, nothing was where it was supposed to be. After the wreck, the tow boat crew (and us too) just threw stuff out of the way so that they could get the boat back to Ensenada. There was no care given to where things should go. Then there's the three and a half months in a boat yard to further complicate matters.

I spent a day organizing the deck, but I didn't get everything. We couldn't find sail ties when we needed them. A shackle was missing from the jib sheets. Little stuff like that. Eventually we got it all worked out, but it took the better part of an hour to get the sails up.

Then the wind died. We scoffed around in the swell for an hour or so when Dawn appeared on deck with lunch. She takes good care of us.

After lunch, I decided that we needed to head back in, there was still much work to be done. Sure enough, as soon as we turned for the harbor, the wind picked up.

With little white caps on the bay, the wind was about ten knots. The Victory heeled over and pretended like nothing ever happened. She took off in the breeze and we had an exciting sail back home.

I can't tell you how exhilarating it was, being back at sea, feeling the wind and waves. The Victory acted like the accident never happened. We tested out all systems and everything appeared to be working. I wanted to do a happy dance, but maintained my decorum for the sake of the crew.

The sails were up, the breeze freshening when what should I hear? Jimmy Buffet flowing from the cockpit speakers. "Wasting Away in Margaritaville." How appropriate.

We brought the Victory back into the Cruiseport Village Marina. We were here last December. Jonathon and his staff were as nice and helpful as last time.

We're in a nice, secure slip and the facilities are excellent. I only have a few things left on my list to take care of, then we are ready for sea.

---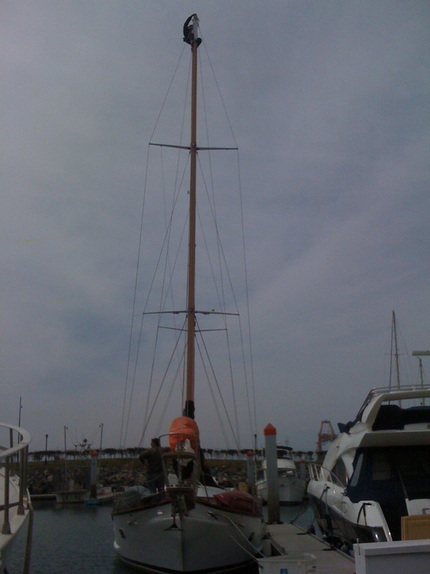 Thursday April 4th and Friday April 5th 2013 – Ensenada (Cruiseport Village Marina)

Fix the anchor light, replace the switch on the forward bilge pump and fix the forward toilet. Three little things and we can cast off. It shout be easy.

Yeah, right . . .

We started the day with going to the top of the mast. I hooked up the windlass to the topping lift and guess what? It wouldn't lift me. Bill is about forty pounds lighter than me, so he went up the mast.

Going up the mast, he checked the lower spreaders. I was worried because the starboard spreader just didn't look right. It was missing a bolt. Then he got to the top of the mast.

I suspected that the light bulb just wasn't in the socked tight, but he couldn't get it to work. He came down with the old bulb, it was an LED bulb. It was brand new. Those things are supposed to last for years.

Of course, we didn't have the right size bolt for the spreaders, that meant a trip to the store. I needed to go to the marine store anyway to get a new switch for the bilge pump.

Off we went. A trip that would take a half hour running up to Fisheries Supply in Seattle is a half-day marathon here. We managed to get a new float switch and bolt for the spreader, but spent hours looking for the other items on my list and didn't find a one of them.

While Bill, Ben and I ran all over town, Dawn was busy getting us moved out of the apartment. She cleaned and packed all of our belongings over a three or four day period when not working on the boat. She often worked late at night after I went to bed.

Meanwhile, back at the boat, the boys and I are back to work. We hoisted Bill back up the mast where he replaced the missing bolt on the spreader, then went to the top to replace the anchor light. What do you know? When he put the bulb back in, the light worked.

We gently lowered Bill back to the deck and discovered he only had one major scrape on his ankle from climbing the mast.

I replaced the float switch on the forward bilge pump and it works good as new. Things are looking up..

Now for the real ugly job. The pump on the toilet in the forward bilge is stopped up. I hate plumbing. I don't begrudge the plumbers a single of cent of what they get paid. It is such a disgusting, dirty job.

But wait, what is this? The gods were smiling down on me. I managed to clear the pump without having to take it apart. Not dirty sludging around in sewage for me today.

A tweak here and a patch there and I declare the Victory ready for sea.

Could it really be? After all these days, weeks and months of pushing ourselves to the limit, can we really be done? Understand that on a boat, you are never done. There's always something that needs fixing, but we are done enough to head out to sea.

One of our crew members didn't show up. We're perfectly all right, sailing with four people, we've done it with two, but having a fifth would make an easier watch schedule for Dawn and me.

I put an ad on the Internet and Dawn posted some flyers around town saying that we needed another crew member. She also posted an ad on the local Ex Pat web page, and what do you know? It turned up a potential crew member.

John showed up at the boat Thursday afternoon to discuss signing on. He is thirty-four and an chemical engineer. He's on a break between jobs and is planning on sailing to the South Pacific with a friend he will be meeting in La Paz.

We all met with him, decided we liked him and I offered him a crew position.

He has been learning sailing from a captain in SoCal on a Mariner 32 ketch. That should translate well to the Victory, everything is bigger, but it's the same sail layout.

It was agreed that he would come aboard Friday night and we'd sail on Saturday morning.

Nothing ever goes exactly as planned. The crazy cat lady upstairs (and I say that will all due affection) was going to take care of Odin (Dawn's one hundred seventy pound Great Dane) while we sailed to La Paz. Then Dawn would come back up on the bus and get Odin and her car and drive back to La Paz.

Say it ain't so! Elinor crapped out on us. She fell and hurt her leg and decided she needs to go to San Diego next week. We don't have a place for Odin.

What to do? Does Dawn stay in Ensenada with Odin and drive down and meet us? Can she find someone else to take the big dog? Does she put him in a kennel?

Friday was a day of dog stress.

John, our new crew member said that he has a friend that might want to come down to Ensenada and stay with Odin in our old apartment. We started the day on that bright note. By afternoon, the friend called to say that he couldn't rearrange his schedule.

Dawn got a hold of a friend in San Diego who agreed to dog sit. She loves Odin, but that means Dawn must drive up to San Diego and back on Friday.

As soon as we got to work, I packed Dawn into the Queen Mary and sent her north. Of course, Dawn having a mind of her own (damn her) stopped at the apartment to pick up Odin and spent several hours cleaning and organizing. About nine o'clock that night she finally headed for the border.

The boys and I settled in for the night on the boat. I expected Dawn back around three or four am.

When I awoke in the morning, she wasn't there.

---