Hacker for Hire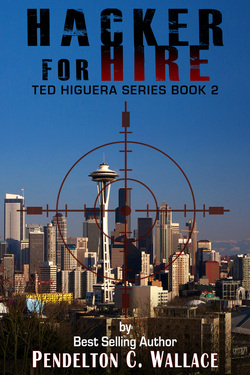 Read Amazon.com's Bestselling Thriller

Hacker for Hire, a suspense novel about corporate greed and industrial espionage, is the second book in a series about computer security analyst Ted Higuera and his best friend, para-legal Chris Hardwick.

The goofy, off-beat Ted Higuera, son of Mexican immigrants, grew up in East LA. An unlikely football scholarship brought him to Seattle. When he is saved from a brutal beating outside of Seattle's premier strip club by beautiful private investigator, Catrina Flaherty, Ted goes to work for her. He finds himself strangely attracted to this strong woman who is old enough to be his mother.

Catrina is hired by a large computer corporation to find a leak in their boardroom when the previous consultant is found floating in Elliot Bay. Ted discovers that Chris's firm has been retained by their prime suspect. Now he and Chris are working opposite sides of the same case.

Catrina asks Ted to commit several felonies to solve the crime. Ted and Catrina are led deep into Seattle's Hi-Tech world as they stalk the killer. But the killer is also hunting them. He exerts his influence to have Ted and Catrina arrested for felony computer trespass.

Hacker for Hire could be in today's headlines. Greed and the lust for power leave a string of bodies across the Seattle landscape. Can Ted and his friends find the killers before they find him?


---
Preview Hacker for Hire

Over 90 Five-Star Reviews

Reader Reviews

Five Star Review
If you like family honor and computer espionage this is a must read
Clinton Sites
on February 11, 2016
What can you say about this novel?

I have been involved with computer systems since the time when a large network was 100 CRT controllers, 4800 bps analogue lines were considered high-speed and personal computers did not exist to the development of distributed TCP/IP networks consisting of thousands of PCs and mainframes carved into hundreds of virtual machines.
My wife is Puerto Rican and my son is married to a lovely Mexican senora.
Enough about my qualifications to review this novel.

The human elements around Ted's family - the wishes for his future, the personal code of honor and loyalty to family - it rings true. The descriptions of his hacking exploits also ring true - phishing, social engineering exploits, lack of security in personal networking gear and the external attack modes are all pulled from headlines.
The novels characters are well developed and their interactions are believable - including the angst suffered by Ted.

Definitely this is an author that deserves following!