On to San Francisco

Thursday, Sept 6th 2012 – Off Cape Flattery

We made it through the Straits. Around five o'clock we rounded the buoy at Cape Flattery and made our way into the Pacific Ocean. Balboa must have seen the ocean on a good day because it wasn't pacific.

Six to eight foot swells rolled in from the west. Unfortunately, our southerly course put us directly in the trough. As each swell passed under us, the Victory took a heavy roll to the port side, then as she dropped back into the trough, she rolled back to starboard. We all wore life jackets while on deck and had to grope around for handholds to move around the boat. I'm surprised we didn't roll the sticks out of her.

The day continued to unfold. I had plotted our course before we left. Every hour we took a GPS reading and compared our actual position to the plotted course. Sometimes we were right on and sometimes the current was carrying us off course. This allowed us to make small corrections along the way rather than get there and find ourselves miles off course.

The navigation system is working like a charm. It keeps track of where we are, where we've been and where we're going. We can see the charted obstacles and aids to navigation on the screen. The autopilot holds us on course. It's like having an extra hand on board. While you're on watch, you need to keep an eye out for other boats and check our position occasionally, but the nav system runs the boat for you.

More whale sightings. Of course, they all came while I was asleep. I did get to see some spouts as the whales blew, but I never saw the animals themselves.

It was another rough night for me. The hydraulic motor that moves the rudder to steer the boat is under my bunk. All day and night long, it is constantly making tiny course corrections. I lay there listening to the "rrrrr," "rrrr," "rrrrr" all night long. A small price to pay for all of this comfort and luxury I suppose.

Did I mention that sailing is the most expensive way in the world to travel 3rd class?

We sailed on through the night. Dawn called me on deck around 1 am again. There were ships all around us and she wanted to make sure that we were on course and weren't going to hit anyone. It was like I-5 rush hour traffic. We were approaching the mouth of the Columbia River.

I went back to bed and arose at 5 am to make coffee and get ready for my watch. I was on deck early to relieve Kathy. The light was just beginning to peek over the land, leaving a silhouette to starboard. Finally the sun broke over the mountains. With the sunlight, we could see the entry buoy for the Columbia River entrance about a half-mile off of our bow. I patted myself on the back a little for a nice piece of navigation.

We slowed down through the night to time our arrival with the slack tide. As the sun rose, the tide turned and we were able to enter the river.

Once again, we dodged huge ocean-going freighters. A dredging ship was coming out of the river and hailed us on the radio just as we rounded the first buoy. I can't tell you how startled I was to hear them calling "Victory, Victory, Victory" over the radio. They just wanted to know our intentions and on which side we planned to pass them. I never did figure out how they knew our name. There were coming straight at us and couldn't possibly read our name boards.

It was about a two-hour drive up the Columbia, against the current, to Astoria. We called ahead to arrange moorage and settled easily into our slip. I couldn't have been prouder of my ship and crew. We made the easiest passage from Seattle to Astoria. Let's hope it keeps up.


---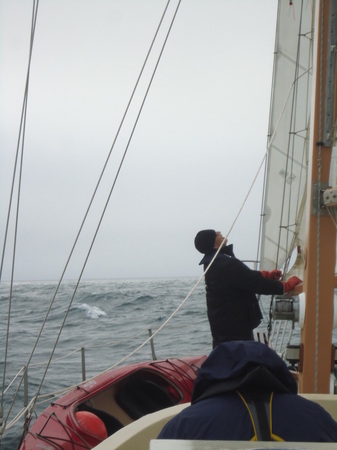 Friday, Saturday and Sunday, Sept. 7th to 9th – Astoria

We laid over in Astoria for three days visiting with my mother and brother Jim. We got in around 10 am on Friday and secured the boat. We all napped and rested for a while, then went to work on maintenance projects. We worked on the boat all day long.

Saturday morning Mama and her fiancé David, arrived from Portland. We gave them a tour of the boat, visited and then headed into town. I needed to find a bar so I could watch the Duck football game on TV.

Can you believe it, not a single bar in Astoria played the U of O game. It seems that it was broadcast on the PAC-12 network channel on TV. All of the bars in Astoria apparently use direct TV to get cable channels. Direct TV doesn't carry the PAC-12 network. The nearest place we could find to watch the game was in Sea Side, twenty miles to the south.

I gave up on the game and we had lunch in one of the restaurants where I've done readings during the Fisher Poet's Gatherings.

On Sunday we visited again, went into town and did the Sunday Market, did some shopping, had lunch and returned to the boat. On the way back we picked up a piece of albacore tuna for dinner. I cooked the tuna, black rice and corn on the cob for dinner.

After dinner we sat around and talked, drank red wine and ate chocolates. There must have been a hell of a wind blowing because when I got up to head for bed, the deck was sure rolling under me.

Monday, September 10th 2012 – Astoria

Time to leave Astoria. I can't wait to get out of the cold, damp weather. Since we've been here, things have started to mold in the cabin. We've never had that problem before.

Mother and David came down to see us off. We pulled out around 9 in the morning and headed out to sea. The bar crossing was easy, but once again we were in giant swells.

We put up the main sail to help steady the boat against the roll. After we were about five miles offshore, we changed course and headed south. Once on the new heading, the ride was more comfortable.

As usual, the crew says they saw whales while I was below. I find it hard to believe that the only time whales approach the boat is while I'm sleeping. What am I, Captain Ahab?

In the afternoon, the engine started running rough, then died. I need this?

I checked the fuel filter and it seemed clear. When we hit the starter button, the engine turned right over. We were off of Tillamook Bay when it happened. I didn't want to be caught at sea without an engine, but I also didn't want to try to enter Tillamook Bay with an engine that might fail us at any time.

While I went below to consult my charts and think about options, the engine died again. After reading about the approach t Tillamook Bay, I decided to take my chance with the engine. We would motor south to Newport, which has an easy harbor entrance. If the engine dies, I thought, we would sail the rest of the way, even though the wind was extremely light. When we got to Newport, I'd call the Coast Guard and request a tow across the bar.

We motored on through the night. The engine continued to cause us grief. We arrived at Newport at about 5 am. I wasn't going to enter a new harbor in the dark and wanted to wait for the tide to change. We sat for a couple hours off the harbor entrance, then crossed the bar as the sun rose.

---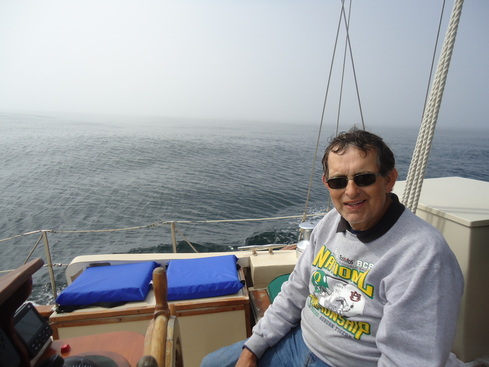 Tuesday and Wednesday, September 11th & 12th 2012 – Newport, Oregon

It turned out one of our fuel filters was clogged. I learned a lot about our fuel system from the mechanic who came down to give us advice, but he didn't have time to work on the engine. Tom and I changed the fuel filters the next morning and the problem seems to have gone away.

While we were in Newport, NOAA posted gale warnings for the Southern Oregon Coast. Winds to 35 knots, waves from 10 to 14 feet high. We decided to lay over in Newport until the weather cleared. The Victory is a big, strong boat and could take it. I don't think the crew could. I certainly didn't want to.

As long as we had to wait out the storm, we did several other maintenance projects. Kathy walked into town and spent the day on Wednesday, we caught up to her in the afternoon.

Newport is a fun little tourist town with a vibrant fishing industry. We were moored in the new marina on the south side of the river. However, the people in the boat ahead of us were nice enough to offer us the use of their cars. We ran into town a couple of times.

Of course, we had the obligatory Mo's clam chowder and walked through the tourist traps and galleries.

The town hasn't grown much since I lived in Oregon and came here all the time, but it has become more respectable. The streets seem cleaner, the buildings have new coats of paint and wall-covering murals have popped up everywhere. Some of them are really good, some a little amateurish. All in all, it looks like Newport is prospering.

Thursday, September 13th 2012- Newport

We left with the tide this morning. I'm getting good at this crossing the bar business. It is a bright sunshiny day, although a little chilly. We motored out ten miles, then turned south. We had a heavy swell rolling the boat on the way out, but once we turned south the swell was behind us and the boat pitched, but it was a much more comfortable ride.

So far we haven't had any problems with the engine. I've checked the vacuum gauge and it looks good.

Kathy and Dawn swear that they saw three blue whales while I was below. This is getting a little ridiculous. I find it hard to believe that whales only come around when I'm sleeping.

The cool sunshine has vanished into the fog. We ran into a heavy fog bank off Heceta Head, just south of Yachats. The weather forecast is for heavy fog through Friday evening. I'm not looking forward to a full 24 hours of this.

I just came off watch. It's nine pm and Tom has taken over for the next three hours. My watch, from 6 to 9, allows me to be on deck while the sun sets.

You couldn't tell it tonight. We were socked in fog with about a mile visibility. When the sun set (by my watch, you couldn't tell by looking) the fog just got a little darker. As the night grew darker, I had the odd feeling of being alone in the universe.

On night watches, the rest of the crew goes below where it's warm and light leaving only the watch keeper on deck. I can't begin to describe the feeling of isolation I feel. In the fog, everything just disappears. I couldn't see the horizon or the outline of land. The waves a few feet from the boat are gone. The only thing I see besides the cockpit and our running lights is the white foam thrown by our wake. About halfway down the hull, where the cockpit is, the wake turns over leaving a trail of white water. The white catches whatever light there is and looks almost florescent.

There is a distinct feeling of loneliness while keeping a night watch in the fog. I sang every song I know (thank God the rest of the crew was below decks and couldn't hear me), then sang them over again. With visibility so poor, I had to be on guard every second for a shape or light coming out of the fog.

Of course we have our navigation instruments to rely on. We know where we are and that there are no obstacles on our course. What we don't know is if there are any other boats or ships out there.

Any ships or big fishing boats in the vicinity will pick us up on their radar and avoid us. It's only the little pleasure boats with skippers dumb enough to be out here in this mess that worry me. If they don't have radar, they only have their eyes and our eyes to avoid collisions.

I came below to a wonderful smell. Kathy has turned in, but Dawn is busy in the galley baking. Mama would be proud. Dawn has made me a pineapple upside down cake. She obviously read my book. It smells and looks wonderful. As soon as the coffee is ready, I'll give it a taste test.


---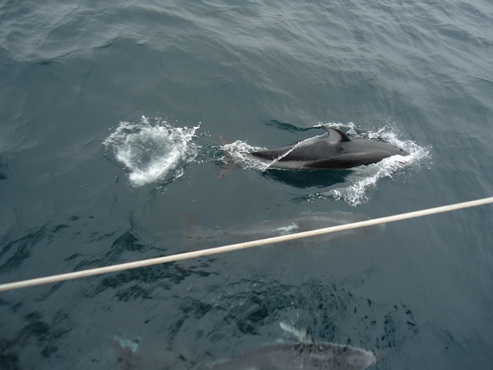 Friday, Sept 14th 2012 – 14 miles off of Mendocino, California

Kathy got me up at about 4 am with questions about our course. It was still foggy and we couldn't see anything. By the time I took the deck at 6 am, the fog was burning off.

Weather-wise, today was much better. After more than 24 solid hours of fog, we have about ten miles of visibility. It's gray and overcast, but no fog, no drizzle and the air is slightly warmer.

After my watch ended at nine this morning, I was on deck several times with just jeans and my fisherman's sweater. Of course, there are several layers underneath, but no top layer.

We are alone on the sea. After we left the mouth of Newport harbor, I haven't seen another boat in two days, with the exception of a purse seiner that passed us this afternoon on a reciprocal course. We are out of sight of land and are the only spec of life in the universe.

Not true!

We had some wind this morning, so I decided to raise the sails. Everyone else was still asleep, but Dawn poked her head out of the hatch to check on me. She thought that I was crazy, trying to raise the sails by myself. She was right, of course. It was a trial.

With Dawn and Tom's help, we finally managed to get the sails up and actually had a nice wind. It was initially out of the north, then backed to the northwest. Exactly where we wanted it.

I removed the roller furling from the jib this summer because it just didn't work right. Every time I unfurled the jib, something went wrong or broke. I finally got exasperated and just got rid of it.

Now, to raise and lower the jib, someone has to go out on the end of the bow sprit to handle the sail. Since the Victory is my boat, it usually is me. Today when I went out to set the jib, I didn't think about the swells we were riding over. Sure enough, it a matter of minutes, we hit a big swell and the bow sprit dived under water. I was standing in water up to my knees.

It was surprisingly not cold. I expected to be freezing, but I hardly felt cold at all. However, my pants, socks and shoes were soaked. Everyone thought it was a great joke. Har, har.

We all sat around and congratulated ourselves for finally finding wind. It came, as expected after we rounded Cape Mendocino. Cape Mendocino is one of the nasty patches of water on the Pacific Coast, but we had no problems.

An hour or so after I went below to dry off, Tom spotted dolphins. Actually, they were porpoises. A huge pod of them. There must have been more than a hundred. They came and played and capered with the Victory for a long time. Dawn took dozens of photos and I drug out the movie camera and got some good footage.

Then the wind died and we settled in for the long, slow slog to San Francisco. We kept the sails up, hoping that we would get a little extra push or that the wind would come back. It didn't. We finally struck the sails around 4 in the afternoon.

You know that I'm a slow learner. I didn't learn my lesson from raising the jib. Instead of putting on my foul weather gear and sea boots, I went out on the bow sprit with jeans and tennis shoes. Once again we plowed into a wave (I think Dawn intentionally looked for a big wave to drench me) and once again, I got soaked. I'm now out of dry tennis shoes.

I took my watch as usual at 6 pm. Kathy made a Chinese Chicken salad for dinner and passed up a bowl for me. The night set in and I stood at the shrouds, looking out at the water and thinking of home and loved ones. My mood matched the night.

The sea is black. The sky, a dark, dull ugly gray. There are no lights, no land, nothing to break the monotony. Then wait. What was that?

A flash in the water to starboard. Then a large patch of light under the water. What kind of sea monster out of Jules Verne was this?

Then the patch of light broke apart into a hundred pieces. Streaks of light came towards the Victory from every angle.

Dolphin. Another pod of porpoise came to play with is in the dark. We couldn't see the animals themselves, but we saw the streams of phosphorescence they left in their wake. They came right up under the bow sprit. One slapped his tail, creating an explosion of light that made me jump back.

I've never seen anything like this before. I thought that dolphins and porpoise "slept" at night. I've never heard of them being nocturnal creatures.

The timing couldn't have been better. It was twenty minutes until the end of my watch. I called down below and Tom and Kathy came up to see. By the time they had their fill of watching the porpoises, it was time for Tom to take over the deck.

Throughout the night the porpoise played with us. On all three other watches, the watch keepers had little friends to cheer them up and make the night go faster.

With any luck at all, we'll make it to San Francisco by tomorrow afternoon. I deliberately chose an offshore course for our trip because it is shorter and faster, but it is lonely. We have been out of the sight of land and other boats since early Thursday. I expect we will close with land at Punta Arena around midnight tonight. Then we'll be back in the major channel for boats going north and south. If all goes well, we'll be in San Francisco in time for dinner.


---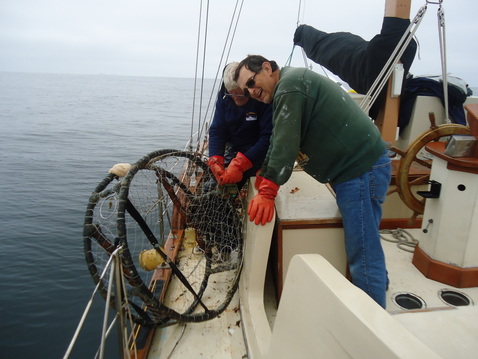 Saturday, September 15th 2012, 20 miles off the California Coast

As usual, my alarm went off at 5 am. I got up, made coffee and warmed up some meatballs and potatoes that Dawn made last night for breakfast. On deck by 6 am, I took the watch and Kathy returned to her bunk.

Once again it was a cold, gray morning. My "day" watch starts out in the dark. There were no lights visible anywhere. We plunged on through the night, a tiny speck on a sea of darkness. At around 6:30 the eastern sky begins to lighten. Unlike earlier watches with clear skies where I could watch the sun rise, the sky just gets less dark.

By 7 am, the dark gray sky has turned to a lighter gray and the black water has become gray. There is a distinct horizon, but it is just a difference in the shades of gray.

I will say that although we haven't seen the sun in days, it is getting warmer. On my night watches further north, I bundled up with every stitch of clothing I had. Now, I'm still wearing several layers of clothes, but I don't need my heavy Kowichan wool cap (a knit stocking cap will do) and I'm not zipping my parka up to my nose. As the day wears on, I lose the parka and just wander about in my fisherman's sweater.

We droned on through the long day. I don't recall any whale sightings and we saw no more porpoise (porpie? Porpoises?). Just us and the gray world.

Still no wind. We've made good time motoring down the coast and our trusty Yanmar diesel has not missed another beat since we changed the fuel filters.

When I got up this morning to make coffee, the faucet spewed mist and huffed and puffed air. "Out of water," I thought. I changed from tank #1 to tank #2 and we were back in business.

But how could we have gone through 200 gallons of water in five days? We must either be water pigs or we have a leak in the system. I didn't discount the latter possibility. Anyway, I put us on water rationing when we changed to the other tank. If we had a leak, I didn't want to run out of water twenty miles off shore and fifty miles from the nearest marina.

Dawn (damn her eyes) questioned my rationale. To appease her disagreement, I went back and switched to tank #1 again. Viola! We had water. Dawn was right. There was just an air bubble in the line. We are off water rationing and back to using it like we were tied to the dock.

My 6 pm to 9 pm watch lets me see the day die. Once again, no sunset. The gray just becomes darker and eventually it is night.

We plowed on through the night. Sometime shortly after my watch we should hit Point Reyes. Then the coast line will take another turn back to the east and we'll alter course again for the final run to San Francisco. We expect to arrive around 6 pm on Sunday.

There is no Internet connection available to us this far off shore, so I'm just guessing at the tides. When we get closer and get a connection, I'll be able to find out for sure. The point is, you don't want to enter the Golden Gate against the tide.

The current runs at five to six knots and the boat only goes five to six knots. We would be standing still in one of the busiest shipping lanes in the world. Not recommended.


---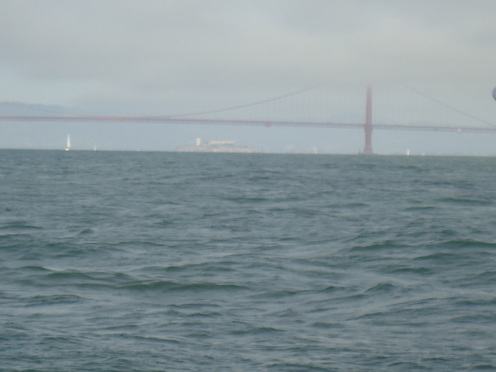 Sunday, September 16th 2012 – 20 miles off Punta Arena, California

Sunday started like all the previous days with getting up at five, making coffee and going on deck to take my watch. But, there was an air of anticipation in the day.

We're still out of sight of land, but somewhere out there ahead of us lies the Golden Gate. Like navigators of old, we trust our compass and charts (plus the modern electronic goodies) to bring us across the vast, trackless Pacific to a safe landfall.

It is kind of strange, but out of the sight of land, not being able to see the sun or stars, you get a feeling of disorientation. Are we headed north or south? It feels like the boat is making a big turn to starboard, but I look at the compass and we're still on course. I learned when flying to always trust my compass. It is the most accurate instrument on the boat and the least likely to fail (See Blue Water & Me for more on this topic). I can see where mariners could easily get turned around and spend months wandering at sea until they ran out of food and water.

The gray sky gets lighter, the crew begins to stir. At 9 am, Tom comes on deck to relieve me. I crawl back into my bunk to catch some of the sleep I haven't been getting.

Have I mentioned our lovely aft cabin? If you've been on the Victory you know that we have a huge cabin with a queen sized berth and two singles, settees, a head and a HDTV.

The crew regularly gathers in the cabin in the evening to watch movies. Dawn found an old air popper at Willy Willy (Goodwill) so we have fresh popped pop corn for the movies. Tom brought along the Bourne series, so we've been watching that. I had to leave the party while we were watching "Hancock" so I finished it when I got off my watch.

It's a wonderful, comfortable cabin. With only one problem: the noise. The hydraulic motor for the auto pilot is under our berth. The engine noise is loud, but if we shut the door, it's tolerable. All night long the auto pilot goes on and on. "rrrrrr," "rrr," "rrrrrrrrrrrrrrrrrrr." It sounds like a couple of cats dropped into a trashcan together.

I've had sleeping problems since Connie was sick, so I just can't get more than about an hour of sleep at a time when we're under way. All day long, I try to catch a little nap here and there, but I just can't catch up.

Just before noon , Tom spotted a derelict crab pot buoy. "Let's pull it up," I said. What a stupid idea. I brought the boat back alongside the buoy and Tom grabbed it with a boat hook. He started pulling it aboard. It was crusted with barnacles and muscles.

After about fifty feet of slimy line, I decided that we should put it on a winch. We looped it over the jib sheet winch and started cranking. Keep in mind that I'm off watch, wearing jeans and my slippers. Tom has his foul weather gear on, but only tennis shoes.

The messing, slimy line continues to come aboard. Now it's covered in sea anenomies. We pull up about a hundred feet of line and find a splice.

"How long is this line?" I ask.

"Couldn't be much longer," Tom replies.

We pull up another hundred feet of line.

"I think we should just give up, " says I.

"I'm not giving up now. Not after all the line we've already hauled up," says Old Tom.

At the end of three hundred feet of dirty, stinky line we find a commercial-sized crab pot. It has two nice keeper males and a couple of females. We save the males for dinner and throw the others back.

I decide that we're not going to keep the pot on the boat. It's too big and stinky. Tom disables it so that no crabs can get caught in it and tosses it back over. Now we have another problem.

The boat is a mess and smells like a fishing boat. They probably won't let us into a respectable marina like this. (Fortunately we found a disrespectable marina.)

We spend the next couple of hours cleaning up the Victory.

---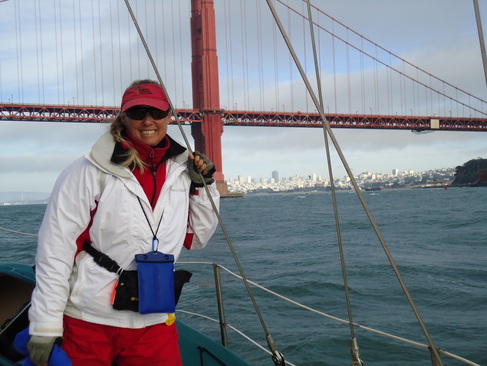 By the time we were through with the crab pot fiasco, we were in sight of land. Point Reyes, about seven miles to port. The headland above San Francisco.

Excitement rippled through the crew as first we sighted the buoys marking the entrance to the Golden Gate, then Dawn caught a glimpse of the Golden Gate Bridge.

What a magnificent sight. Rising hundreds of feet from the head lands on each side of the Golden Gate, the bridge is to the west coast what the Statue of Liberty is to the east coast: an icon of entering America.

We missed the flood tide. I idled the engine back and we sat and waited for the tide change. It is about six hours between tides, but I hoped that after the max flood current, which would be in about three hours, we might chance it.

Another sailboat sat a mile or so inshore of us. The hours ticked by. Then the sailboat took off for the bridge. It was just barely max flood. What was he doing?

But it must be a local boat, I reasoned. He knows the area, I'll follow him.

He made a dash for the Golden Gate and slipped through the pass. Much closer to shore than I dared go. We followed, further out to sea. The current was stronger against us, but we still made headway, so I kept going.

I've had a lot of experience with strong tides and narrow passages up in Canada. This little pass held no fear for me. Well, not much. But with my knowledge of running passes, we made it through. I was white knuckles for a while, but we were never in any danger.

Then we were through. San Francisco Bay.

The Bay greeted us with gray skies and strong winds. I was anxious to get to our marina near Oakland, so we didn't raise the sails, but this was the best wind we've had since we left Seattle. San Francisco Bay is known for its wind.

Dodging huge freighters, we finally made it to our marina. There are a couple dozen marinas along the Oakland/Alameda Estuary and none of them are well marked. With the help of some folk on the dock, we located the correct marina. The slips weren't numbered so I found an empty slip approximately where I thought ours should be and tied up. As luck would have it, it was the right slip.

The girls walked up the dock while Tom and I were securing the boat. Dawn called and told me to come on up. They were in the bar at the yacht club and we were going to order pizza.

Sure enough, half a dozen or so people were watching the 49ers game on TV. They were the nicest people. The first round of drinks was on the house, then they fed us dinner. They had a BBQ earlier in the evening and the leftovers weren't cold yet.

We had grilled chicken, corn on the cob and a couple of kinds of pasta salad. Perfect. It was late and we all were hungry. The people were great. They never let us catch a breath, asking about our trip down and telling us about places we should go.

Finally we returned to the boat where I took a shower and plopped into bed.
---