Exciting News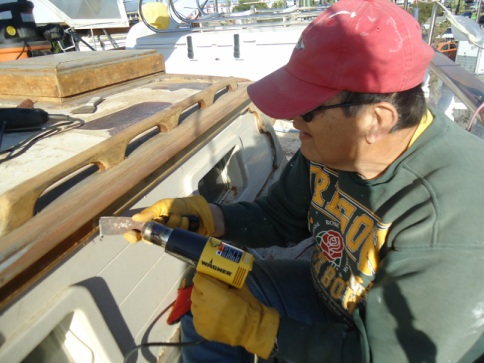 I have exciting news today. However, it's burried late in my blog posting. You're going to have to read all the way through to find it.

I should also mention my book. I haven't been plugging Blue Water & Me, Tall Tales of Adventures With My Father enough. I'm told I should have two links to it on every blog entry. If you like my blog, go to www.pennwallace.com to learn about the book.

Saturday, February 16th Through Thursday, February 21st 2013 – Ensenada

And the stripping goes on. It is hard, back-breaking work. The actual stripping isn't that hard, I use a heat gun, like a hair dryer on steroids, to heat the old varnish. If things go well, I can then peel the old varnish off with a putty knife, like a hot knife through butter.

But when have things ever gone well? When the old varnish is worn and damaged it doesn't come up that easily. Most of the time, I have to scrape and scrape to get the old varnish loose, being careful not to gouge the wood with the putty knife. There is a real danger of burning the wood. There are a couple of places where I left the heat gun on the wood too long and now the wood is black. I will have to sand it down to get rid of the burn mark.

Of course this is done when crawling around on deck on my hands and knees. Either that, or stooped and bent over 'til my back cries in pain.

After all of the old varnish is gone, then I have to bleach to wood to get all of the dirt out of the pores. Where the old varnish was in good shape, the wood is a nice blonde color. Where the varnish was worn away, it is gray with all of the dust and dirt and grime it has collected over the years.

I use a product called Teka to clean up the wood. Once again, I learned about Teka when I had my Cheoy Lee in the last century. The Cheoy Lee had so much teak, that I was constantly cleaning and varnishing somewhere.

Teka comes in two parts. First you use Part A to clean the wood. Wet the surface down with a garden hose, then pour on the Part A and spread it around. Let it sit for a few minutes and go back over it with a nylon bristle brush. You will be amazed at how much gunk it lifts from the wood. If the wood was really dirty and gray, it will form an ugly brown paste on the surface after scrubbing.

Then I hose all of the dirt, grime and Part A off. Usually it takes two or three applications to get the wood clean. But wait, it still isn't done. Now the wood is an ugly dark brown.
---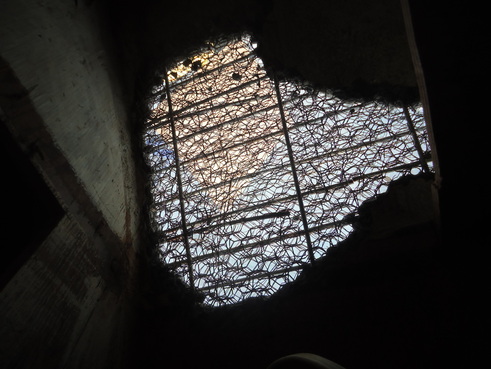 So, here comes Part B. Part B is a bleach that takes the wood back to its natural color. Once again, wet the surface, then sprinkle on Part B. Spread it around with a (clean) nylon bristle brush and let it sit for a few minutes. You can see it magically transform the wood from a ugly red-brown to a golden brown. Rinse the Part B off before it dries and viola! You have new looking wood.

Did I mention that Teka is really caustic? The bottle warns you not to get it on your skin. Be sure to wear rubber gloves and eye protection. OK, I did. What I didn't do was wear rubber pants. As I said earlier, I was crawling around on my hands and knees. In the runoff from the cleaning. My knees began to burn, but I was almost done so I kept working.

When I got home that night, I had burns all over my knees. I vowed to wear my foul weather gear from here on out whenever I'm bleaching the wood.

Now comes the sanding. The Part A has removed the dirt and grime that had worked its way into the wood's grain. But it left a rough surface left by the high spots and valleys. So we sand it down to smooth again. Easy, right?

Not so right. Remember that this is mostly teak trim that curves around cabin tops and hides in little hard to get to spaces. The flat, accessible surfaces are easy to sand with an orbital sander. The hidden spots take a folded up piece of sandpaper and lots of elbow grease.

After all of this prep work is done, it's time to start the "varnishing" process. As I've said, Deks Olje is not really varnish.

First of all, I have to put at least two coats of the teak oil on the wood. This is absorbed deep into the pores of the wood and seals it. When the wood cannot absorb any more teak oil, I wait for it to dry and start applying the matte finish. This is the stuff that shines like varnish. It takes about eight coats to get a nice hard, permanent surface.

When I built the platform over the bow spirit, I put two coats of matte finish over it. After only a couple years, it looks awful. I now have to go through the whole process to refinish it. I've learned that the more coats of matte finish you apply, the better, more durable the surface will be.

OK, so now that you know the process, I can tell you that I spent Saturday stripping and bleaching the wood. Sunday came and we had lots of household errands that needed to be run.

Our plan was to take care of the errands, then go down to the boat and put in a couple of hours working. Uh-uh. By the time we finished running around, which included a trip to Costco and Home Depot on the other side of town, it was nearly dark.

We decided to just call it a day.

Monday came and my back hurt too much for me to do anything. Dawn dutifully went down to the boat and continued on her painting project. I sat around the house and felt sorry for myself.

I cooked a nice dinner and when Dawn arrive home she had great news.

The hole is the hull is patched!
---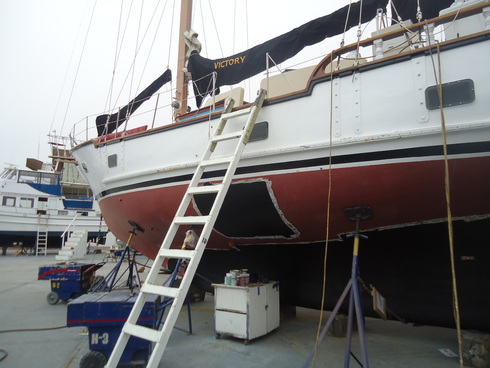 I can't believe it. After two months of waiting for the concrete to dry, they patched the hole in an afternoon. I couldn't wait to get down to the boat on Tuesday to see the progress.

Sure enough, the hole is gone. After they chipped away all of the loose concrete, it was about the size and shape of a guitar. It is all now fresh concrete.

It will take a week or so to dry enough for them to fair it out smooth, then we have to put on a coat of epoxy/tar sealer. After that it will get five coats of primer, then fresh bottom paint.

But we're making progress. We should be able to re-launch her in about two weeks.

Now I'm looking for crew. I need to find two or three people to help sail her from Ensenada to La Paz. We're probably going to get out of Ensenada around March 10th and hopefully be in La Paz by around the 25th.

I must mention the work that Dawn is doing. While I sat at home whining about my aches and pains, she has been going to the boat every day and working her buns off. She has repainted the interior of the boat from stem to stern. I have to be careful, because if it doesn't move, she paints it. I can't sit around too long or I'll come home with a fresh coat of white on me.

She has completed the interior and now needs to move back outside. We still have some scratches on the hull from the accident that need to be repainted and we've done some wood work and have fresh wood that needs paint.

Then her interior decorator gene went wild. Now that the cabin looks livable again, her imagination has gone nuts. We ordered new cushions for the dinette. If you remember, the old ones were destroyed in the wreck.

I also decided to have cushions made for the aft cabin roof. That way, you'll have a nice place to lay in the sun when you come down to visit us.

We had ten cushions made in Seattle for a cost of about $5000. The ten cushions I've ordered here will cost about $1000. In Seattle everyone told me to make the cushions there. They would be more expensive in Mexico. Humbug. I should have waited until I got here and had them all made for a fraction of the price.

Work progresses on the rudder. They have fashioned a new pintle (hinge) that holds the rudder on the boat, then fabricated a bushing to go in it. The rudder moves much more easily now than it did before.

The engine is back together. They finally reattached the turbo-charger and put the new wiring harnesses on.

I can see the progress happening. We are so close . . .

Tomorrow we go up to San Diego again. We have a long shopping list of things that we need for the boat that were lost in the accident. It's gonna cost me a bundle to restock and restore everything.

While we're in San Diego we will hit the grocery stores too. It's amazing how much stuff that we like and are used to that we can't get in Mexico.

Coffee is just one example. Mexico is a coffee producing nation. The problem (for me) is that American coffee tends to be the lightest and weakest of all the world's coffee growing regions. I like my coffee strong and dark. I like to be able to stir the cup, then let the spoon stand up in it when I'm done.

You can't get coffee like that here. And you can't get decaf from the local Starbucks. Whenever I ask for decaf, people look at me like I'm nuts.

So, when we're in the US, we hit a Starbucks and stock up.

Pickles are another thing. It's very hard to find pickles here and they are not very good. Dawn loves dill pickles, she could (and has in the past) live on dill pickles and canned tuna.

Salami is hard to find and it's not very good. I love a tray with salami, Coastal Cheddar cheese and crackers with a glass of wine when we get home in the evening. We can't get Coastal Cheddar here either. As a matter of fact, any cheddar is hard to find.

Mexico is a country of many cheeses. I love the manchengo for chile rellenos and quesadillas, Dawn has fallen in love with the Oaxaca cheese. They have a wonderful soft cheese with chipotle chiles in it and cool goat cheese, but they don't do cheddar here. When I can find cheddar in a store, it is always imported, thus expensive. And English Coastal Cheddar is impossible to find. And shredded, sharp cheddar cheese, forget about it. It ain't happenin'.

BBQ sauce is another thing. This country invented BBQ (barbecoa in Español), but they don't use sweet, spicy sauces like we do in the US. They rub a chile based paste on the meat before grilling it.

Anyway, as we move further south we will have to adjust our tastes. But for now, since we go to San Diego every couple of weeks, we stock up on our gringo items when we can.

But food isn't the only thing we have problems getting. Sand paper is a whole other story. We have a couple of orbital sanders that take 8-hole sanding disks and a corner (mouse) sander that takes a sanding pad roughly the shape of a steam and dry iron.

The sanding disk that I have found here are worthless. They will last for five or ten minutes then go flying off into space. No matter what I do, I can't keep them on the sander. The mouse sanding pads are simple not available. I've looked in all the hardware stores and they don't even sell mouse sanders here, so no need for the paper.

We'll stock up on sand paper in San Diego too.

Tools and electronic goods of any kind are more expensive in Mexico. What happened to NAFTA? I thought that NAFTA was going to remove all of the duties and taxes on goods moving across the borders.

Not so, tools, boat parts, electonic stuff, etc all get slapped with an 11% import duty. Then there's the shipping and handling. Funny, most of this junk is made in China, but it is imported into Mexico from the United States. All of this makes it more expensive and makes me go to San Diego to stock up.

I don't even want to think about how much I'm going to spend on new tools to replace the ones that were destroyed in the accident.



---