In The San Francisco Bay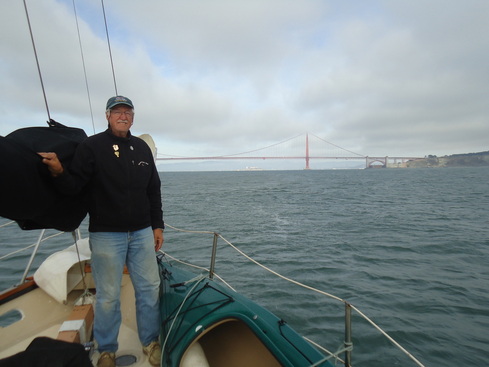 I have heard that the definition of cruising is doing maintenance on your boat in exotic ports. I guess we're living up to that. We've been in San Francisco for over a week and haven't seen or done much beyond getting the boat ready for the next leg of our voyage. I really don't have alot to report, so this entry will be short.

On Friday, I'm doing a reading from my book, Blue Water & Me, Tall Tales of Adventures With My Father, at the Berkley City Club. That should be a thrill. If you want to read the first chapter or look at the pictures, go to my web site at www.pennwallace.com.

Monday, September 17th 2012 – Alameda Yacht Club

We are settled down in the Alameda Yacht Club at Fortman Marina on Alameda Island. The folk here are very friendly and helpful. They treat us like some sort of returning prodigal children. Everyone wants to know about our adventures so far and our future plans. We've met another couple that's leaving for San Diego in a few days. We're hoping to meet up with them there.

We also met a couple who live in La Paz full time. They have a refrigeration business there. They're kinda semi-retired. Anyway, they will be a helpful resource when we get there.

We took the day off after twelve days of traveling and went into San Francisco for the day. We played tourists, had lunch at Fisherman's Wharf and walked forever to the St. Francis Yacht Club.

Kathy was obsessed with visiting the St. Francis. Apparently it's the #1 rated yacht club in the country. I'm sure it costs and arm and a leg to join, but they let us in as guests. We got to rub elbows with billionaires and got invited to go on a cruise with them. Sounded like fun, but I have an appearance to make at the Berkley City Club on that day.

The vice-commodore took an interest in us and invited us to stay for a few days at their marina. He wants to see the Victory. We'll probably take him up on his offer for our last couple of days here.

It was Monday night, so we were invited to stay and watch Monday Night Football and enjoy their $10 steak dinner. Quite a bargain.

After dinner, we took a cab back to the BART station and headed home. At the BART station on Oakland we took a cab back to the marina. With all of the cab fare, I decided it would be cheaper to rent a car.Tuesday, September 18th 2012 – Alameda Yacht Club
Today is a work day. We have some plumbing problems to fix.

Dawn found and rented a cheap little car for us. She and Tom did some shopping and started laundry. I stayed the boat and worked. I had to pump out a compartment in our bilge that doesn't have a bilge pump. It had filled with water from the aft head.

Tom returned to the boat and began working on the leak under the galley sink. Every time we find a leak and fix it, it seems like another springs up in its place. Sort of like the hydra from Greek legends.

Dawn stayed in town and did laundry. Finally Tom and I were beat and called it a day. Dawn came and picked us up, we found a little hole in the wall Mexican restaurant for dinner then returned to the Laundromat to fold clothes.

By the time we got home, I was exhausted. We fell into bed without another word.
---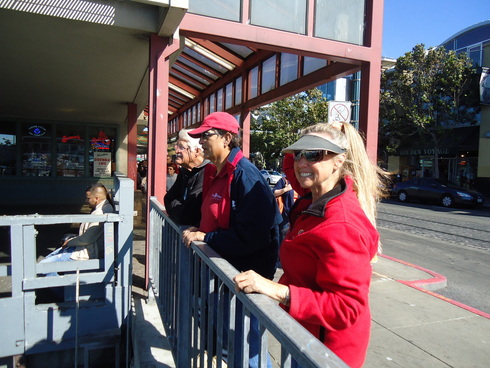 Wednesday, Sept 19th 2012 – Alameda Yacht Club

Another plumbing day. Now that I have the bilge pumped out, I'm installing a 4th bilge pump for that compartment. It turned out to be an all-day task.

Tom worked under the sink again and made good progress. Of course the work entailed several trips to the hardware store. I'm thankful that we have the little Toyota Yaris to tool around in.

Dawn spent her day cleaning the boat. After two weeks of living on the boat, it gets a little dirty.

Wednesday night is BBQ night at the Yacht Club. We were invited to join, so we knocked off work at 5:30 to shower and join the party. We had a New York steak dinner for $10. Tom's and my drinks cost us a whole $6 for both of them.

Tom suggests that we spend the rest of the cruise just going from yacht club to yacht club enjoying their hospitality. Sounds good to me.

We met a man at the St. Francis YC who is also a member of the San Diego Yacht Club. He told us to call them and say he sent us. We should be able to get free moorage there for our stay in San Diego.

---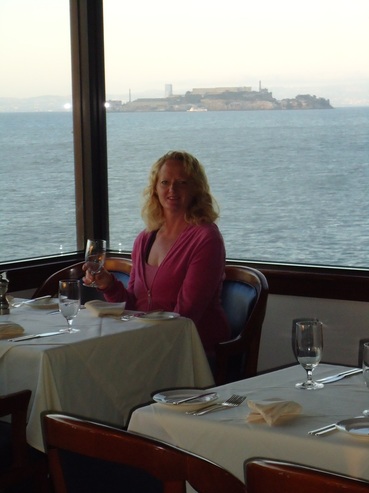 Wednesday, Sept 26th 2012 – Alameda Yacht Club

I don't have any exciting adventures to report for the past week. We've been tied up at the Alameda Yacht Club and doing maintenance on the boat.

I finally got the new bilge pump installed. I got it all wired up and plumbing and it wouldn't turn off. After several hours of trouble shooting, Dawn looked it up on line. It seems that this pump has that problem (it won't turn off when the bilge has been emptied). I called West Marine and they said "bring it back." I traded it in for another pump and the new pump worked right away.

Tom and I tried to figure out why we got salt water in our main water tank. My best guess is that the seal on the access panel was not screwed down tight. We couldn't find any other reason.

We cleaned out the tank and refilled it. We'll watch it carefully on the trip to San Diego and see if we have the problem again. In the meantime I'm checking that one off my list.

We're done with the "must do" items on my list. There are still hundreds of items to be taken care of and we have a couple more days, so we'll knock some of them off the list.

We had dinner at the St Francis Yacht Club again on Monday night and watched the Sea Hawks game. The officiating was terrible and I'm sure you all know about the uproar on that touchdown pass to win the game for the Hawks.

Saturday night we went to a local sports bar to watch the Oregon-Arizona game. Another win for the Ducks catapulted them to #2 in the national rankings. They crushed poor Arizona 49 – 0.

We've decided to take Thursday off and drive up to the wine country. It will be nice to act like a tourist for a day. Then on Friday, I have my big reading at the Berkley City Club. We'll leave early Saturday morning heading for San Diego.

Dawn's mother, Joyce, is joining us tomorrow and Thom, a sailor from Michigan that I met on sailnet.com will join us Friday. We'll have 5 crew members for the trip down the coast. This will make the watches easier.

Each crew member will stand a three hour watch during the day and a 2 hour watch at night. The night watches are the killers and this will help to keep the crew fresh.

I'm thinking that we'll take it easy going down the coast. We might stop in Monterrey, Santa Barbara and maybe one or two of the Channel Islands. We should be in warm weather and the forecast is for favorable winds. Keep your fingers crossed and my next post should have more sailing adventures in it.
---