We Sweat and Slave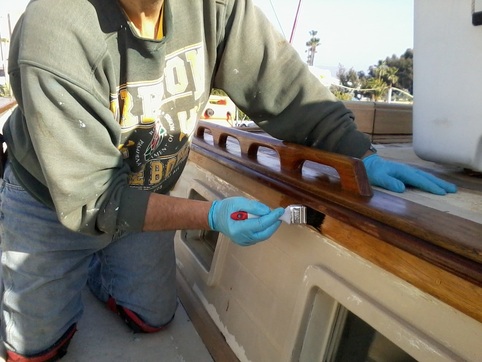 I know it must be boring reading about the work we're doing on the boat in the boat yard. I'm sorry, but it's hard to have exciting adventures while we're in dry dock. Let's just hope we can get the Victory back in the water soon.

Sunday February 10th 2013 through Thursday February 14th – Ensenada

Nothing much exciting happened this week. We lived through the last few days of Carnaval. I'm sure that some townspeople went to every day of the event, but as far as I'm concerned, each day was pretty much like another.

Working on the boat is kicking my butt right now. I'm stripping varnish and climbing around on my hands and knees a lot. Up and down ladders and scaffolds.

By the time we're done for the night, I hurt so bad, I ask Dawn to drive home. I get home and take major medication, then die in the overstuffed chair until bed time. I flop into bed and immediately pass out.

But the nights are long. Usually, somewhere about 2 am, the drugs wear off. My back and knees hurt so badly that they awaken me. I can't lie in bed, so I get up and take more pills. Then I go into the kitchen and play on the computer for an hour or so, waiting for them to take effect.

When the medicine finally kicks in, I go back to bed and get another couple of hours sleep. Then the pain wakes me up again. Lather, rinse, repeat.

I haven't been getting much sleep.

We have an upholsterer coming out to give us an estimate for making new cushions for the dinette which were destroyed in the accident. I have to be there for that, otherwise I wouldn't even go to work today. I will take tomorrow off.

OK, enough of the whining and complaining. Now back to work.

---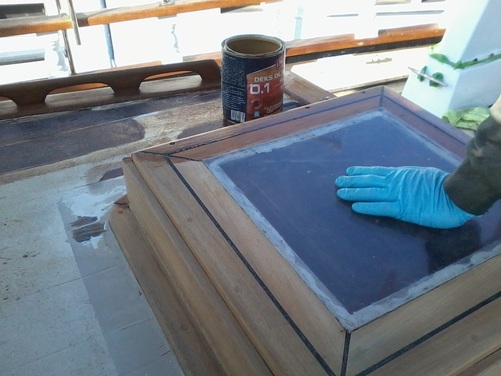 We are both so happy to have completed the accident damage repair. (The part that we can work on, the boatyard still needs to do the concrete work.) We go home at night exhausted, but with big smiles on our faces as we check items off or our list.

Dawn has been working on the companionway ladder. This has been a thorn in her side since day one. It is the first thing you see when you go below and it was by far the ugliest thing in the cabin.

For three days she cleaned, scraped and sanded. The whole cabin is about three feet deep in saw dust right now. But at least it's beautiful teak saw dust. Teak is the most beautiful wood. We lost our vacuum cleaner in the wreck, so we'll have to go buy a new one first thing this morning. I can't live in that much dust.

Today she's ready to start painting the rails. When that is done and dry, she'll varnish the teak steps. It will be a beautiful piece of furniture when she's finished.

Why you ask, is she working in the cabin? Because we have workmen crawling all over the boat working on the hull. They've started patching the keel. Yeah! It looks a little rough now, but when it's dry, they'll grind it down smooth before repainting.

We have a few places on the wood work that were damaged in the accident. I decided to use the boat yard's carpenter rather than do it myself. I am capable of doing the work, but this is in the most visible spot on the boat. I would hate to mess it up, then have my mistakes on display for the world to see.

Besides, if Raul is doing the wood work, I can concentrate on other things.

Raul knows what he's doing. He very carefully chiseled out the broken cap rail on the port side, then managed to pull the starboard side cap rail back down to the cement without having to remove it. I look forward to having all the little owies fixed.

As for me, I've been working on little projects. I reattached the anchor roller on deck, straightened out the anchor roller under the bow sprit, put some steps on the mast so that we can climb up to hook and unhook the main sail and put some winch pads on the cabin roof where there were once holes for dorades.

Dorades are those big metal things that look like tubas that come up from the deck to allow air to flow below. At some point in the boat's past, someone removed the dorades and put a layer of ¼ inch plywood over the roof. We must have dropped something sharp and heavy, or a five hundred pound gorilla must have put all his weight on the spot, because the starboard side started to break through.

To reinforce this area, I decided to put round winch pads over the holes. They look nautical and add a huge amount of strength so we'll never see the point of a tennis shoe pop through the cabin roof.

Then came the big job. I started stripping the varnish from the forward cabin. It will take me days to strip all of the bad old varnish above deck. Then I'll have to bleach the wood to return it to its natural beauty and finally come coats and coats of Deks Olje.

I used to use Deks Olje on my Cheoy Lee sloop a hundred years ago. The cool thing about Deks Olje is that it doesn't have to be stripped when it's old and worn out, you just wash it and add a new coat. It doesn't peel like varnish either. However, when you're done, it looks like varnish.

The problem is that it takes a bazillion coats to make a good hard finish. First I will need to use at least two coats of the teak oil. It needs to penetrate deep into the wood's pores to seal and protect the wood. Then comes at least eight coats of the matte finish to create a hard surface to protect the wood and give it that varnish like sheen.

It's a lot of work, but boy, is it beautiful when it's done. My friend KC suggests that I paint all the bright work white. That way, I won't have to re-varnish it every six months under the hot tropical sun. Heck, it may take six months to even get to the tropical sun, and besides, I really like the look of nice bright work.

I have completely stripped the forward cabin and need to bleach and sand it before I can start varnishing. But the workmen are here working on the hull and rails. If I start bleaching now, I'll shower them with harsh acid wash and they might not like it.

So, I will go to work on the aft cabin and finish removing all the varnish before I start cleaning the wood.

The days all kind of blend together. We get up, go to work, work all day, come home, have dinner, watch TV and go to bed.

Yesterday, while we were taking our lunch break, Dawn said "If we were still in Seattle, we'd still be doing these same chores on the boat. Only we'd be doing them in freezing weather. We'd stay away from the boat on cold rainy days. At least here, we have sunshine to work in."

I guess she's right. We are making lots of progress because we can work out of doors in all but the worst weather. Then we work indoors.


---