A Very Unmerry Christmas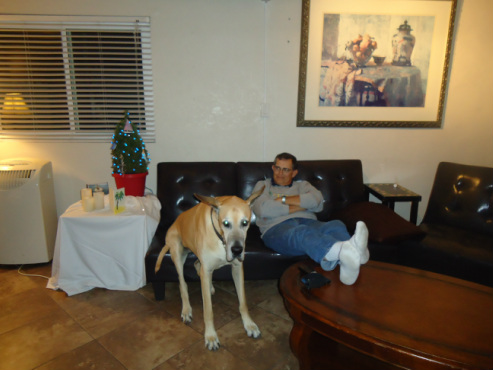 Sunday December 23rd through Tuesday December 25th 2012 – San Diego

Since there was nothing we could do about the boat, we took time off to heal. I think I slept most of the week. I know I was exhausted and I hurt all over.

I hadn't had time to stop and inventory my aches and pains since the crash. I was bruised in more places than I want to count and every muscle in my body ached. Dawn fared no better.

She took Odin for long walks on the beach, met with friends at the dog beach and generally healed too.

Christmas morning came. I watched an Indian Jones marathon on TV and didn't get up and dressed until about 2:30 in the afternoon. Dawn took Odin for a walk and I settled in for another TV marathon: Christmas Cowboys. I watched an old John Wayne movie, then a Clint Eastwood.

For dinner Dawn made a New York roast. It was lovely. She also found a two foot tall rosemary plant and put Christmas lights on it, then hung our four or five boat Christmas ornaments.

Of course, we had no time for Christmas shopping or sending out cards. In our plans, we would have been in La Paz long before now and had Christmas with the Club Cruceros crowd there. We would have sent out our presents early and be lying back enjoying the sunshine. You know how plans go.

Dawn did everything in her power to make us a Christmas. Dawn's Christmas present was a new smart phone and the time to spend in a nice hotel with Odin. Mine was just being alive.

It was a sweet but sad Christmas. I was lonely for my girls. I left each of them a Christmas message on their phones, but they were in rural Tennessee where they couldn't get cell reception. I have to admit, I was a little chocked up when I left the messages.

I hope everyone reading had a good Christmas and wish you all the best in the New Yea


---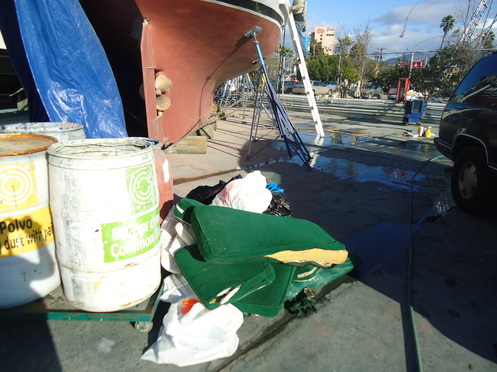 Wednesday December 26th 2012 – Ensenada

The boatyard opened back up today so we had to be there early to meet with the yard manager and get his estimates.

We got up early again, left San Diego and drove south. This time Odin went with us. I found a little motel in downtown Ensenada that had kitchens and allowed pets. I figured that this was Dawn's Christmas present.

I've put her through so much in the past few months that it's a wonder she's still with me. Odin is an old dog and she doesn't think he'll be with her that long. If she can have a couple of weeks with him now, it won't hurt me (Too much).

The crew was already busy on the boat when we arrived at the boat yard. They were masking off the hull with blue tarps. Guillermo, the yard manager, said that they had to grind off the bottom paint in the damaged areas to see how bad the damage was to the concrete.

He had a mechanic lined up to work on the engine and Marco was busy below decks cleaning and hosing down all of the interior with fresh water to get rid of all the salt.

They went about their business quickly and professionally. All the guys working on the boat were really nice people, but all I could see was dollar signs. (The US dollar and the peso both use the "$" sign.)

We talked about the needed repairs. Guillermo couldn't give me a firm estimate because they weren't sure of the extent of the damage yet, but he was relatively certain it would be under $10,000. That's my limit. If the repairs cost more than ten grand, I would have to abandon the boat and try to sell her for parts.

Dawn and I went to work cleaning and removing the boat's contents. We completely gutted her of all the clothes, pots, pans, food, tools, etc. In a way, it's a blessing. For the first time since I've owned her, all of her drawers, cabinets and lockers are empty. We can see what we have and stow things where they should really belong.

Garbage bag after garbage bag of wet clothes and linens came off the boat. When we were through, we had completely filled the back of Dawn's Yukon with laundry. I decided to take it to a cleaner and have them do the washing and drying. It would take us a couple of days to do it all.

Along with the bags of wet clothes, there was bag after bag of garbage. More and more of our possessions were thrown away as we discovered that they had been destroyed by the salt water. We are getting down to the bare essentials for life here.

Afternoon rolled around and we needed to check into our motel. The Motel America is a little flea-bag just across the river from the boat yard. Our room had a double and single bed, a tiny kitchenette with a bar sink, a stove top and a refrigerator and a small bathroom. I don't think the Franciscan monks live any more austerely.

We unloaded our belongings and got settled in. It looked like it was going to be a long stay.

Winter has set in. The days are in the sixties and mostly sunny, although we've had a few cloudy days. We have had some heavy rain at night, but the temperatures dip into the low forties and one night they had frost warnings. This would be laughable in Seattle, but in Mexico it's a problem. There is no heat in the motel.

I nearly froze our first night. We piled on extra blankets and brought a space heater from the boat after that. Dawn seems much more impervious to either heat or cold that I am.

Now we have to settle in for the long haul. It may take weeks to repair the boat. We have a long list of projects that need to be done and the boat yard has their list too. Only time will tell how long it will take and how much it will cost.

At this point, I really want to get her hull patched and engine running at least. If we can do that and have to abandon her, we will have something of value to sell.


---