Life Goes On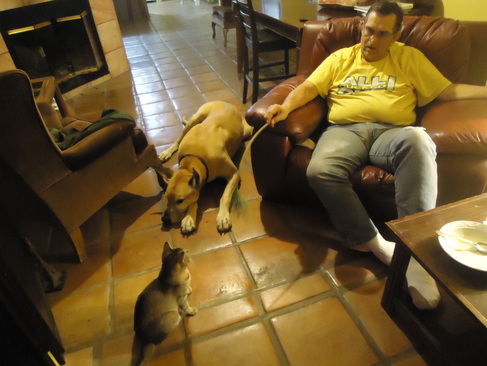 The work goes on on the Victory, but we also have to live in this town while we fix her up. So the emphasis is shifted from the boat to our new digs.

Thursday January 3rd through Monday, January 7th 2013 – Ensenada

Dawn found us a nice little duplex just north of Ensenada for $500 a month, about half the cost of our cheap motel room.

First, she took me on a long drive up the coast to a resort just south of Rosarito. The condo was beautiful. It was on the cliffs above the ocean with a terrific view. It had a pool and hot tub (although the winter weather hasn't exactly been conducive to swimming). The only problem was it was 45 minutes out of town.

I just couldn't see it. We need to be close enough to run back and forth from the boat. The boat still has to be our number one priority.

Our duplex is four miles north of town in a little upper middle class neighborhood. The people who live here are mostly doctors, lawyers, accountants and other professional people. There are numerous street dogs wandering the area, a negative in my mind.

We're on the first floor of a two-story house. The crazy cat-lady lives upstairs.

Elinor is a one-woman cat rescue society here in Ensenada. She picks up strays off the street, socializes them, then finds them homes in San Diego. Currently, she is down to seventeen cats living with her. She just placed eight in new homes.

She is a really nice neighbor and has been very helpful to us in finding services in Ensenada.

Our house is cement covered by stucco, painted a pale yellow. There's a wall around the lot, so you can't see in from the street. This is pretty traditional in Mexico.

As you step through the gate (which is kept locked at all times) you enter the garden. It's only about thirty feet wide, but runs the length of the lot. There are myriad trees that I don't recognize. Then there are more cactus and succulents that you can imagine. There is a huge patch of geraniums which are not in bloom right now, but I'll bet they're beautiful when they come into bloom.

A cement walkway wanders through the garden and to our kitchen door. There's a small landing outside the door covered in the same terra cotta tiles that make up the floors in the house.

When you step through the door, the kitchen, with a tile-covered breakfast counter, is to your left. The counter has become my office. To the right is a small entryway, then the dining room with a fire place. The living room is through the dining room. We use the fire place most every night as it gets cool after sun down and there is no heat in the building. That's pretty typical of what we've seen in Mexico. I'm told that it has been an unusually cold winter so far.

---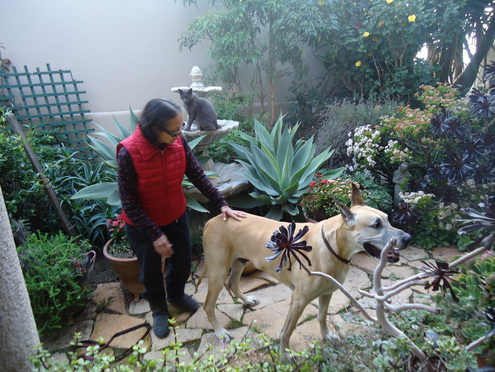 Unusually cold here is a nice day in Seattle.

We have a large bedroom with a closet and built in shelves for clothes and a big bathroom with a shower large enough to throw a party in. (I haven't met anyone that I would want to invite to that party yet.)

The walls are all stucco covered and painted that same pale yellow. The owner is a single woman in her sixties who must have a thing for Baryshnikov. There are about a dozen black and white framed photos of him on the walls in the dining room. Then there are the large posters of Kevin Costner, Joe Montana and Sean Connery. I wonder why she doesn't have any pictures of beautiful women.

The kitchen is a full kitchen complete with oven, microwave and toasters. The fridge is a little dated and the doors don't want to stay shut, but it's clean and functional.

All in all, this is a nice little place. I could live in a home like this if it were in, say, La Paz and I was through with boating. For now, it gives us a comfortable base to work from. I don't know how long we'll be here, but I hope not more than a month.

Work on the boat progresses. We are letting the concrete dry out before applying the patches. It is vital that the concrete be dry before adding new concrete or the new concrete won't adhere to the old. We are down to one place in the keel where a few drops of water still leak out from the damaged area.

The boat was built as a single unit, then the keel was filled with lead ingots and sealed over with more concrete. This makes the keel isolated from the rest of the boat and when we hit the rock, it filled with water but the water didn't make it into the hull.

Now we have to wait for every last drop of water to drain out before we can fix it.

The engine is good news. We only had to replace the stop solenoid, everything else was repairable. I can't tell you how much that lifted my spirits. I was expecting a $5000 bill for a new alternator. It is going to cost hundreds of dollars not thousands of dollars to get it running again.

Actually, they have had the engine running, but stripped out the injectors to be cleaned. The alternator, starter and turbocharger have all been sent out to be fixed, but they don't have to be replaced.

We've stripped everything that is moveable out of the cabin and cleaned it several times applying liberal quantities of Murphy's Oil Soap. She is looking good. Dawn plans to paint some drawers and cabinets that didn't get painted on her first restoration, but otherwise she's ready for us to start stowing stuff again.

The electrical system remains a big question mark. I have to hook the batteries back up to power the 12 volt system and see what works and what doesn't. Then I need to plug in the 110 volt system and see if it's OK. I fear an electrical fire.

I'm checking all of the connections. If they're corroded I'm cleaning them up before restoring the electricity. It's a big, time consuming, unrewarding job. In my fantasy world, the water didn't get inside the wires and they will all survive. In reality, I've had several people tell me that all the wires that got wet have to be replaced. If so, that will be ugly.

It looks like we're going to be able to save the Victory. Now the question is at what cost? Will we have to take her back to San Diego where we can get jobs for a year to rebuild our cruising kitty? Do I have the will to complete the remaining legs of our voyage? Only time will tell.

---