Back in Ensenada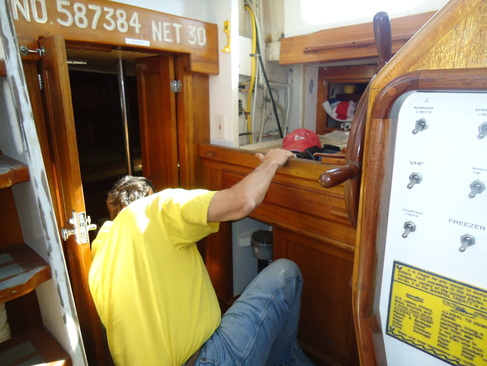 In Which We Take a Break from working on the boat for a road trip. Just an easy thousand miles down the coast to Cabo San Lucas.

Wednesday January 9th 2013 through Saturday January 12th 2013 – Ensenada

I have a cold. A horrible, miserable cold. I'm coughing and sneezing, my nose is running, my joints ache and I feel like there's a steel band constricting my chest. I hate colds.

I felt so badly that I didn't go down to the boat on Wednesday or Thursday. I sat around the house all day, writing in the morning, trying not to be too morbid, and watching TV all afternoon. This is not my favorite way to pass the day.

Dawn just reminded me of something that made me feel better. I don't know if I wrote about this or not, but when we entered Santa Barbara harbor what seems like a life time ago, a man was waiting on the docks to help us with our lines.

While we were tying up, he said, "I can't believe it. I've been reading your blog and when I came down to the beach for my morning walk, I saw the Victory coming into the harbor. I can't believe it."

I couldn't believe it either. A complete stranger in another state was reading my blog and was excited to meet us. What a rush.

OK, that made me feel a little better.

On Friday, I drug us down to the boat. I had to get working on her again, no matter how bad I felt.

While I went to work on the electrical system, Dawn made it her mission to clean up the deck. She took the sail covers off and washed them, they were encrusted with salt, then asked for my help to furl the sails. When I had struck the sails, right after we hit the rock, we were in emergency conditions. I just tied them to the booms as well as I could and left them there. They looked totally unprofessional.

So we furled them properly so the Victory would look like someone took a little pride in her.

Then Dawn cleared away and stowed the gear that cluttered the deck since the tow to Ensenada. She went through the life jacket locker where all sorts of junk had been stuffed and made sense of it. All of the tools, spare parts and other assorted paraphernalia that had made its way to the deck was sorted, cleaned and either re-stowed or tossed away as conditions dictated.

By the time she was done, the Victory looked almost ready to sail.

While Dawn slaved away on deck, I fought the electrical system below decks. On Friday, I cleaned up the batteries and began cleaning all of the terminals. They were green with corrosion from the exposure to the salt water. One by one, I took them apart and scrubbed all the corrosion off with an SOS pad until they shined, then I carefully put them back together the way they had come apart.

It was a little frustrating. My socket set was totally rusted and I couldn't read the sizes on the sockets. I had intended to clean up my tools before doing the electrical system, but the two days I spent sick knocked me off my schedule and I felt we had to have electricity on the boat. Even more than that, I needed to know if the electrical system would work or if it would take another expensive repair to get her going.


---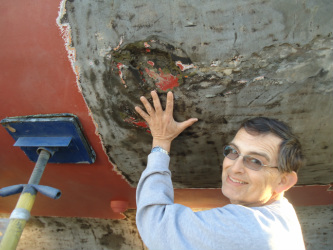 At the end of the day, I had the battery box cleaned up and was ready to hook the batteries up again. But, I couldn't just hook up the electricity without looking at the breaker panel. The breaker panel is the heart of the electrical system. If it had been damaged, all the electricity in the world would do no good.

When I told KC about the electrical system, he told me that I would need to unhook every wire that went into the panel and remove the panel from the boat. Then I would need to rinse it off with fresh water to make sure all of the salt was gone. Finally, it would need to dry out thoroughly before re-installation. I envisioned this process taking me a week's work.

I took a deep breath and opened the access door in front of the breaker panel. I looked at the panel and couldn't believe my eyes. I grabbed a flash light to get a better look. When what to my wondering eyes should appear, but a completely dry, clean breaker panel.

There was no evidence that it had been under water. The bottom of the breaker panel is about six inches above the top of the battery box. The water, which had covered the batteries, had not reached the breaker panel. We had gotten to the Victory and started pumping her out in time to save the breaker panel.

I don't have to replace a single screw or wire on the panel. Halleluiah. There is a God and he likes me.

I went home Friday night in a jubilant mood. I hooked up the wire that connects the batteries to the 12 volt system and guess what? Every electrical system in the boat worked. I could turn on all the lights, run the pumps and use all of the lights. It's a miracle. I so dodged a bullet on this one.

I went to bed happy and awoke excited to get back to work.

But Saturday proved to be a getting ready day. We're driving down to Cabo early Sunday morning to see one of Dawn's dear old friends. Heidi now lives in Dubai and she flew half-way around the world to sail with us. Of course, that is not possible now. So she took a room in a fancy resort in Cabo since she was here anyway. I thought that if she went through all of that expense and trouble, we should at least drive down and see her.

Besides, I have business to attend to in La Paz and we have to drive through La Paz on our way to Cabo and back.

I booked a room in our friends, Milton and Susu's, B&B, the Casa Buena, and made appointments with our attorney in Mexico and with our charter company owner.

So we spent most of Saturday getting ready. We picked up prescriptions, unloaded firewood that we bought with Elinor, the crazy cat–lady, and did some shopping. By the time we were ready to go down to the boat it was late in the afternoon. We sat in the cleaned up cockpit in the cold winter sun and ate our sandwiches. Then I decided that I didn't feel like working.

It was already late and we only had about an hour of sunlight left. And I felt like hell. This cold is really kicking my butt.

We returned to our apartment and packed. We worked much later than I wanted, because we were going to get up at 3 am to get on the road. Finally, around 11 pm we turned in.

---