The Chinatown Murders Preview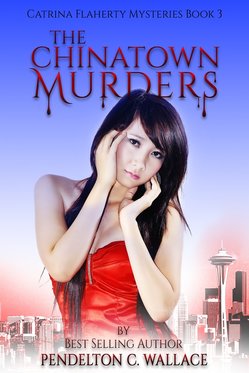 Chapter 1
Harsh yellow street lights came on as the sky turned brilliant orange over Puget Sound. This was a perfect hunting ground.

The International District fit into Seattle's jigsaw puzzle of neighborhoods on the south end of town. Just east of the SoDo district with its new ball parks, fancy restaurants, and pricy condos, the International District, often referred to as Chinatown, smelled of decay and reeked of fish and rotting vegetables.

A rented gray Toyota Camry cruised down King Street, the driver looking for a location he hadn't used before.

People of every conceivable ethnic origin crowded the streets for the big holiday. Asian groceries, Chinese apothecary shops and knick knack stores for tourists filled the ancient brick buildings. A careful eye could discern the Chinese from the Japanese, the Vietnamese, the Koreans, the Cambodians, etc., but to The Man in the Toyota, they were all chinks.

Groups of young girls in tight-fitting cocktail dresses and bright-red lipstick flitted from club to club, chattering like flocks of birds. Young men in black jeans and leather jackets with cigarettes hanging out of their mouths full of white teeth, wearing headsets and cell phones, hung out on corners and in front of cheap bars. White couples wandered, open-eyed, oblivious to the rhythm of the neighborhood. Older Asians strolled in couples down the streets, eyes fixed ahead, minding their own business.
The Toyota's driver liked it that way. No one poked their noses into anyone else's business down here.

He found the shop he was looking for. Careful research led him to tonight's target.

By some great miracle, there was an unmetered parking space just around the corner. Parking in Chinatown was all but impossible to find. He didn't want to leave any trace of his visit by buying a pass with a credit card from a kiosk.

He got out of the car and set the alarm. No sense letting any of these chinks mess up the car.

The yellow backlit sign above the door read "Massages."

He smiled to himself. This was it! His favorite game, his favorite release.

Work had been a bitch lately; toss in his strong-willed girlfriend and you had a recipe for trouble, and he was just the guy to bring it. He always had things his way. From his earliest memories, he was able to manipulate any situation to his best advantage.

A bell above the door tinkled as he stepped inside. Ducking his head to clear a hanging plant, he felt like Gulliver in a room full of Lilliputians.

Diminutive Chinese women sat around the lounge reading Chinese-language magazines. He couldn't read a word of the content, but the pictures reminded him of People or Us.

"I help you?" a handsome, middle-aged woman crooked her head back to look up at his face.

"I'd like a massage," he replied, eyeing the girls one at a time, noting their pros and cons.

One had thick hips and thighs, another one was too old. All of them were flat-chested, but that was okay. He expected that from Chinese women.

He liked their doll-like tininess. He felt like he was playing with some porcelain mannequin made just for his pleasure.

"You rike girl?" the older woman asked as his gaze settled on a miniscule young woman, no more than twenty years old. "She no speak much Engrish yet."

"That's all right. I don't intend to converse with her. She'll do."

She couldn't have been five feet tall. Dressed in a white smock and matching trousers, like all the other women, in the harsh neon light her skin looked like ivory. Dark-brown eyes stared out from under sharp cut bangs and fire-engine-red lipstick highlighted her full lips. Her shiny black hair hung almost to her waist in a braid.

The lady said something in Chinese and the tiny girl put down her magazine and ran to the counter in mincing steps.
A few more words of unintelligible conversation and the Lady of the House handed the girl a key.

"You go room three. It best in house."

The Man nodded and took the key.

The young woman took him by the hand and led him down the hallway, her small, choppy gait racing to keep ahead of his long strides.

"My … name … Lin Ching," the girl said.

"Hello, Lin," he said, and unlocked the door.

With walls painted bright-red with gold trim and dark hardwood floors gleaming from frequent waxing, covered in the middle with a red hand-woven carpet with a gold dragon in the center, the room was better than he expected. A gold-colored Buddha sat on a black lacquered table in one corner; in the opposite corner, a three-sided bamboo table held a vase of tulips. The massage table filled the center of the room. Ocean sounds played through speakers high on the walls.

"You dis… dis... dislobe? I be back." Lin stepped out of the room.

The Man removed his blazer and carefully folded it over a chair back. His shirt, trousers, and underwear soon followed. After removing his socks, he stood and stretched himself to his full height.

He considered himself a bull of a man. His cock wasn't that extraordinary, but his balls would fill a gallon jug. He loved to feel them swing freely between his legs.

The tingle started in his nuts and worked its way up his dick. This is going to be good.

Lin returned to the room carrying warm towels and bottles of oil.

"On no!" She raised her hands to cover her face. "You lay on bed. I cover."

He smiled and took a step towards her. He put his hands on her shoulders and felt himself swell. "No, I think you get undressed first," he said.

"No, no. Boss no like."

"I don't care what the boss likes." He unbuttoned the top of her smock.

She pushed his hands away. "No! I say no! Boss fire me, I have sex with client."

He laughed.

She slapped at his hands. He grabbed her luxurious black braid.

"You'll do what I say, when I say it." He shoved her into the wall. "Do you understand?"

"No!" she screamed and broke away.

He slid his foot against the door.

"You know you want it."

An explosion shook the building. Then another and another.

Fireworks. The other bitches in the lobby wouldn't hear him over the sound of the Fourth of July celebration. Hell, they've probably all gone outside to watch. These slants love their fireworks.

The girl pulled at him with both hands to free the door.

"I'm going to tame you, you little chink cunt." He backhanded her with all of his strength.

She flew across the small room and crashed into the bamboo table. The vase shattered on her head. Her eyes rolled up for a moment and blood dripped from her long, black hair.

More explosions filled the night sky.

He searched for his pants and pulled out a long swing-blade knife from the pocket.

He grabbed her hair, lifted her to her feet, and held the knife to her throat. "Maybe now, goddamnit, you'll do what I say."
He heard banging on the door.

"What going on in there?" the middle-aged Chinese woman shouted.
---