Great Dane on Board Episode 3 - Odin's Perspective - Part 1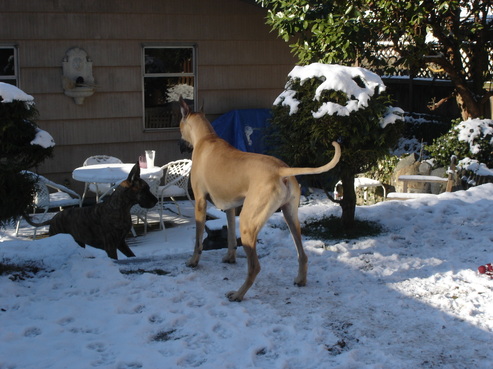 This week, for the first time ever, we have a guest author. Odin, Dawn's Great Dane, took exception to some of what I've been writing about him and wanted to tell his side of the story.


Odin's Perspective – Part 1

Woof – Here I am sitting on a boat in Mexico. It's hot during the day and I have to sleep on the deck at night. Sometimes Mom joins me for a couple of hours, but she's always gone in the morning.

I keep hearing Mom and Penn talking about something called a "blog." They're talking about me. (They're saying things like "Whaaa-whaaaa-whaaaa, Odin."), telling stories that aren't really true. I can't type, but I decided to set the record straight. I talked to Mom about it (she speaks fluent dog) and she agreed to write this down for me.

Here's the real story about my moving onto and living on a boat.

I don't know why we had to leave. We had a nice home in a place Mom called "Orlando" with a big yard, lots of dog park friends, our own doggie door and Mom and Dad. Sizzle and I even had our own room with a queen-sized bed. We kept hearing them talk about things like "whaaa-whaaaa-whaaaa lost job" and "whaaa-whaaaa-whaaaa house underwater."

Dad was around the house all the time, this was not normal, but I never saw any water. It didn't make sense.

Then one day, they loaded the cats in cages, bags of stuff in the back of a big van and shoved us in. We had just enough room to lay down. We took off on a long, long trip across the country. We sat in the van for hours and days. We'd stop occasionally and Mom took us out to play. We spend the nights in new rooms every night. We had our own beds and a TV, but overall with two cats, Mom and Dad and Sizzle and I crammed into a small room, it was not a fun trip.

Eventually we arrived in a place Mom called "Seattle." We lived in a little house and then some apartments. One day Dad left and we never saw him again. After living in several apartments, Mom found a house with a yard. It was nice, but it wasn't like home. It was small and two roommates moved in.

I never liked them. They were sneaky. They smoked and they lied. I watched them do something, then they told Mom that they didn't do it.

It was about this time that Mom met this guy. He seemed all right, but he was really standoffish. He didn't want to play, he didn't want to pet us. We kept trying to get his attention, but he kept shoving us away. We could smell his fear, but we tried to reassure him. What was wrong with him? Everybody loves us.

We could always tell when he was coming over. Mom scraped her legs in the shower, then put on all of this smelly stuff. She dressed up and wore her loud shoes that made her taller, not her beautiful shoes that smelled like the dog park. When she put on all that foo-foo and fancy shoes we knew she was going to leave us alone for the evening.

We hated being left alone, even if Mom's shady roommates were there. We wanted to be with Mom.

Things started to change and not for the better. We only got to go on walks in the morning, then mom was gone all day. She worked during the day, so we understood that. But she wouldn't come home until late at night.

Mom had a big fight with her roommates.

"I want you out of here," she told them.

They wouldn't leave. So we had to.

---
Mom's male friend came over with his truck and he and Mom loaded all of our stuff up and they left. Sizzle and I were a little worried. Would it be like when Dad left and never came back? But she did came back to get us.

She took us to a little downstairs apartment in a nice neighborhood. But there was no yard. She fenced in this little planter bed area and that's where Sizzle and I got to go outside. She took us for walks in the morning, then disappeared for the rest of the day. We spend hours just sitting on the sofa or bed, waiting for her to come home.

Occasionally she took us with her to work with her friend on a thing called a "boat."

We drove down to the water, then she took us out on this narrow wooden path with water on both sides. It was a little scary. The path moved when we stepped on it. Sizzle never worried, she just ran ahead. But I'm a lot smarter than her. I knew that the thing was going to crash into the water at any minute.

If Mom hadn't led me out there, I never would have gone.

We walked under a roof for a while and that wasn't too bad. Then the roof stopped and we were on this narrow wooden path way out in the water. Mom led us all the way to the end where there was this big white thing floating in the water that they called the Victory. And she wanted us to get up on it.

Was she nuts? It was bad enough being on the wooden path, but to jump up on that big white thing. What if it tipped over? What if I fell in the water? What if it sank? Man, I'm too smart for these kinds of tricks.

And that show-off Sizzle. She jumped up on that scary thing like it was nothing. She was deliberately trying to make me look bad.

No way was I getting up there. But Mom said I had to go.

"C'mon Odin," she pleaded and patted the top of the white thing. "Jump on up. It's easy."

Yeah, that was easy for her to say. She only has two legs to worry about.

OK, I gave in. I put my front paws up on the white thing and before I had a chance to get my bearings, Mom lifted my hind end and I was on the scary thing.

My first thoughts were where's my bed, where am I going to lay down? Where are my food and water bowls?

It really wasn't so bad after all. It was stable. It was much wider than the flimsy path. It had rails around it to keep us from falling in the water. There was room to move around. I liked watching the ducks and on sunny days there were lots of people standing on the water on these little board thingies. How did they do that?

The big male had lots of tools and junk scattered around the deck, so we had to watch where we walked, but it was OK. From on top of the front end of the white thing we had a good view. We could see everything going on in the marina. People wandered by and stopped to talk to us. Occasionally another dog came by and we chatted.

Maybe this wasn't so bad. It was better than sitting around in the little apartment.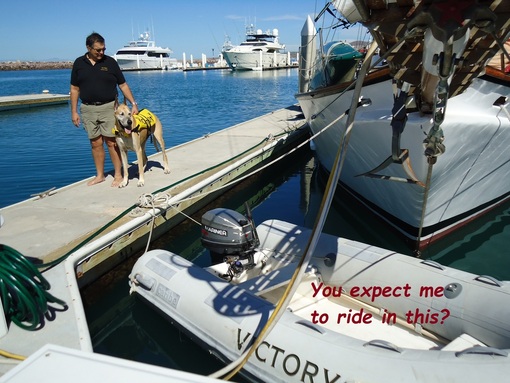 Mom and her friend spent their whole day working on the white thing. I don't know what they were doing but I heard a lot of bad language. The man always gets riled up when takes stuff apart then tries to put it back together. Why couldn't he just leave it like it was?

Mom came on deck and started painting. I tried to help her, but she shooed me away. How's that for gratitude? I thought the white paw prints looked good on the deck, but the man was upset.

Mom took a rag with some smelly stuff on it and cleaned up the deck, then wiped my fur and cleaned my paws. I didn't mind a little white stuff on me, but apparently Mom thought it was not a good thing. After the smelly stuff, she hosed me down. And it was cold. Cold water on a cold day.

I made a mental note not to help her paint anymore.

The male tried raising these white sheets up the trees that grew out of the center of the white thing. He cursed and called Mom for help. He said something called a "hall-yard" was "fouled," whatever that means. He asked Mom to climb the tree to fix it. And she did.

He hooked a bunch of ropes around her and hauled her up the tree. She was not happy. I stood by to help in case the male did something bad to her. She hung from a tiny wire, way up at the top of the tree. Was she crazy?

Then came the day that I fell in. It was a total accident. By this time I was used to climbing up on the white thing.

Mom, Sizzle and I came down to help her friend work on the white thing. As usual, Sizzle jumped up on deck. I like to take things slower, think them over before I act.

I put my front paws up on the deck and reached for the ladder with my hind paws. The ladder wasn't there. OK, I admit I panicked a little bit. I tried and tried but couldn't find the ladder. I decided to get back down, but the wooded path wasn't there either.

The next thing I knew, I was swimming. I hadn't planned on swimming. It was a cold day. What right minded dog would go in the water on a cold day? (No one ever said those Labrador Retrievers were right minded.)

Before I had a chance to catch a breath, there was Mom, right beside me, fully dressed, in the cold water.

"C'mon, Odin, let's go," she said and started swimming out into the lake. Was she nuts? I just wanted to climb back up on the wooden path. Why did she want to go swimming?

But I trust Mom. Explicitly. If she said swim, I decided to swim.


---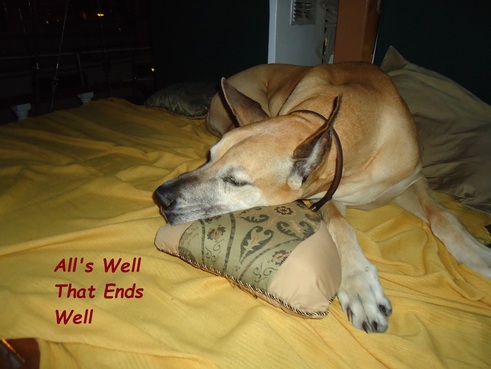 We swam to the next wooden path. The male was waiting there for us with some ropes. Mom made me stay next to the dock and the crazy male put the ropes under me. Now I was beginning to really get worried. What was he doing to me? How could I swim with those ropes around me?

I tried to break away, but he held me tight. I was trapped.

Then Mom left me. She turned around and swam back to the first wooden path. I tried to follow her, but the brutish male held me in place. I was helpless.

In a couple of minutes, Mom and the male lifted me out of the water and back to the wooden path. Mom gave me all sorts of hugs and kisses, then dried me off with a towel.

I looked around for Sizzle, but she was gone. She wanted no part of swimming on a cold day. She found a place to hide and wouldn't come when Mom called her.

Mom still made me get up on that darned white thing, but she wrapped me in blankets and cuddled with me to keep me warm. It wasn't a fun experience, but anything that ends with Mom cuddled up with me under blankets can't be all bad.


So much for the dog's point of view. I don't know how I let Dawn and Odin convince me to publish this.

Episode 4

---