The Log of the Seascape
La Paz and the Sea of Cortez
January 7-16, 2012

We start the New Year with an amazing adventure. Since I was 11 years old I've wanted to do this. When I was fishing off of Baja with Papa, it was all business. There were so many wonderful places that we visited that we didn't have time to stop and explore because we were there for business. Now, I am of the first step of my mission to go back and explore those places. I think Papa would be proud.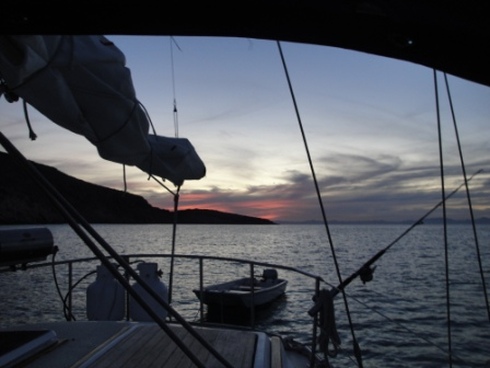 Day 1, Saturday, January 7, 2012

The day started with the alarm going off at 3:30 am. MY GOD, what an ungodly hour. Dawn and I managed to drag ourselves up and head for the airport. The fight was uneventful. We had a four-hour layover in LA, then on to La Paz.

Ron and Margaret joined us in LA for the flight to La Paz. I used to work with Ron at PEMCO and he has accompanied me on several sailing adventures. Margaret is not passionate about sailing, but agreed to join Ron on the trip because she is an AVID birder. She hopes to see some species she has not seen before in the Sea of Cortez.

Mike, the owner of the charter business met us at the airport. He drove us down to the boat where we dumped our baggage, then took us to a K-mart-like store to provision for our trip. I was like a kid in a candy store (says Dawn). All of the Mexican groceries. I felt like I was home.

Somehow, the provisioning took us two hours. We had a shopping cart so full of food that we could barely push it. Where we're going we won't see a grocery store, a fuel dock or any place to take on water. When we leave La Paz, we are on our own.
We got back to the boat and stowed the frozen and refrigerated food, then walked to El Bandito's for dinner. The atmosphere was pure Mexican. We dined under the stars. The floor was gravel, the chairs hard, the food good.

The grill was made out of the front end of an old Ford F150 pickup. The servers displayed the world famous Mexican hospitality. The margaritas were amazing and they even went out of their way to make a virgin Margarita for Dawn that knocked her socks off.
The only problem was the kitchen. Dawn's tacos came relatively quickly. Ron and Margaret's chimichanga and burrito came not long after. I made the mistake of ordering ribs. I think they had to go out and chase down a pig. It took all of an hour for the ribs to get there.

Mike came with us to Los Banditos for a Margarita. He called his wife and she joined us about the time Ron and Margaret got their dinner. She ordered ribs too. Hers came at about the same time as mine.

After an interminable day, we finally climbed into our bunks at about 11 pm. The "getting there" day is not supposed to be fun.
---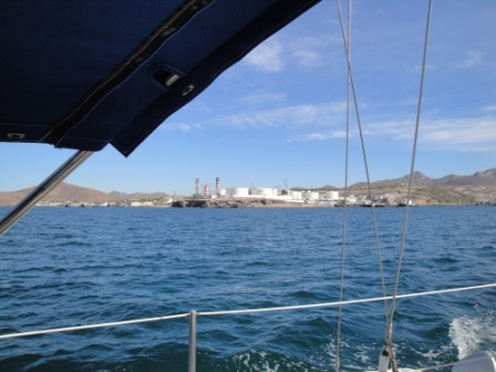 Day 2 – Sunday, January 8th

We started the day with a walk-through of the boat. Captain Aurelian met us here at 9 am to show us all of the boat's systems and how they work.

The SeaScape is a forty-one foot Morgan Out Island ketch. That means she has two masts, like the Victory. The aft mast is shorter than the forward mast. She is rigged simply and easy to sail.

All the way forward is a chain locker, followed by the forward cabin. The cabin has two berths. They overlap each other, one higher than the other. She does not have the traditional V-berth.

Aft of the forward cabin are the head to starboard and a storage locker to port. The head is large and comfortable. The storage locker has four five-gallon jugs of water. Aurelian suggested we drink only the bottled water. The water in our tanks comes from the city water and he doesn't feel it's safe to drink.

The next cabin aft is the main salon. The salon has a large u-shaped dinette and a settee opposite. All in all, the main salon is very comfy.

Next comes the galley, to starboard and navigation table to port. The galley is your standard cubby hole with a two-burner stove with oven, a sink and ice chest. This boat has 120 volt electricity at sea, so there's a microwave above the stove, but we have to run the engine when using the microwave. Bah, humbug, who over heard of a microwave on a boat?

Under the chart table is an RV-style refrigerator. It's not very roomy but we managed to store most of our perishables.

---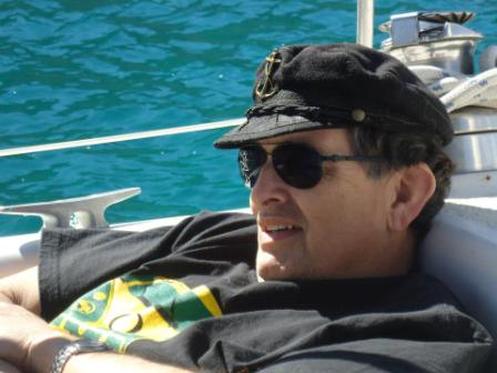 A passage way to port leads under the cockpit to the aft cabin. The cabin has a queen-sized berth, head and lots of storage space.

Dawn and I are in the aft cabin, Ron and Margaret in the forward cabin.

Aurelian suggested that we might want to start our trip with a short side-trip to El Mogote to see the whale sharks. Whale sharks are the largest fish in the ocean. They are like whales in that they have baleen (whale bone) instead of teeth. They cruise through the ocean, sucking in the krill, then use the baleen to strain out the water and swallow the krill. I saw a whale shark once, when I was fishing with my father, and couldn't wait to go see them.

Leaving La Paz is no trivial matter. There is a long, shallow channel leading from La Paz harbor to the sea. On both sides sand banks crowd the channel. The SeaScape has gone aground twice in this area in the past.

We managed to work our way out of the channel with no harm, then set course for El Mogote. El Mogote is a low peninsula that protects La Paz. A narrow sand spit connects it to the mainland. The whale sharks cruise along the shore, dining and sunning themselves in the warm water.

The expedition did not live up to my expectations. The whale sharks never surfaced. We did see a small one (a full grown adult will be thirty to forty feet long) break the surface a few times. There was that dreaded shark fin, but we saw little else. Ron, Margaret and Dawn went up to the bow to better see the fish, but I was stuck in the cockpit and didn't get a good look.
---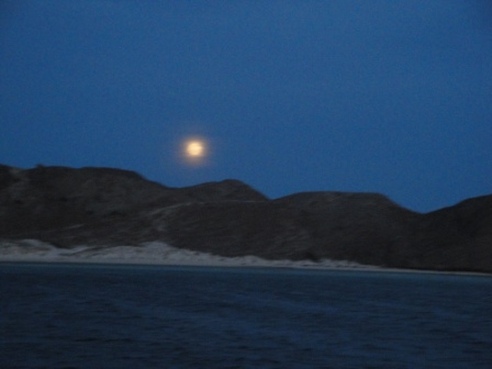 After poking around looking for whale sharks, we set sail for our first night's stop, Bahía Balandra. The cruising guide says Bahía Balandra is not a good overnight anchorage. The swells bend around the point and make for an uncomfortable night. Aurelian however, suggested Balandra as a good over night anchorage. He said that the snorkeling was good and the bay comfortable. I don't know when he was here, but boy was he wrong.

We had a fifteen knot wind from El Mogote to Balandra and we took advantage of it. Up went the sails, and off went the SeaScape.

A word about her sailing abilities: she's a scow. The Morgan Out Island line was designed and built in Florida for Caribbean sailing. In the Caribbean, there are lots of islands with shallow passages between them and many shallow bays. To deal with this, the SeaScape was given a long, shallow keel. This allows her to gunk-hole in shallow water where a deep-draft boat like the Victory couldn't go, but really hurts her sailing capability.

She will only sail to within forty-five degrees of the wind (the Audacious will sail to within thirty degrees) and makes terrible lee way. That means the wind pushes her sideways as much as it pushes her forward. This is not a problem when sailing off of the wind, but when sailing into the wind it severely limits her abilities.

Despite her poor sailing abilities, we had a great day sailing. She heeled right over and threw a terrific bow wave. We hit five and a half knots a times. Ron, Dawn and I had a heck of a good time. Margaret tolerated it. Her passion is birding and the boat and sailing are merely a means to an end. Once we get her there, she is free to check out all the birds she wants.

We tacked (zigzagged) back and forth trying to make it into Bahía Balandra, but finally gave up and fired up the engine.
The books were right and Aurelian wrong. It was a miserable place to spend the night. Three to five foot swells rolled in all night. The boat bucked around so badly we had to hold onto something anytime we tried to move around.

Margaret got terribly sea sick.

For dinner we had shrimp. Dawn peeled and deveined the shrimp, then marinated it in mango salsa, lime juice, a couple of fresh serrano chiles, cilantro and olive oil. We had originally planned to grill it, but the sea was so rough that and we decided to sauté it.

I made pineapple rice and Margaret made sliced zucchini to complete the meal.

Poor Margaret, she was so sea sick that she didn't take a bite of the wonderful dinner. I felt a little guilty enjoying a fabulous meal while she was bent over a plastic bag.
---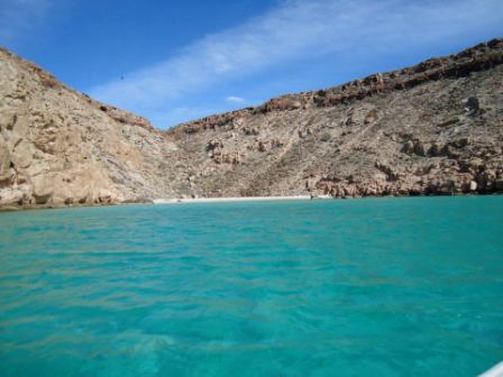 Day 3 – Monday January 9th

As soon as it was light enough to see, I was up. We weighed anchor and headed for Isla Espiritu Santo, our main destination. Good bye and good riddance to Puerto Balandra. Lesson learned.

While we were underway, I had one of the best experiences of my life. It has been fifty years since I sailed these seas with my father. One of my favorite things was to go below and take a nap in my bunk while we steamed hundreds of miles to our fishing grounds.

We got the boat going and Ron took the helm. I had not slept last night, so I went below to take a nap. It was luxurious. I lay in the bunk and listened to the water sluicing by my head. The steady thrum of the diesel engine was like a heartbeat and I felt like I was in a womb. This feeling of snug security lasted for probably five minutes, then I was gone.

Espirito Santo (The Island of the Holy Ghost) is a seven mile long piece of rock about seven miles across the channel from the mainland. It is a true dessert island. Cactus and scrub brush cling perilously to the land. Sea birds flock to the shores. Insects, crabs and scorpions own the land.

The island is a national nature preserve. You can't fish within mile of the island, but sea life thrives here. The island is volcanic. For our first night, we headed for Caleta Partida, the inside of the volcanic crater.

At some point in the geological past a violent explosion blew the crater apart so that it is open to the sea from the west. We sailed right in and dropped anchor in the middle of a volcanic crater. Two white sandy beaches beckoned. The walls of the crater are red volcanic rock. It has been eroded over the ages producing smooth concave shapes and many little caves. It's hard to describe the beauty.

---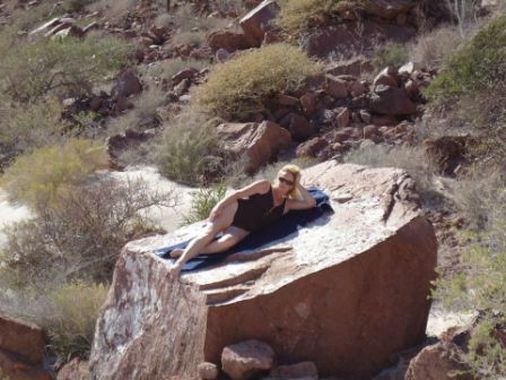 Margaret was in heaven. Sea birds of every description frequented the bay. At ebb tide they flocked in to take advantage of the small bait fish trapped in shallow water. We saw frigattas (frigate birds to you gringos), pelícanos (pelicans), terns, blue footed boobies, gulls, hawks and turkey buzzards to name a few. Margaret was excited to add the yellowed footed gull to her life list.
As soon as we had the anchor set, we took the skiff and headed for shore. In these bays, different color water signifies the depth. In the deep water where we anchored, the water is a dark green. Closer in it becomes dark blue. As you get close to shore it becomes light baby blue. The changes in color are sudden. There is a distinct line between each color.
The water shoaled far from shore and our outboard bit the sand. Without hesitation Dawn slipped over the side and dragged us into the shore. I pulled up the outboard and jumped over to help her, but really, I was just putting on a macho show. She was pulling the boat so fast that I could barely keep up, much less help haul the boat.
It must have been at least a quarter mile from the time I had to pull up the engine until we hit shore. At some point Ron and Margaret jumped out to help too, but really, Dawn was pulling the load. She eventually left the boat to us and took off for the shore. I watched her go and dubbed her "Island Girl." After all, she has spent half of her life in the Caribbean.
When we jumped from the boat into the white sand, Margaret said "I wouldn't be surprised if this sand is mostly guano." What the heck, we were there and this was our first island landing. A few minutes later, the former school teacher had an epiphany. "This is volcanic ash."
By jingo. She was right. We were walking in many inches of compacted volcanic ash. Large boulders lined the shore. These must have been spit from the volcano at its last eruption.
To the east of us, at the crest of the island, we could clearly see a cinder cone. This land was built of violent volcanic activity.
We strolled a mile or so along the beach, looking at the sea life, the flora and the weather beaten rocks. When we turned around to head back, we discovered a minor problem.
---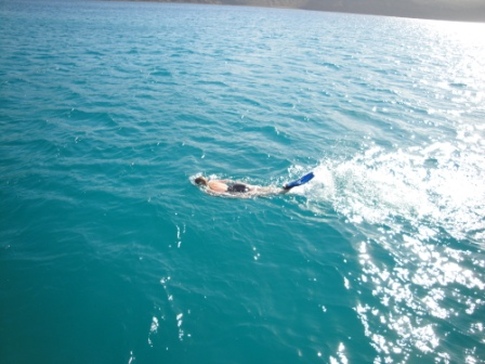 Our dinghy was high and dry. The tide went out and left our dinghy on the beach. It was probably twenty feet from the water. No problem. There were four of us. We'd simply pick it up and carry it to the water.

Right!

The dinghy probably weighs a couple of hundred pounds. The twenty-horse power Honda outboard must be near two hundred pounds too. Then we have ten gallons of gasoline at eight and a half pounds a gallon (another eighty-five pounds). Then we can talk about the anchor, our packs, the mooring lines etc. All in all, it must have weighed more than five hundred pounds. It was not going to be lifted.

Dawn had an idea. "Why not turn it around, so the bow is closer to the water?" So we did. That reduced the haul by half. Then I lifted the outboard while the other three pulled on the skiff. Two feet at a time, we inched the boat closer to water. When the bow was finally floating, it became easier, but I still had to lift the stern out of the water to move the boat. After a long haul she was floating in water deep enough to lower the outboard and head back to the mother ship.

Did I mention that my back was exploding in pain? I think wrenched it lifting the outboard.

Back to the SeaScape for happy hour. Liberal amounts of tequila made the day seem much more fun.
Then dinner: New York steaks. Sonoran beef may be the best in the world and these certainly didn't disappoint. We had the steaks, baked potatoes and green beans. My oh my. What a dinner.

It was a long, strenuous day, but enormous fun.
---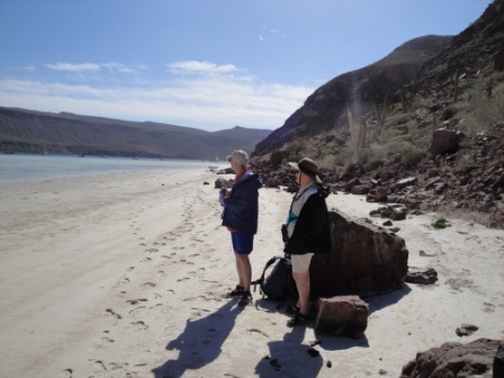 Day 4 – Tuesday, January 10th
We decided to spend the day at Calta Partida. It is such a beautiful place it needs to be explored.
After a lovely breakfast, Margaret and Ron took a kayak and headed for the southern beach. They went ashore in search of the trail that leads to the top of the island. They never found it, but had a good adventure.
Meanwhile, back at the ranch, I fired up my computer and worked on Blue Water & Me for a couple of hours. Dawn took her computer and retreated to the aft cabin.
When Ron and Margaret returned, we had lunch and decided to explore the bay.
Just outside the point that protects the bay is a reef inhabited by all sorts of reef fish. We dinghyed over to check it out. Before we left the boat, we loaded four sets of snorkeling equipment.
We got to the reef but the northeasterly winds howled into the bay. It was too cold with the wind chill factor for Ron, Margaret or me to even think about going into the water.
Fish girl stripped off her shirt and went over the side. We followed her for half an hour while she explored the reef. I don't understand her metabolism. She never seems to get cold and the heat doesn't bother her either.
Back to the boat for happy hour and dinner. We've quickly developed a happy hour tradition of Margaritas and hors d'ouvres.
When we were provisioning in La Paz I spied some beautiful poblano chiles that just cried chile rellenos to me. For dinner, I made the chile rellenos, black beans (Incredibly, I couldn't find pinto beans in the store) and Mexican rice. We dined well.
Now for the electrical problems. During dinner, I checked the battery level. It was extremely low. I decided to start the engine to recharge the batteries. I don't know how the batteries could be so drained when we ran the engine for two hours to charge them. None the less, dead they were.
I tried starting the engine. It wouldn't turn over. In a normal boat, there is a house bank of batteries and an engine battery. When the house batteries are dead, you switch to the engine battery, start the engine and charge your house batteries.
Aurelian told me that there were no engine batteries, but because the house batteries had one thousand amp hours there should be no problems. WRONG-O!
I couldn't find a way to start the engine so I called Aurelian on the sat phone. He was busy and told me to call back in half an hour. Mike (the owner)'s phone didn't work so I couldn't contact him.
I talked to Aurelian eventually and he told me he'd call Mike, but that I would have to remove the windlass batteries and jump them to the house batteries to get the engine started.
Mike called back at about 10 pm. He said he'd send Rafael out in a speed boat tomorrow morning to get us going. However, we still had a little power left in the batteries to get us through the night. I shut down all non-essential systems and we just went to bed.
Mike also had some bad news for us. Ron's father died today. I decided to wait until morning to tell Ron. Let him get a night's sleep.
---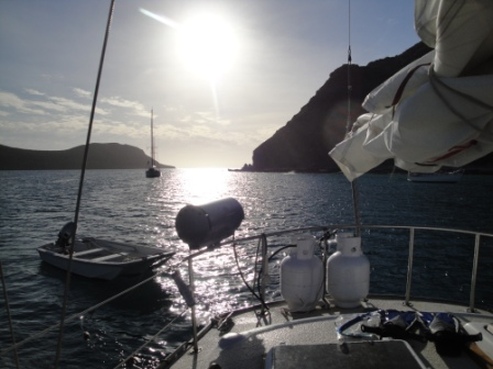 Day 5 – Wednesday, January 11th

I gave Ron the bad news as soon as we were up. He looked stunned. His father was in a bad way and they had called in hospice, but they didn't expect him to go this fast. The logic of the situation tells you that it's a good thing. His father had no quality of life. On the other hand, you feel the loss, the pain of losing someone you loved, someone who had been there all your life, someone who had guided you and formed who you became. I've been there. I know how devastating it can be.

Ron and Margaret talked and decided to go home. Margaret said it best, "If we don't go home, you'll be guilty about it for the rest of your life." Margaret is an imminently practical woman, but full of wisdom and good advice.

They decided to go home.

Rafael arrived in a skipjack (a fun little fishing boat) at about 11:30. He brought a spare battery with him and got the engine going quickly. I'm glad he came. I didn't look forward to moving sixty pound batteries to jump the house system.

He also showed me that the SeaScape was set up like every other boat I've ever sailed. She does have a bank of engine batteries. No problem. Now I knew how to manage the electric consumption on this boat.

Boy was I cocky. After Rafael, Ron and Margaret left, Dawn and I took the boat out for a nice sail. Our plan was to sail for a couple of hours, then head in to Ensenada Grande on Isla Partida for the night.

We ran the engine for three hours before I shut her off to sail. Just to double check, I decided to re-start the engine just to see if I could. It wouldn't turn over.

Damn! We needed the engine when we went into the bay to anchor. Of course, sailors anchored without engines for hundreds of years before the first steam engine was ever installed. But I didn't know the SeaScape. Could I sail her into an anchorage? The Audacious would be no problem, but I wouldn't attempt it with the Victory. I just don't know her well enough yet. But the SeaScape? We weren't even dating.

I let the batteries rest for an hour while we had a wonderful sail on the Sea of Cortez. The sun was bright, the sky a clear light blue with nary a cloud and a ten to fifteen knot breeze steady from the northeast.

Dawn had the helm and was having the time of her life. That girl can sail. She grew up in Bremerton where her parents had a Newport 30. From the time she was a wee sprig, she spent all of her family vacations on the water. Then she moved to the Virgin Islands where she spent all of her spare time on the water.

After an hour or so, I managed to coax the engine to turn over. We sailed the rest of the day with the engine running.
Our goal for the day was Ensenda Grande (Big Bay) on Isla Partida. Ensenada Grande is a large bay on the eastern shore of the island. It is separated into three different coves by points of land extending into the bay. We checked out the first two coves before settling on the southernmost cove.

Once again I'm at a loss for words to describe the beauty. I am not a dessert person. I've never had an urge to see or spend any time in the dessert. However I'm captivated by the beauty of the arid islands we've found in this sea. Red volcanic rocks make up the steep cliffs. Occasionally a white sandy beach hides in a little cove. The water near the beach is a light blue, almost a turquoise. You can see the rocks and sea weed in the clear water.

I think that this is the clearest ocean water I've ever seen. In the Northwest, far from civilization, we have clear cold water, but it has a greenish tint to it. This water is sparkling, pure and almost invisible. In twenty-five feet of water, we can see our anchor dug into the white sand. One morning when I raised the anchor I disturbed a sting ray buried in the sand and he flew away on his leathery wings. I could see the whole thing like it was in my bath tub.

For dinner I made tacos. We bought a big piece of sirloin in La Paz. Dawn cut up half of it for carne asada and I boiled the rest to make picadillo. We warmed up the frijoles and rice from the chile relleno dinner, then diced up cilantro, onion, limes, radishes, etc for toppings.

We have been eating well on this cruise.
---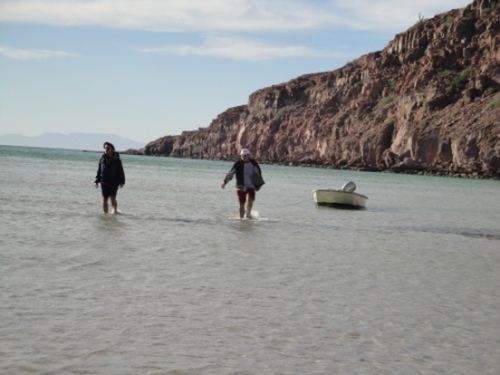 Day 6 – Thursday, Jan 12th

Our electrical problems continue. I have to use the spare battery that Rafael brought to start the engine and the batteries won't hold a charge. Without the engine running, they go flat in an hour.

It's so beautiful here that we decided to stay in Ensenada Grande another day. We got up and fired up the engine, then Dawn made sausage and eggs for breakfast. After breakfast, I had my mandatory morning nap, then we piled in to the skiff to go ashore.

There is a beautiful beach here. White sand, a little fresh water laguna that provides a green back drop and little dunes. We explored the beach, did a little swimming and gathered rays. We had the cove all to ourselves. Everyone else (there were only about four boats in the bay) left by 11 am.

I can't begin to tell you what it is like, to be the only ones on the island, the only boat in the bay. It felt like we were on the set for a Hope/Crosby "Road to" movie.

All the islands in the Sea are national wildlife preserves and Isla Partida and Isla Espiritu Santo are state parks. There were well marked trails from our beach leading on hikes inland, but we were not really interested in going. I was really sorry that Ron and Margaret missed this. Hiking these trails would have made their trip.

After a couple of hours playing ashore, we took a dinghy tour of the bay. There are three little coves in the bay. The northern most has a large crescent-shaped white beach but is exposed to the northeast wind through a gap in the hills. The second bay is better protected but has a much smaller beach. The southernmost cove has two small beaches, the larger of which was our playground.
As I've said before, this is a volcanic island. The rock and soil are terra cotta color. Inland the hills rise steeply and are littered with rocks that either broke off and slid down the cliffs or were shot into the air by the volcanic explosion and landed here. Close to the water the rough rocks drop straight into the sea. Eons of erosion have worn them smooth. Little caves developed at the water line and smooth concave openings fill the cliffs above. It all looks too perfect to be a work of nature. It's like something you'd see in Disney Land.

Back at the boat, I struggled to get the engine started and shut down all but essential systems. We grilled some marvelous Mexican chicken wings for dinner and headed for bed exhausted.

There's so much to see and do we're wearing ourselves out every day.
---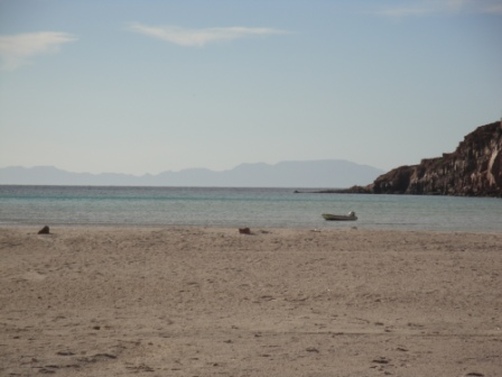 Day 7 - Friday, January 13th

Is there anything to the Friday the Thirteenth myths?
I'm throwing in the towel. I've had it with fighting the electrical system on this boat. If it was my boat, I'd get out my tools and spend a day running down the problem. It's not my boat. I called the owner today and told him to send his mechanic back out. After we get the engine started, we're heading back to La Paz a day early.

I made huevos rancheros for breakfast. With local chiles and cheeses, it was wonderful. Then I spent the rest of the morning working on my book, waiting for Rafael and his helper to arrive.

Rafael arrived at about 12:30 in the afternoon and got the engine started. We were worried about having enough time to make it back to La Paz before nightfall. It gets dark here around 5:30 pm. There's not much dusk. It goes from light to dark really fast.

It is about twenty-four nautical miles from Ensenada Grande to La Paz. At five knots that's just under five hours. We got the engine running and the anchor weighed at about 1:30. Could we make it?

The guide books all warn against approaching La Paz in the dark. If we made six knots we could make the trip in four hours. That would put us at just about sunset.

I was not willing to spend another night fighting the electrical system, so we went for it. All morning long the wind had blown like a son-of-a-gun out of the northeast. Our course was due south. We'd have a great wind on our port quarter running home.
I didn't dare turn the engine off. We might not be able to get it going again when we got to La Paz and had to negotiate the long narrow channel into the harbor.

When we cleared the headland, I set the Genoa Jib and we ran down hill for La Paz. We had about fifteen to twenty knots of wind and four-foot swells. The SeaScape loved it. This is by far her best point of sail.

The knot meter hit six, then seven knots. Surfing down the backside of the waves, it climbed rapidly to eight, then nine knots. Finally, when the wind and waves were at their peak, we were flying downwind at ten knots.

---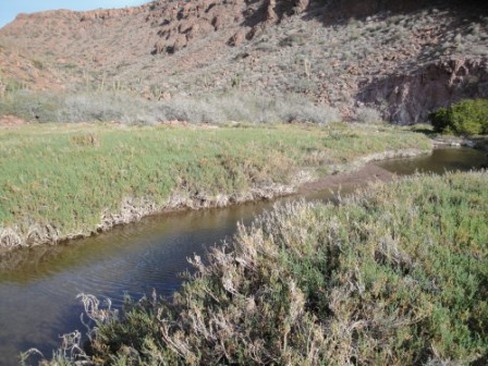 The GPS keeps track of the distance to our destination and calculates our ETA. At first I was alarmed because it said we would arrive at 6:40 pm. Then, as our speed increased and the distance decreased, the ETA wound down to 5:30 pm. Then I had a revelation. The GPS was not set for our time zone. It was right out of the box and no one had ever used it before. When I corrected for time zone, it was saying we'd be there by 4:30. We were set.

The wind slackened in the afternoon and our speed dropped to seven to seven and a half knots. The ETA began to climb again.

But we made it. We entered the channel at about five-thirty pm. It's about an eight mile long channel winding through and around sand bars. We finally got to the dock at about 6:30. It was getting dark, but Rafael and his crew were there to help us guide the boat home.
Mike (the owner) came down to apologize for our troubles. We talked with him a while, then he offered to take us to a restaurant for dinner.

He dropped us off at El Buffalito's.

At first Mike took us to a restaurant called Buffalo's. Then he said "I'm going to save you a lot of money." He took us to Buffallito's instead. "They serve the same steaks for half the price.

Then he told us a story of two brothers. The first brother opened Buffalo's as La Paz' premier steak house and brother #2 was his chef. Then sibling rivalry reared its ugly head. The brothers had a falling out. To spite #1, #2 rented the space five blocks down the street and opened Buffalito's. Since the overhead is so much lower, Brother #2 sells the same quality food for half the price. We loved the atmosphere there, so we didn't miss anything.

While we were eating a group of strolling musicians came and played "Perfida" for us. Then another group came in and sang "Guadalajara" and "Jailisco."

I think Dawn had the time of her life.

Buffalito's is an open air restaurant surrounded by stucco walls. The kitchen is in a palpa in front. (A plapa is a thatched roof hut with no walls. These palapas had counters around them and equipment inside.) The bar and rest room are in another palapa. Those were the only roofed part of the restaurant, all there was over our heads was stars.

Buffalito's grills their meat over mesquite coals. The beef is from Sonora. Many people claim that Sonora beef is the best in the world. I think Dawn was convinced. She had a fillet that she said was the best steak she'd ever eaten.
We dragged ourselves back to the boat and dropped into bed, too tired to even shower.
---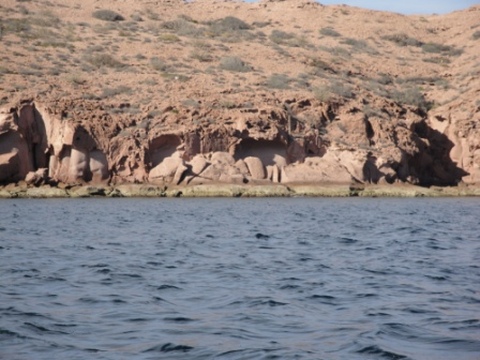 Day 8 - Saturday, January 14

La Paz at last. Before we left, I made a trip down to the Victory to get stuff for our journey. Someone (Dawn) had made a La Paz or Bust! sign. I guess we didn't bust. We're finally here and I'm anxious to go exploring.

But first, big news. I finished the edits on my book and sent it to my editor. He says we can look for a March release date. I really need to get working to set up the publicity.

Now, back to our regularly scheduled programming: We slept late, then headed to the La Paz marina where Mike told us that the food was good, inexpensive and that the local cruising crews hung out there. Breakfast was good if not spectacular. Dawn was lusting after pancakes, but I needed to sample the local fare. I had bistec Mexicana.

After breakfast we wandered into town. As usual, we ended up on the Malécon. The Malécon is a broad promenade that follows the shore line for five miles through downtown. It is paved with light colored and red tiles. The lines of tiles sweep along the Malécon like waves hitting the beach. There are white iron benches every few feet and sculptures in little roundabouts at the end of each block.

The sculptures range from pious to fanciful. There is a ten-foot tall Jesus holding a conch shell in one hand and an old man in a paper boat. My favorite was a mermaid chasing a dolphin.

At night the Malécon is well lit and families and couples stroll up and down at all hours of the day. it is especially popular for biking and skate boarding.

My first impression of La Paz is that it is an incredibly clean town. We didn't see a scrap of waste paper, a hamburger wrapper or beer bottle in the gutters. This is not a tourist town. We learned that since the Swine Flu scare in 2006, tourism has never really rebounded. Only a small portion of the people we saw and met were gringos.

Despite the lack of tourism, there were signs of prosperity everywhere. Fancy new cars on the streets. Lots of construction. Nice looking houses. Interestingly enough, every real estate office that we passed had their listings in English and the prices in American dollars.

Everywhere I've been in Mexico, the people have been helpful and friendly, but it seemed even more so in La Paz. We we're looking for a cab one evening and none were to be found. An older man in a Ford Explorer stopped, picked us up, and helped us get to our destination.

We walked around, visited shops and stopped to have lunch in a rotisserie chicken restaurant. The chicken was good, the rice average and the prices dirt cheap.

After lunch we went on a merry round of checking out the shops. We discovered and area where the sidewalks were littered with little stands selling everything from fruits and vegetables to boots to tamales. We explored small mercados (markets) and found a place to exchange some dollars.

---
Then the long hike back to our B&B. A nap was in order after all of the walking. Then I finished the edits on Blue Water & Me and sent them off to my editor. Isn't the Internet wonderful?
Mike took us out to dinner at an Italian restaurant called Il Rustico. It was pleasant, the waiter helpful and the food just average. It was the only Italian restaurant I saw in La Paz, but we have much better Italian food in Seattle. After dinner, Mike dropped us back a Casa Buena.
I should tell you about Casa Buena. It is located on a back street about three blocks up from the water front. If you weren't looking for it, you would never find it. They do no advertising and have only a small tile sign over their door.
Like most homes in Mexico, there is a tall stucco wall along the sidewalk. A brown wooden door and garage door are the only openings. You ring a bell to get someone to open the door and immediately hear the baying of hounds. I was ready to turn around and find some other, less dog friendly hotel.
Not to worry. They were just two enthusiastic vanilla labs. Dawn got her dog fix in and I escaped with my life.

Inside the gate is a very dry garden. In fact, the whole town of La Paz is very dry. I didn't see an inch of lawn. Empty lots are just dirt, on the back streets where there are no sidewalks a patch of dry dirt fills the space between the walls and the street.
Cactus, maguey and other dry weather plants are scattered around the Casa Buena courtyard in an artistic pattern. From the door there is a trellis covered with bougainvillea. The stucco wall probably encases a quarter of a block. along the south side is a two story building that has the guest rooms. On the south side, the family's residence sits. In the middle of the courtyard is a large common building. It has a kitchen, tables and lounge area with a big screen TV.
West of the common room was the pool. Long and narrow and very cold. Dawn dipped her feet, but I never went in it. It's the middle of winter, don't cha know?
There were a couple of non-descript buildings along the north wall, but I never ascertained what they were for. Milton and SuSu have three kids and the yard was filled with the accoutrements. A large doll house was just north of the common building and behind that a trampoline. Bicycles of various descriptions littered the yard.
All of the walls were stuccoed with a yellowish-tan color. Occasionally a pillar or stair case might be a pastel blue or green or maybe even rose colored. All in all, a very pleasant environment.
The rooms were roomy and clean, but nothing fancy. However it was heaven to have a shower with hot water after a week on a boat
---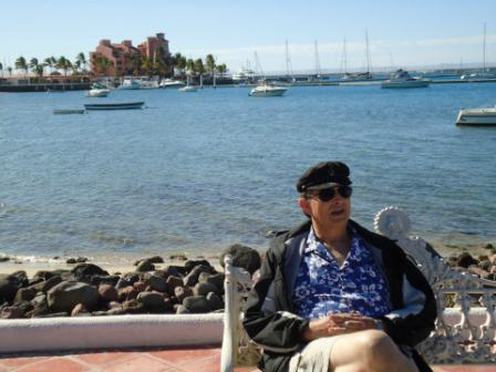 Day 9 - Sunday, January 15th

The Death March - Today I arose early and went into the common room to work on the Log while Dawn slept. The room was full of people who wanted to engage me in conversation and I got little done. I guess I need to work on my crusty old writer persona more so they will leave me alone.

SuSu and Milton, who run the Casa Buena B&B where we're staying told us that the Club Cruseros (The Sea of Cortez Cruising Club) has a regular coffee meeting every morning at 10 am. We decided to walk down to the La Paz Marina, have breakfast and join the coffee klatch. They also told us that the guy we want to talk to about chartering in Mexico is Sea Otter Jim. He's supposed to know everything there is to know about chartering.

I was anxious to meet the other cruisers here so we crossed the courtyard to the common room where SuSu provided a continental breakfast. Cereal and fresh muffins. The muffins were good, but I rarely eat cereal. I'm hungry again within an hour.
After breakfast we wandered over to the Club Cruseros. There was nothing going on. We found out that their klatch is Monday through Saturday. They did have a swap meet happening in the parking lot though and we picked up a book about living aboard.
After chatting with a bunch of people, we walked up the Malécon to see the town. I liked that there were only two American franchises in town: Applebee's and Burger King. Other than that, it was all Mexican. There were large department stores and tiny stalls. In one area of town, as I said, the sidewalks were filled with canvas stalls selling any number of products.

As we got away from the main section of downtown, we began to see some street litter. Apparently, the street cleaners concentrate on the core area. It was also Sunday, the day after a fun filled-Saturday night. The cleaners, like most everybody else, had the day off.

We had lunch at Super Burro. It's an open air taco stand and the only place we found in La Paz where they make authentic tacos al pastor. We tried one each, then had a carne asada taco. I have to say that tacos al pastor in La Paz just aren't what they are in the Valley of Mexico. The carne asada tacos were excellent thought.

We got back to Casa Buena about five pm. We spend seven hours (more or less) on our feet. My knees cried out, my back ached and my feet were ready to drop off. I hurt so badly I took a pain pill and lay down for a nap.

Around seven pm we decided that it was time for dinner. Tomorrow is Dawn's birthday and we're going to be traveling, so I wanted to take her some place nice. I also wanted seafood. Milton recommended a restaurant on the Malécon called Tail Hunter. It's a kind of funky open air restaurant/bar like you might expect to find along the waterfront in Lahina.

They were playing 80's rock on the radio and Dawn fell right into it. It was owned by a gringo and their margaritas tasted more American than Mexican to me. I had a wonderful dish called pescado in salsa verde.

It was yellow fin tuna smothered in green sauce like I would use to make enchiladas suizas, then topped with a heavy layer of melted manchenango cheese. The frijoles were good and so was the rice. This is something I'm going to cook at home.
Dawn was so enthralled with the Senora beef that she had a rib eye steak.

After two Margaritas, i was just a little bit happy. Somehow I managed to navigate the spiral staircase down to the street. (What can I say, gravity helps you going down.) Dawn poured me into a cab and we headed back to Casa Buena to crash.
Fortunately, our flight home wasn't until late afternoon, so we had plenty of time to recover.
---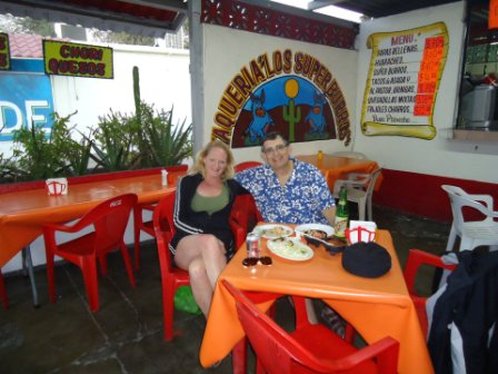 Day 10 - Monday, January 16th

Did I say fortunately? Wait, I'm getting ahead of myself.

We left Casa Buena a little before ten am to make the coffee klatch at Club Cruseros. We hadn't had breakfast yet, so we ate at the Dock Cafe again. At the klatch a dozen or so sailors gathered to share coffee and lies. We hooked up with several, exchanged stories and searched for Sea Otter Jim.

Every time we asked about Jim we got "He was just here," but we never found him. We walked out the dock to his boat, which was empty. The hatches were open which indicated he expected to be right back, but no Jim.

Then someone told us about Jim's shop. Apparently, he does engine repair and has a small shop across the street from the club. Walking through the parking lot, I almost got run down by some yahoo on a red scooter.

Naturally, Jim wasn't at the shop. When we turned to leave, Milton pulled into the parking lot. "Did you see Jim?" he asked. No, we hadn't. "He almost hit you with his scooter."

Damn. Why couldn't we have collided so we could catch him. The elusive Jim never surfaced again and we came home without meeting him.

Disappointed, we walked up town. We wandered through every nook and cranny and finally stopped for lunch in a cute little restaurant called "El Cafe de Abuela" (Grandma's cafe). It reminded me of the white table cloth restaurants in Mexico City. But it only had three tables.

I had pollo ranchero (ranch style chicken) and Dawn had picadillo (shredded beef). The plate came with beans and rich. The rice was very good, but the beans shocked me. The refried beans were made with white beans. Once again, we could not find a pinto bean in La Paz.

After lunch I went on a mission to find gifts to bring home. Finally, about two thirty, we caught a cab back to the B&B. We picked up our luggage, checked out and headed for the airport.

We went through customs, cleared security and settled into the passenger area to wait for our flight. What a wait.

A small plane made a hard landing on the runway. La Paz only has one runway. The authorities shut down the runway, effectively canceling or delaying all flights in and out of the airport.

Over the loudspeakers, an announcement said that our flight would be delayed by one hour. Time drug by. Finally I bought a hot dog and a salad to hold us over. As always airport food was uber expensive.

After about a two hour delay, Alaska Airlines announced that people with flights transferring from Los Angeles should come up to the desk. I was next to last in line, naturally.

Our flight would not make it into LA in time to catch our plane to Seattle. And that was the last plane of the day. They said we would get a voucher for a hotel room when we got to LA.

Finally our flight boarded and the trip to LA was uneventful. We arrived in LA about quarter past nine pm. Then we picked up our luggage and went through customs. The ticket agent had a voucher for the Westin Hotel, so at least we had a nice place to sleep. For a couple of hours.

The wait for the Westin shuttle bus was interminable. After about forty-five minutes it finally showed up. By the time we got to the hotel it was after eleven pm. We checked in, dropped our luggage and went in search of dinner.

---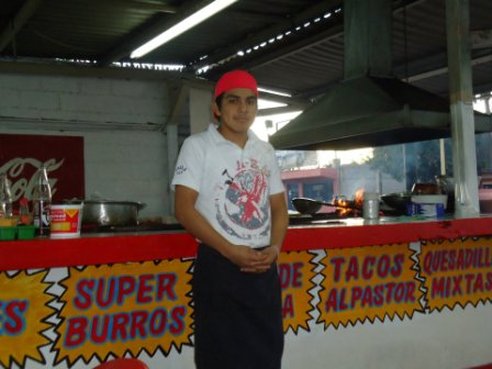 The restaurant was closed. The bar had a "limited" menu available. It was loud and pricey. I decided to go back to our room and order room service. It was a couple bucks more up there, but at least we could take off our shoes and relax while we waited.

I paid fifty-four bucks for a hamburger and a chicken Caesar salad. I was not happy, but there was no one to complain to. The Airlines had no control over the fact that there had been a mishap on the runway.

Our flight out in the morning as at six am. That meant we had to be up by three-thirty. So, on three and a half hours sleep, we staggered back towards the airport.

Somehow or other, we made it onto the airplane and headed home. Only to be greeted by SNOW! It seems that every time I take a winter vacation, I come home to snow. We went from eighty degrees to freezing. Is this any way to run a railroad? For a final wrap up, I have to say the trip was a success. We learned a lot about the Sea of Cortez and La Paz. I know it was only for ten days, but we took in a lot. I also learned that operating a charter boat in Mexico is not going to be easy. The Mexican government deliberately makes it a difficult as possible to keep the gringos from coming down there and taking all the business.

I'll have to spend the next nine months working my way through the red tape if we're going to charter down there next winter.
Going to La Paz felt like going home. I had never been there before, but Papa talked of it often. It lived up to his hype. I felt totally comfortable there, the city was clean, the architecture Mexican and the people friendly. I couldn't believe the prices. A nice condo rents for five hundred dollars a month. Food and medical care are ridiculous. No wonder people retire there. The buck goes a lot further.

The only problem I saw was the price of mooring. I asked in several marinas, and the price was equivalent or higher than Seattle. Of course, these were nice, tourista marinas. I'm hoping there is a little run down Mexican marina that I can find when we get there next year.

But for now, we're home and back to work. I have sooooo much to do to get ready for our trip down next fall . . .

---