San Diego Disappointment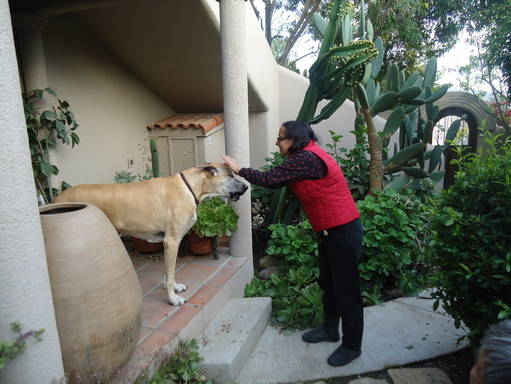 I have received comments from several readers in the past two days saying that I am not posting to this blog often enough. It seems to me like the work we're doing is a constant stream of sameness, is dull and boring. I don't want to lose my audience by giving a day by day blow of how we spent three days sanding something or how we painted all afternoon.

I try to bring a little bit of fun, action or emotion into each posting. I hope I'm not boring you to death. It seems to me that if I post a day-by-day, blow-by-blow account of our activities I will either put you to sleep or drive you off.

I promise that when we have more exciting stuff happening, I will post more frequently.

As for today, here's our trip to San Diego:

Thursday March 7th 2013 through Monday, March 11th 2013– Ensenada & San Diego

The best laid plans. . .

Our original plan was to go to San Diego on Thursday and Friday. We were getting so close to finishing the sanding and cleaning of the bright work that neither of us wanted to take the day off and go to San Diego.

So we worked instead. We have made so much progress on the bright work that I just want to get done. However, we discovered some places that weren't sanded properly. I spent the day on my knees sanding the small areas that we missed.

Needless to say, I was hurting that night.

The next morning, Friday, we were set to go to San Diego. Except . . . Dawn woke up with the Tourista and a storm was pouring down rain. I have only seen it rain like this in a tropical storm in Costa Rica and during the three hurricanes I have experienced. Our street, which is on a hill, was like a river. Mud and rocks flowed down to the level area.

I made an executive decision and went back to bed. I didn't want to drag Dawn out in this weather, which I thought was dangerous to drive in (and we later learned that a hill gave way and closed down part of the highway), and for her to be so far from a toilet.

"It was too cold to go out, too wet to play ball, so we sat in the house, we did nothing at all." (Dr Suess, The Cat in the Hat, circa 1960) Well, that's not exactly correct. Dawn climbed back into the bed and slept until late in the afternoon. I spent the day reading and writing.

Saturday was no better. The rain still poured down and, although Dawn was feeling better, her stomach was still tender. We begged off going to San Diego again.

I lazed around the house most of the day, but in the afternoon, Dawn went into town to pick up our prescriptions. She stopped at the boat and was happy to report that the after deck was not leaking.

In previous rains, gallons of water poured through the damaged deck. In the accident, all of Dawn's clothes, which she stores in the locker next to her bed, got drenched. The sealers seemed to be working. What a victory.

---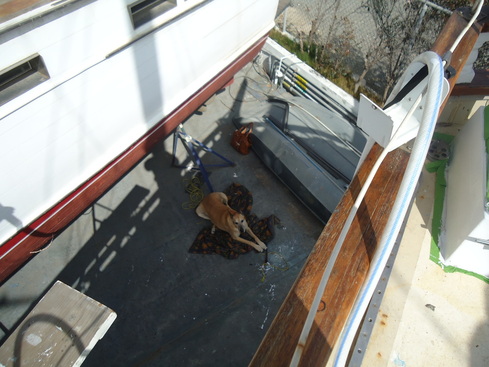 Sunday Dawn was still not quite up to par so I gave her a day off and I went down and did the cleaning and bleaching of the teak. Fortunately the weather was nice, so spending the day up to my ankles in water wasn't a problem. I've learned that when I'm using Te-Ka I wear my deck boots and foul weather pants.

However, I'm not quite as smart as I look (and that's not very smart at all). When the day heated up, I took off my sweat shirt. Then the water splashed onto my arms and I got a couple of acid burns. The sweat shirt went right back on in spite of the heat.

Dawn told me yesterday that it doesn't matter if the repairs on the boat last forever or not. She, Odin and I will all probably be dead in a year from breathing all of the toxic fumes in the boat yard.

All of the teak is now clean and ready for the first coat of oil.

Monday rolled around and we were off to San Diego. We slept in an hour and didn't get up until 5 am. We were out of the house by 6:30, half and hour later than my plan.

This time, we ran into a real mess at the border. The traffic was backed up onto Tijuana's streets, long before we got to the border freeway.

We waited in line three hours to get across. If it's this bad now, I can hardly wait for the sequestering to take effect. They're furloughing many of the border patrol agents around April 15th and there will be fewer lines for cars crossing the border.

San Diego was the usual whirlwind. We went from store to store, picking up items on our list. At West Marine we got the new compressor for the refer/freezer. We also got a chip for the GPS that will take us all the way down the Mexican Coast to Guatemala.

At Marine Supply we got new electronic guts for the hot water heater. Then on to pick up the dinghy.

This was the centerpiece of the trip. Unfortunately, they have changed to their winter hours. They're closed on Mondays. I wasn't a happy camper. We drove all this way, endured 3 hours at the border crossing and we couldn't pick up the dinghy. Why Lord? What have I done?

For a change, we decided to sit down for dinner before we headed home. Our last two trips ended with a Carl's Jr. hamburger and upset stomach for me.

So, we stopped at Fiddler's on Shelter Island. It is a good old-fashioned steak house with a nautical theme. There must be over a hundred half-hull models on the walls. Then there are an equal number of sailing photographs, both old and new.

There is also great food. Dawn had a teriyaki sirloin and I had prime rib. The portions were immense. I had a piece of my prime rib for breakfast the next day and we had the remaining left over for dinner that night.

The nice meal took the edge off of the disappointment. We're not leaving Ensenada until the 31st, so we will be back in San Diego to pick up the dinghy. The long drive home didn't seem as long and we were in bed by 11 pm.


---