Mama Gets Married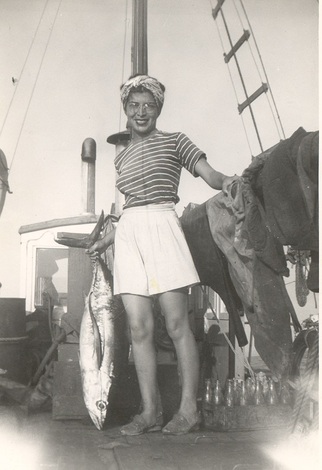 Thursday January 24th 2013 through Sunday January 27rd 2013– Ensenada

Grandma's wedding

Mama is getting married. After 16 years of widowhood, she finally met someone who makes her happy.

When she announced to me that "she had met someone" last summer, I was a little shocked, but mostly happy for her. She was a different person. No longer did she see the dark cloud around every silver lining. She acted like a teenager. How cool.

Then she told me that she and David were getting married. The date was December 23rd, her birthday. OK, I started to make plans to come home over Christmas. But then the wedding was off. They decided to live together for six months to see how things worked out.

While I was struggling to save the boat and get her repaired, I got an email from Mama and David. (An email from Mama? What is this world coming to?) OK, David sent the email, but I expect that Mama told him what to type.

The wedding was on and scheduled for January 26th. Mama is 88 and David is 85. I guess that they figured they shouldn't wait to long or they might not be here for the big day.

Oh those crazy kids. Such short notice. What was this, a shotgun wedding? I had plans to make, but was so consumed in fixing the boat that the day crept up on me much too quickly.

Penn's to do list:

Buy plane tickets. Check.
Get shoes. Check.
Make arrangements for Elinor to take care of Odin. Check.
Get dress for Dawn. Check. Sort of.
Get up early, drive to San Diego and catch plane. Check. Sort of, well not exactly.

---
We got up at 7 am to drive to San Diego and catch our 11:20 flight. We were all packed and the exit went smoothly. We were on the road before 8 am.

The drive to Tijuana was gorgeous in the early morning light. The sun climbed above the hills and illuminated the ocean. Rolling waves crashed on miles and miles of white sandy beaches, broke and covered the beaches with white foam.

There were no other cars on the road and we flew along. We arrived in Tijuana by 9 am, right on schedule.

Then we got in line for the border crossing. What a disaster.

We sat for more than two hours waiting to cross the border. After an eternity of waiting, our line stopped about twenty cars short of the guard station.

We sat and sat. Five minutes. Ten minutes. Twenty minutes. After half an hour of not moving, I managed to edge my way into the next lane. As we inched closer to the border, we could see that our old line was stopped while the border patrol searched a Toyota sedan.

The dogs sniffed it. The BP crawled under it, then started taking stuff out of the trunk and back seat.

Now I don't have any problem with the fine people of the Border Patrol rousting some poor head banger. He probably was smuggling in nuclear weapons for al-Queda, but why oh why didn't they just pull the car out of the lane before they tore it apart?

For more than half an hour that car sat still at the guard station. No one thought anything about the poor slobs in the line. To make matters worse, as you approach the border, the lanes are segregated by concrete barriers. I move out of the line at the last possible minute, but the cars ahead of me were trapped. They couldn't do anything but sit.

With hundreds, maybe thousands of cars in a line that extends for miles into downtown Tijuana, the guards show no sense of urgency. A dozen or so guards strolled around the lined up cars, meeting in little groups to chat. It's all just a day work. They don't open extra lanes, they don't make any effort to check cars before the approach the guard station.

I know that if this was a restaurant I was running, I would make extraordinary efforts to get our customers seated and out the door. The BP guards just didn't care. They face this mess everyday and can't stress out or their heads would explode. It's a classic case of management not giving the workers the tools that they need to do the job.

Shortly before we got to the front of the line, the guards escorted the Toyota in the next line to the inspection station. And closed and locked the gate. They left no one to manage the line and check the cars coming through. The poor people in the line just had to sit there. With the concrete barriers, they had no way of getting into a moving line. When we finally crossed the border, they were still there waiting for someone to come back and open the guard station.

All in all, we spent over two hours waiting to get across the border. I had budgeted for one hour since the last time I crossed it only took half an hour.

It was now after 11 o'clock and our flight was leaving at 11:20. There was no way we'd make our flight.

We sped to the airport, searched for a parking place and dragged our loaded baggage to the ticket lines. The Alaska agents were very sympathetic and nice to us. They booked us on the next flight, at 2 pm. We were supposed to be in Seattle at 2.

We checked our bags, found a restaurant for an outrageously expensive breakfast, and made our way to the boarding gate.

---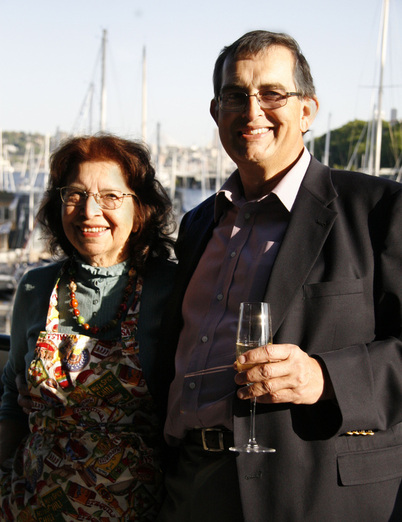 Eventually we got on the plane and were whisked to Seattle.

My friend Charlotte used to say "traveling is inconvenient at best. If you expect the worst, then if things go well, it's just a pleasant surprise." Our expectations were met and exceeded today. We got the worst.

In Seattle, Sam, my brother-in-law, picked us up in my truck. We immediately headed north to Susie and Steve's house where we had dinner and spent the night.

The next morning, after Susie fed us breakfast, we ran several errands in the Seattle area, then headed south to Portland for the wedding.

The drive to Portland was uneventful, however our Baja acclimated bodies shrieked at the cold and rain.

We got to Portland in time to enjoy some of Mama's sobras (left-overs) and chat for a few hours before turning in.

Santos and his friend Francis stayed with Mama too. It was a houseful and no one seemed to be able to sleep that night. Leg pain woke me up about mid-night. I got up, took some pain pills and opened my computer to play Free Cell and forget about the pain.

Mama heard me and got up. She hadn't closed her eyes yet. After Mama and I went back to bed, Francis got up and moved into the living room where she watched TV for the rest of the night.

Morning came and I forgot to bring decaf. There is only real coffee in Mama's house. Dawn generously offered to drive to Starbucks and get me a cup.

Francis' curling iron broke and Santos wanted to go to Fred Meyers and get her a new one, so he went with Dawn.

They were gone for about three days. When they finally returned, Dawn was a nervous wreck.

"We passed three Starbucks while Santos was programming his GPS to find a Starbucks," she said.

Then picking out a curling iron was an ordeal. Somehow she persevered.

Meanwhile, work was continuing on getting Mama made up and dressed for the wedding. Francis fussed around with Mama's hair for hours, then Janice came over to do her makeup.

Next the big debate was how to get to the church. Santos and I were supposed to be there at 9 am for a rehearsal. Why we were rehearsing two hours before the wedding without the bride, I'll never figure out.

At any rate, Francis and Janice didn't want David to see his bride before she walked down the aisle, so Dawn brought the girls over at 10.

David didn't show for the 9 am rehearsal. We sat around or helped set up the reception room for over an hour before he showed up. Of course, Mama showed up late too so it didn't matter.

We did a quick run through with the minister and everyone ran around like headless chickens. There was no organization to the wedding.

"Should we do this or should we do that?" was the order of the day. Finally, I got so frustrated that I started giving instructions. "Put this in the hall way. The ring bearer will go before the maid of honor, etc."

Then Mama arrived. David was drop dead nervous, but Mama was off the scale. The girls led her to the reception room to keep David from seeing her. I went in and found her in frenzy.

I walked her through her part in the wedding a couple of times, then sat with her and chatted about old times to calm her nerves.

By the time we were called for the walk down the aisle, she was breathing again.

Santos and I walked her down the aisle. We figured that if she got panicked and tried to run, we could just lift her off of her feet and drag her kicking and screaming to the altar.

The ceremony went off with no major problems. The ring bearer, Max, my nephew, dropped the pillow but recovered nicely. I doubt many people noticed the flub.

After the ceremony, there was a reception off the chapel. My brother Jim and a friend sang, then invited the audience to the mike to talk about memories of the happy couple. Jim is a blues musician and felt that his music was not appropriate for weddings, but Mama wanted him to sing. He decided to sing at the reception rather than at the wedding itself.

Of course his blues were mostly about losing his dog, his pickup truck and his woman, but he did sing a nice song called "Sugar Coated Love" that fit the theme.

After the reception, we all went to David's house for a champagne toast. After about an hour or so, Dawn and I slipped away to go shopping. I was preparing the wedding dinner.

Back at Mama's house, everyone headed for the bedrooms and took naps. I headed for the kitchen and started cooking.

I had planned on making chile verde for dinner, but Mama had made it two nights earlier. She bought a huge package of chicken thighs, so I made arroz con pollo. When life gives you a lemon, make a Tom Collins.

The dinner was a huge success, then we faded off to bed. The next morning I fixed guizo for breakfast, then Dawn and I climbed into the truck for the trek back to Seattle.

Marti prepared BBQ spare ribs for us before our flight south. Susie and Steve came down to deliver some last minute mail. After a nice dinner and a nice visit, Sam took us to the airport.

The trip home was routine. We arrived in San Diego around 9 pm. After finding the car and loading the baggage, we drove down the coast to Ensenada and got home just before mid-night.

What a whirlwind. I felt like we'd been living in a blender for the last two weeks. Now we can roll up our sleeves, get down to business and get the boat fixed and ready for her next adventure.

---