La Paz at Last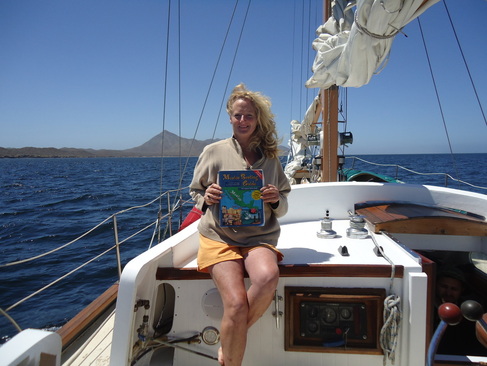 We made it. I'm sitting in the cockpit under the Shade Tree canopy posting this blog. The weather is warm and we don't have much of a breeze to ease the heat today. But this is what we've been working for for two and a half years. We're finally here.

Friday, April 12th through Monday, April 15th 2013 – Magdalena Bay to La Paz

We're two thirds of the way there. We should reach La Paz in three more days of hard sailing. When I stop to think about it, this voyage started back in August of '12. That's more than eight months. In olden days, that would have been the time it took to cross from Europe to Asia. I can now relate more closely to many of the novels I've read about those past centuries.

We have more than thirty five hundred miles under our keel since we left Seattle. Understand that twelve hundred of those miles are the tow from Abreojos back to Ensenada, then the six hundred miles making our way back south. But, we've earned every one of those miles. (If only there was a frequent sailor club. I could really put those miles to use.)

Dawn and I are tired. Not so much that we can't keep up on our daily chores, but deep down in the bones tired. When we reach La Paz, I plan to do nothing for at least two weeks. I just want to rest up and recuperate. I have this fantasy in my mind of lounging around in the cockpit or on the after deck under the sun with a Margarita in one hand and a good book in the other. Oh yeah, I want to do a little writing too.

Morning came and we raised anchor without incident. With Dawn on the wheel, we headed out of Mag Bay to the open ocean once again. The heavy winds of yesterday afternoon deserted us and we moved along slowly into the Pacific.

After lunch we settled down into our at sea routine. Bill had the watch and I went below to catch a cat nap. Somewhere in my sub-conscious I heard the engine fire up. Should I get up and see what's going on?

But the bunk was so comfortable and I was dozing away. Since no one came to wake me, I slipped back into a deep sleep.

When I came on deck, we were under full sail but motoring along. This is what's called motor sailing. We were doing about seven knots.

Before I even had a chance to ask a question, Bill volunteered "Dawn thought it was a good idea to fire up the engine." What little wind we had steadily dropped off until we were wallowing along at less than three knots. Dawn decided that we didn't need to dawdle, so she started the engine.

It was a good decision. We had no worries about running out of fuel, we carry three hundred gallons. We were worried about getting Bill to La Paz on time though. And both Dawn and I have the horse heading for the barn mentality.

It has been such a long hard trip to get this far, we just want to get to our new home.

So, for the next two and a half days, we ran with the engine running. It is an entirely different atmosphere on the boat under power. First of all, the engine is so noisy, you can't hear yourself think. In the galley you have to shout at the top of your lungs to be heard.

We still get the action of the waves on the hull. The boat rolls and pitches like before, but somehow I think that we have less of the feel of the sea when we're motoring.

There was no wind to speak of since we were running downwind. I broke out the aft cabin top cushions and we took turns napping and reading on the after deck.

---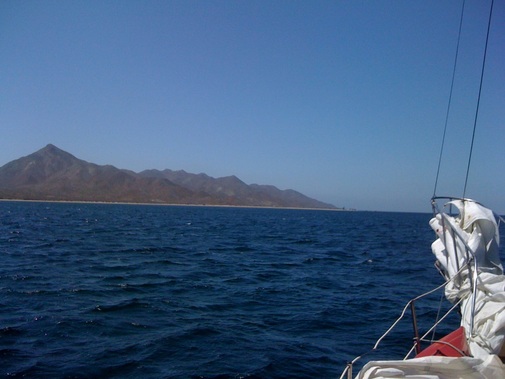 We did get a little wind in the afternoon of the first day and shut the engine down for about two hours.

"This is what I signed up for," Bill said.

We sailed on under a cloudless blue sky. We had about a two or three knot breeze passing over us to keep us cool. (Remember, we're running down wind, so the six or seven knots the boat is doing needs to be added to the apparent wind to get the true wind speed.) The boat had an easy motion in about two to three foot swells. What could be wrong in the world?

We wouldn't find out about the horrible events going on in Boston, or that my oldest daughter, Katie, was there at the time, until we got into La Paz.

The days and nights all blend together when you're sailing alone on the empty ocean. We saw several boats on our approach to Mag Bay, but once on the open ocean we were by ourselves once again.

On our second day out we finally crossed the Tropic of Cancer. The tropic runs through the town of Todos Santos on the land. It's a nice little town and I'd like to stop there, but unfortunately it has no harbor. There are no harbors of any consequence between Magdalena Bay and Los Cabos.

The Tropic of Cancer is at 23 degrees 15 minutes north latitude. Why isn't it at 23 degrees or 24 degrees to make it an even number? This question burned in my mind until I could find an Internet connection and look it up.

The Tropic of Cancer is at the northern most latitude where the sun can be seen directly over head at its zenith. Apparently this moves from year to year when the earth wiggles on its axis, but right now, it runs through Todos Santos.

We crossed the tropic early in the morning (like at 3 am) so there was no celebration, but this is what we've been sailing towards since we were in the Roaring Forties in the Northwest.

For the next day, we closed with the land. It went from a dark smear on the horizon to a solid mass as the day dragged on.

I wanted to round Cabo San Lucas, the southernmost point of land on Baja, about five miles off shore. We had been as much as fifty miles off shore during our run from Mag Bay, so we needed to angle our course more easterly.

First Cabo Falso (False Cape) came into view, then as we cleared it, we could see Cabo San Lucas. I did a little happy dance. We had made all of our southing. From here on out, we are heading northerly.

We sailed along the golden coast from Cabo to San Jose de Los Cabos in the afternoon. (I say golden because the docks there must be made out of gold, as expensive as everything is.) Darkness fell as we rounded the tip of the peninsula and headed north.

This is where the navigation gets tricky. We have to keep clear of the rocks and reefs off the shore, but stay close enough to stay out of the southerly current that flows out of the Sea of Cortez.

Then there's the wind. We have had steady northwesterlies since we left San Diego. Now we're going to have to buck into them.

We took advantage of the wind sailing along the south coast, but when we turned north it would be right in our faces. Fighting wind and current could slow our progress to a crawl.

We reduced sail for the night and plowed on. The wind dropped at sunset so we continued to motor up the coast through the night at close to six knots.

Isla Cerralvo lies seven miles off shore about a hundred miles north of Cabo. It's a long thin island about forty miles long. The channel between the island and the mainland is known for its current and contrary wind.

I had a decision to make. Do we go an extra ten miles out of our way to stay outside of the island or do we try to brave the wind and current in the channel. Going outside the island would cost us at least an extra four hours. But then again, if we get into unfavorable conditions in the channel it could cost us more than four hours.

---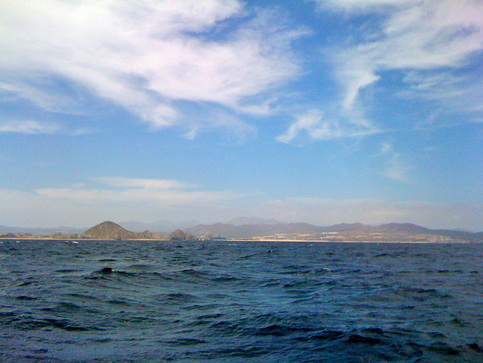 My goal was to make La Paz before dark. Cruising along at six knots, our GPS said we'd arrive at around 4 pm. The sun sets at around 8 pm. Getting there at 6 pm would be acceptable, any later would be a problem.

I have sailed into La Paz before and I think I could do it in the dark. But could I really? The harbor is behind a long sand spit. The channel is narrow and shallow. The area outside of the marked channel is too shallow for the Victory. The channel markers aren't lighted. We'd have to pick them up with our spot light. If we missed one, we'd be on the mud.

It sounds just like South Bay in San Diego doesn't it? After running aground outside of Chula Vista Marina, I had no taste for blundering into another shallow harbor.

I gulped and took a deep breath and made the decision. We would be entering the channel at about 8 am. At that time the winds were likely to be calm and we'd have a flood tide carrying us north. We'd go for it.

All night long I tossed and turned worrying about my decision. From the outside, it probably looks like I make decisions easily and once made, I act on them.

From the inside I constantly question if I made the correct decision. My stomach does cart wheels until I see the first sign that I was right.

My watch started at 6 am, so I was on deck as we approached the channel. The lights on the Island and the mainland were in sight when I came on deck. By sunrise, we were committed to the channel. I agonized. However, there wasn't a drop of wind and the seas were flat.

Two sail boats entered the channel ahead of us. As each of them weathered Punta Arena de Las Ventanas, they heeled hard to starboard. They were being hit by a brisk westerly wind. I decided not to raise additional sail until I saw how strong that wind was.

It was strong. About a fifteen knot wind hit us on the port beam as we cleared the point. We trimmed the sails for beam reaching and flew along. There was no discernible slowing for the current. The wind probably added a knot or so to our speed.

After about five miles we came under the lee of the mainland and lost the wind. We made it through the channel with no problems.

By the time the crew started coming on deck, I knew that I made the right decision. We were motoring along at a good speed with no wind to speak of.

The Canal de Santo Lorenzo between Isla Espiritu Santo and the main land is strewn with rocks. We made a left turn and headed for La Paz. I turned on the sonar and scanned the bottom as we cruised through. The bottom was clear. We were now in La Paz Bay. An eight mile sail south brought us to the mouth of the harbor.

Dawn and I recognized the landmarks and made it to the channel with no problems. I called several marinas with my cell phone looking for a place to tie up. We finally settled on Marina Palmira, about four miles north of town. I would have preferred to be in town, but all of those marinas were full.

By full, I mean that they couldn't take a sixty foot boat. They may have had openings for smaller boats in some of their slips, but we were out of luck.

We entered the channel at about 4 pm, precisely on schedule. By 5 pm we were tied up securely to our dock and ready to start relaxing.

I wanted to celebrate and reward my crew for a long hard voyage. We called a taxi and rode into town to our favorite restaurant, the El Buffalito Grill.

I've described El Buffalito before and told of its wonderful steaks. It was no disappointment.

We returned to the boat sated and tired. But, we were here. We made it to La Paz.

For Ben and Bill it's the end of the line. They will go home from here. Ben will leave tomorrow evening and Bill will go on Wednesday morning. We will miss them. Their good humor and willingness to tackle any job will not be forgotten. They will be at the top of my crew list when we need crew for another long trip.

Dawn will be leaving me for a few days too. She is going up to San Diego to get her dog, Odin, and car, the Queen Mary. She will drive the thousand mile trip from San Diego to La Paz with just Odin for company and protection. Believe me, no one will give her trouble with Odin in the car. Not only is he a celebrity attraction where ever she goes, he is totally loyal and would give his life to save Dawn.

For me, I plan to spend the next few days just resting up. There are some minor projects I want to do on the boat, but none of them are critical. I plan to sleep, eat well, drink and write. If I do nothing else I'll be happy.

This is the end of a chapter in my life. It has been filled with tears and laughter. I've seen some things I've waited my whole life to see. I've met a lot of really good people. I'll never forget how the pangueros of Abreojos saved our lives.

There's been disappointment and despair. There have been emotional mountains to cross and too many tears.

What's next? I don't know. This is the end of the season down here. It's a little late to get much business chartering.

Lots of boats are going home. Many rich people bring their boats down, but don't want to fight wind and current going north again. They hire skippers to deliver their boats home. I'll try to pick up one or two of those gigs.

I will spend lots of time writing and hopefully have Christmas Inc. ready by the time the holiday season rolls around. I plan to come north in July and August to promote Blue Water & Me. It's now time for me to get back to my real life, whatever that new real life may be.

Thank you for sharing this adventure with me. I will continue to post blogs about our stay in La Paz. In a few weeks we'll be rested enough to take the boat north into the Sea of Cortez. Then I should have more adventures to tell you about. After all, that's why we're here.

---