Bikini Baristas Serial Novel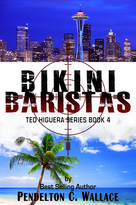 I'm really making progress on the book now. I'm spending several hours a day applying the edits from my beta readers. I have sent the manuscript to my editor and expect to get the first revisions back by next week.

In the meantime, I'm studying up on how to format an eBook. I had no idea that exporting the document from Microsoft Word produced an unstable eBook. Several readers commented on this, so I'm determined to make the presentation of this book on the eReaders a more pleasant experience.

If this works out well, I will go back and re-format the other Ted Higuera books.

Be sure to let me know what you think. Click here to send me a note.
---
Bikini Baristas Chapter 19

Well, how am I doing? What did you think of the attack on Cat's office? How about Clayton's latest adventures.

Enquiring minds want to know.

Click here to send me your thoughts.

Click here to go to Chapter 20.