Bikini Baristas Serial Novel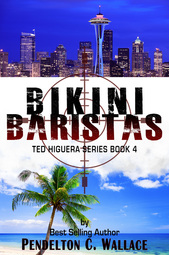 We're havin' some fun here now, folks. This week Chris's favorite client, Clayton Johnson-White digs himself deeper into his hole, Maria and Popo go off on an adventure of their own and Dick Jr. gets some bad news.
I hope your having as much fun with this as I am. Click here to let me know what you think.
---
Bikini Baristas Chapter 16

How did I do this week? What did you think of Maria and Popo? Can you guess where we're going with Dick Jr.'s story.

Click here to let me know how you're liking the story so far.
If you want to read the other Ted Higuera adventures, go to my Amazon.com Author Central Page by clicking here., click

To go on to Chapter 17, click here.