Happy Valentine's Day everybody.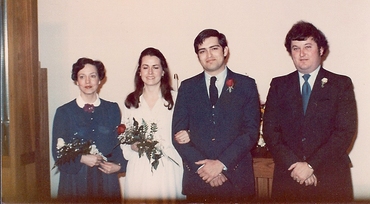 It was on this day in 1981 that Connie and I got married. It's hard to believe that thirty-three years have passed since that date. It seems like only days or weeks ago. It remains one of the happiest days of my life.

A lot has happened since then. We were blessed with two wonderful daughters. They made our house a home and brought a depth to life that I never could have anticipated. To this day, I believe that the best thing we ever did was to bring those girls home with us.

The years passed, the girls grew and life went on.

When we first met, we developed a deep friendship that slowly turned to love. We worked together for two years before either of us realized that our relationship was deeper than co-workers. Connie figured this out before I did. I've always been a little slow on the uptake when it comes to affairs of the heart.

Like every couple we had our ups and downs. I don't think we had more than four or five fights during the course of our marriage. Always, they revolved around work. I was spending too much time at work and not enough time with the family.

When we first met, we both worked in the restaurant industry. Restaurants suck the life out of you. You are on call around the clock.

After I quit restaurants and went to work in the IT industry, I don't think we ever had another fight. I was able to provide for the family and be at home on evenings and weekends.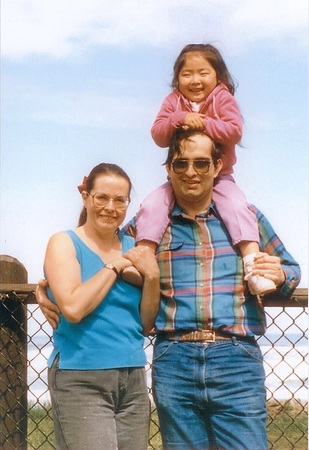 We always pulled together well in double harness. There were plenty of nights when I would get home from work and Connie would hand me a child and say "Save your daughter's life."

Each of us was always looking out for the best interest of the other. If you put your mate's interest ahead of your own and she does likewise, there is always someone who has your back.

Then came the cancer. On December 23rd, 1999 Connie was diagnosed with stage four ovarian cancer. (I still have a hard time spelling cancer without a capital "C.") It was awful.

We taped our Christmas celebrations that year, not knowing if she would ever see another Christmas. For the New Year, we went to a Millennium party. Connie was so sick that she spent the evening in the hostess' bed while the girls played with sparklers and the adults toasted the New Year.

Life was good to us. Connie went into remission after several rounds of chemo in May of 2000. By the fall, the cancer was back.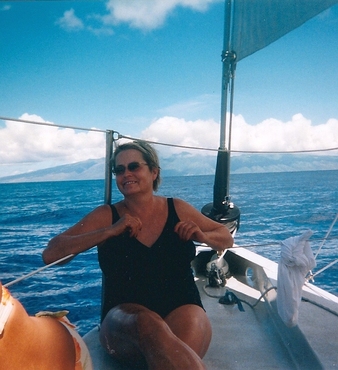 For ten years she fought the disease. It was a whole new chapter in our life stories. Our lives revolved around doctor appointments, chemo, hospital stays and surgery. We marked the days on the calendar by what kinds of doctor's appointments she had.

The cancer ravaged her body. She went from a healthy, beautiful woman to a shriveled up little old lady in ten short years.

Cancer brought us gifts as well. Our Cancer Support Group which meets every Tuesday at Group Health in Seattle was a wonderful find. We met many new, dear friends that we wouldn't have known if not for the disease.

We learned to live for the day and to enjoy life's little pleasures.

Ultimately, cancer won. On April 17th, 2010 I was awakened when Connie knocked over her bedside lamp. It had been a long night.

All night long, I had been up tending to her. Her pain was unimaginable. I called the Group Health consulting nurse several times and each time was told to administer more morphine. I began to worry if I was going to over dose her.

After she knocked over the lamp, she was still. I checked her breathing and pulse. There was nothing there. She was finally at peace and out of pain.

My heart skips a beat, then runs wildly when I type these words. Our anniversary always makes me look back on our years together.

However, I look back with joy, not dread. To paraphrase Jack Nicholson, "She made me a better person." I would not be who I am today if I had not met Connie.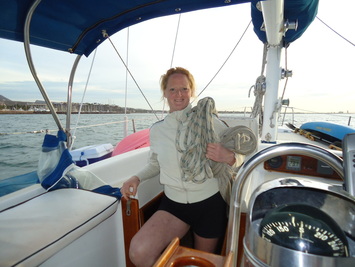 I consider myself to be an incredibly lucky person. I do believe that most people don't ever experience the kind of relationship I had with Connie. It will never happen again.

Lightning doesn't strike twice.

But wait a minute . . . maybe it does.

I was terribly lonely without Connie. I bought an old boat and was working on rebuilding it. My goal was to sail the boat to Mexico to re-explore the places I fished with my father fifty years ago.

While I was working on the boat, I put an ad in OK Cupid. I never intended to meet anybody permanent. After all, I would be sailing out of Seattle within the year.

But somehow, I stumbled upon Dawn's page. I don't know why I answered her ad. She wasn't my type and she had two dogs. Did I mention that they were really big dogs? Great Danes.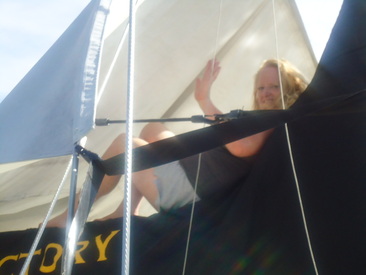 If you know me, you know that I am afraid of dogs. What in the world was I doing dating someone with not one, but two Great Danes?

So we got to know each other. Dawn grew up in a sailing family. Her parents owned a Newport 30. She was on the water from the time she was a tyke.

She had an adventurous spirit. At age twenty-three she moved away from Seattle and went to live in the US Virgin Islands for a decade. Then she spent a decade in Florida. She was ready to head off on a new adventure.

She had no kids, nothing holding her to Seattle.

The only negative I could see was her taste in men. What sane woman would want to hook up with an aging widower nearly two decades her senior with a beat up old boat who was planning on sailing off into the wild blue yonder?

She earned her way into my heart. The day after our first date, we were stepping the masts on the Victory. On a whim, I called her and asked her if she would like to come down and watch.

From that day on, she was a constant presence on the Victory. She cleaned, scraped, sanded and painted. She went up the mast. She did any of the dirty work necessary. The boat could not have been completed without her.

Somehow, during the two years we worked on the boat, it just became understood that she was part of the great adventure.

When I set sail from Seattle in August of 2012, Dawn was on board. She was a valuable part of the crew and saved our lives and the boat in our shipwreck at Abreojos. Without her, the adventure would have ended right there.
(Click here to read about it.)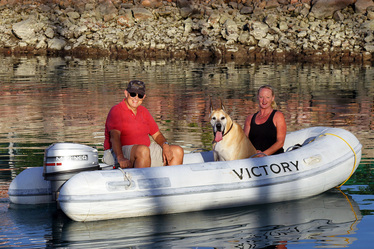 Then, through the three months of sorrow and pain in Ensenada, she stuck with me and worked her ass off helping to rebuild the boat.

There were days when my body just wouldn't answer the bell. I couldn't get up and face another day of work. So I stayed home and slept and watched TV all day. Dawn still went to work. While I lazed in our apartment, rebuilding my strength, she was on the boat cleaning, sanding and painting.

There is not a surface on the boat that Dawn hasn't painted or varnished. While I'm typing this, she is re-finishing the brightwork.

How can you not love that kind of woman?

As I said earlier, I do believe that most people don't experience the kind of love I've found in their lives. I can't believe how lucky I am to have found it twice.

Dawn is always there for me. Twice I've hurt myself on this trip and twice Dawn has stepped in, taken care of me and taken control of managing the boat. If I have an off day, she is there to pick me up.

She is always ready to step in and do whatever is necessary to keep the boat running and our lives in order. I do believe that there is nothing she wouldn't do for me. And through it all, she tells me, she is happier than she's ever been in her life.

How come I have been so fortunate?

This Valentine's Day I have not one, but two great loves to be thankful for. I can't express how grateful I am.